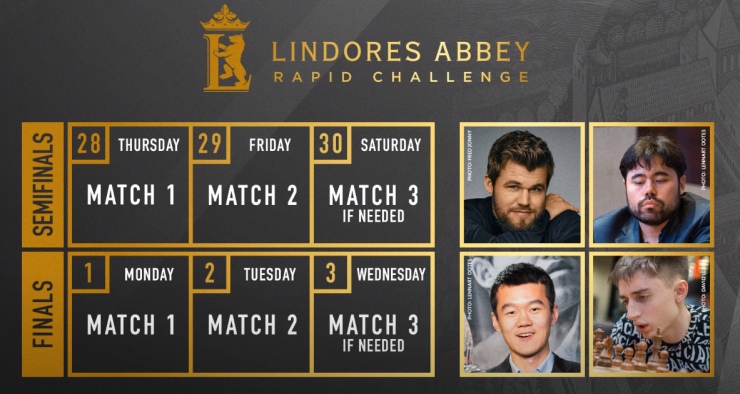 Magnus Carlsen struck first in his Lindores Abbey Rapid Challenge semi-final clash against Hikaru Nakamura as the pair appeared to be trolling each other online.
The World Champion, sporting a new haircut, raced into a commanding two-game lead before securing the decisive third to take today's mini-match. It was a thumping first-day win and means he takes a 1-0 lead in the best-of-three tie into tomorrow's mini-match.
Nakamura needs to win that or be eliminated. The question is, can he recover? During the match, however, there was extra spice as Carlsen left fans and commentators alike wondering whether he was also landing blows on social media.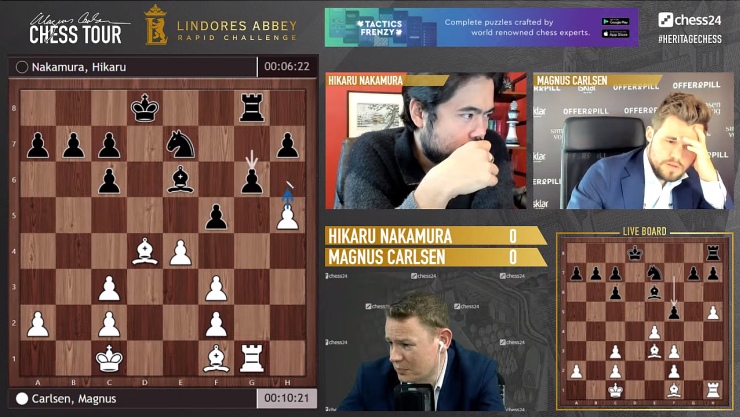 Following a Twitter exchange between the pair last week, Nakamura had tweeted "Good luck" to Carlsen before the match started - which was interpreted by some as a jibe. Then, between his wins, Carlsen tweeted "monkaS" which had many fans googling its meaning.
According to the first result rivalry.com, MonkaS is an emote featuring an illustration of Pepe the Frog appearing frightened while sweating.
Meanwhile, in the other semifinal, Ding Liren and Daniil Dubov traded blows in the first two games. Then after a draw in the third and what appeared a drawish position in the fourth left the match looking like it would go to an Armageddon tiebreak.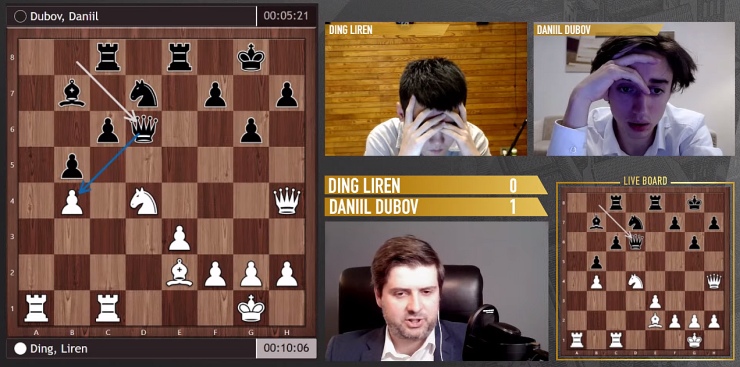 But Ding decided against going for the draw and Dubov capitalized in a rook ending to grab a 2.5-1.5 win against the favorite.
"I think it is safe to say, that it was pretty much an equal match, which is already an achievement for me. Usually, I lose against any Chinese player 2500+, but now I put some resistance against Ding Liren." Daniil humbly said in an interview after the match.
So Dubov moves 1-0 ahead in the tie and has the chance to go through tomorrow, while Ding - like Nakamura - needs to win.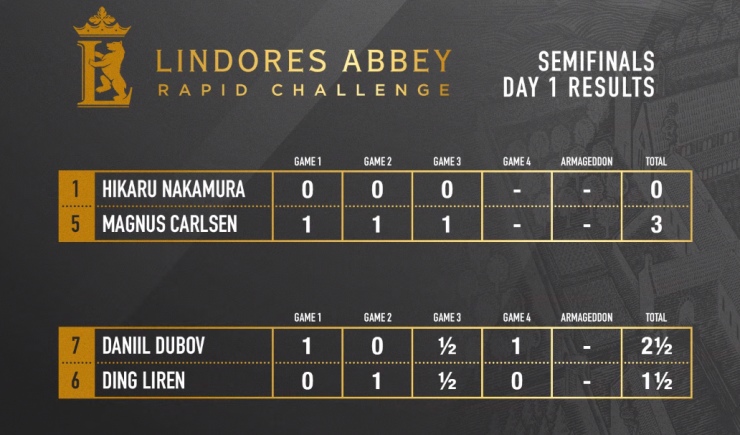 The event, which runs until June 3, is being put on in association with the Lindores Abbey Heritage Society, which maintains the historic site.
Coverage begins with commentary in 10 languages at 16.00 CEST.
You can watch it live here
FOR MORE INFORMATION:
Leon Watson
leon@chessable.com
+447786 078770