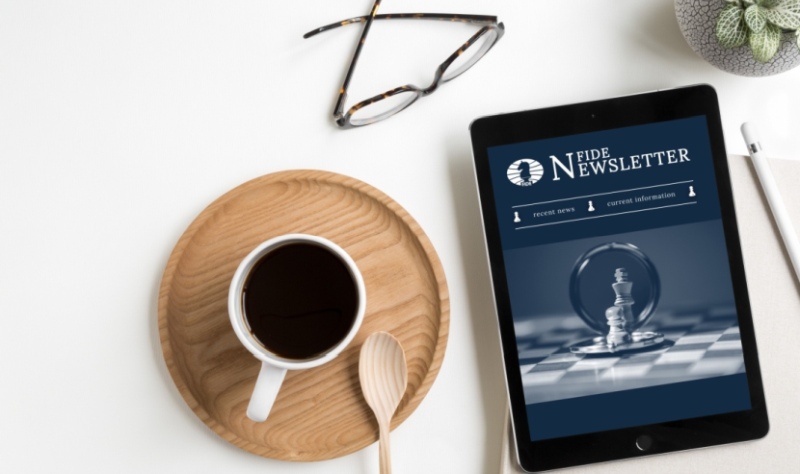 Welcome to FIDE Newsletter. Published bi-weekly, this newsletter aims to provide you with relevant information about happenings within our organization, and the member chess federations. Not only will you find information about current FIDE events, but we will also share with you the main decisions, case studies, and inspiring stories.
If you want to receive this bi-weekly publication directly in your inbox, please subscribe here.
FIDE Newsletter archive:
FIDE Commissions for 2022-26 announced
Educational Chess Summit at "Global Chess Festival"
Chess in Paradise at the Chessable Sunway Sitges Chess Festival
"The Secret Ingredient" wins the Averbakh-Boleslavsky Award 2021
Monika Socko, European Women's Champion
FIDE Congress 2022
Yuri Averbakh & Isaac Boleslavsky Book Awards 2022
Chessable Research Awards open for applications
Brief news from National Federations
International Chess Day 2022
Jerguš Pecháč, awarded the Gligoric Trophy
Nikolai Krogius (1930-2022)
Romania and Azerbaijan to host FIDE youth competitions
Brief news from National Federations
Muhammad Hanif Qureshi, new President of Pakistan Chess Federation
Global Exchange Forum: How is harassment defined, guidelines and support to report cases
Gligoric Trophy 2021: Call for nominations
Latvia launches the Chess in Prisons programme
Brief news from National Federations
Asian Federations welcome the PDC in Bangkok
Quick thinking kids crowned in Rhodes
Susan Namangale: "I want to be a part of the change"
On chess books
Brief news from National Federations
Solidarity match Norway – Ukraine
The Gift of Chess goes global
Queens' Festival 2022: Registration opens
French Youth Championships in Agen
Brief news from National Federations
Matthias Blüebaum, King of Europe
Chess and brain ageing
Ten years of Chicago's Chess in Jail Program
Singapore Chess Federation gets a $360,000 donation
Global Exchange Forum
Brief news from National Federations
Geir Nesheim, new Chair of the Social Commission
Ahmed Adly, new Chair of the Athletes Commission
FIDE's support program to chess veterans: a tribute
French Chess Federation acquires "delegation" status in France
Brief news from National Federations
Introducing ChessNFT - an exciting step for the chess community
Kakuma Refugee Camp and "Chess for protection"
FIDE delegation makes a tour of Latin America
FIDE 100-year anniversary project
FIDE Chessable Academy to Resume in March 2022
Brief news from National Federations
A podcast, many workshops, and more #womeninchess
World Championship Match 2023: call for bids
FIDE and ISF launch the World School Online Chess Cup
The chess world celebrates the centenary of Yuri Averbakh
"Chess for Freedom" keeps making waves
Announcing the winners of the FIDE Trainer Awards
"Chess Behind Bars"
FIDE Chess.com Women's Speed Chess Championship
First Preparation of Teachers course
Brief news from National Federations
Ian Nepomniachtchi is Carlsen's next challenger
Gazprom becomes FIDE's General Partner
From the "flashcards" to Chessable
New in Chess: "A short history… of generosity"
Route64: a new chess magazine is born!
Brief news from National Federations
Birthdays
"Chess for Freedom"
Chess in prisons (1): the Cook County case
Workshop: "Equal Opportunities"
Brief news from National Federations
Celebrating Bob Wade
Birthdays: Joel Lautier
Israel: "Chess for Every Child"
India: Chess in the academic curriculum
How can chess help children with autism?
FIDE Arbiters' Manual 2021
The story of the African Chess Federations
Chess keeps getting air time
Anniversaries
British Chess Magazine interviews FIDE President
They are the champions
It is raining awards!
A tribute to our seniors (part II)
Brief news from National Federations
Birthdays
First anniversary of the FIDE Newsletter
India on the rise
Gabuzyan and Gaboyan, Armenian champions 2021
EDU Commission launches new training program
Chess as a therapeutic tool
"The Chess Saga of Fridrik Ólafsson"
Birthdays
Superb turnout for the World Corporate Chess Championship
FIDE and CSR
World University Online Championships
A tribute to Liu Wenzhe
Agadmator hits 1 million subscribers
Birthdays
"Double Dutch" at Tata Steel Chess
FIDE Aid Package for Open Tournaments
Chess podcasts
Chess in Art
The talent of Mariya Yugina
Birthdays
FIDE approves hybrid competitions valid for rating
World Corporate & FIDE ChessKid Intercontinental Challenge
Gazprom Brilliancy Prizes
Svetozar Gligoric Trophy 2020
Brief news from National Federations
Birthdays
Dana Reizniece-Ozola joins FIDE in the role of Managing Director
FIDE approves Online Chess Regulations
Is yours the smartest company in the world?
Yu Yangyi and Tan Zhongyi, Chinese Champions 2020
Michael Adams, seven-time British Champion
"Team Hikaru" raises $355,720 for CARE
"US Chess Women" shows the way
Anniversaries
Belgian Chess Federation turns 100
Field announced for Wijk aan Zee and Gibraltar WGP
'Nepo'and Goryachkina, 2020 Russian Champions
Brief news from National Federations
ChessTech Conference 2020
Anniversaries
91st FIDE Congress
Moscow 2022, Budapest 2024
FIDE in good financial shape
Trainers Commission, by the numbers
FIDE Honorary Titles
Isle of Man joins FIDE
Brief news from National Federations
"The power of chess in education"
Anniversaries
John D. Rockefeller V donates $3 Million to US Chess
FIDE Online Olympiad for People with Disabilities kicks off
"Algorithms"
Announcing the InterContinental ChessKid FIDE Challenge
Brief news from National Federations
ChessTech Conference 2020 announced
Anniversaries
61 teams registered for the Online Olympiad for People with Disabilities
Corporate Social Responsibility
Real Madrid Foundation charity event
How many Grandmasters are there?
Upcoming FIDE Seminars
Asian Chess Federation celebrates its 30th anniversary
Anniversaries
FIDE news
Chess in Schools Survey
Australia takes the Asian Online Nations Cup
Your chess club needs you!
Joel Benjamin and Irina Krush add to their legend
Brief news from National Federations
Sports and business
Anniversaries
FIDE enters a partnership with the ISF
Brief news from National Federations
World Teachers' Day
Chess meets history
A new social chess project in Norway
Ju Wenjun on the red green carpet
Anniversaries
Italian Chess Federation celebrates its centenary
ChessMatec free Workshop
Brief news from National Federations
"Chess connects us"
Who wants to be a Minister?
Bringing chess to public spaces
Anniversaries
Carlsen and Nakamura win the Champions Showdown
David Antón and Sabrina Vega win Spanish Championship
Brief news from National Federations
Top of her class
Glory to the Queen
More chess coming to your screen
Anniversaries
FIDE Online Olympiad: Grazprom Brilliancy Prize
Ukraine Independence Day Schweppes 2020
Analysis Engines Workshop
"German Championship" and "German Masters"
Gudmundur Kjartansson, Icelandic champion for the 3rd time
Lanka and Rogule win Latvian Championship
Anniversaries
FIDE Online Olympiad reaches the Top Division stage
ChessMatec: chess in a new way
FIDE PDC Forums
A tribute to our seniors
Old tradition, new young winner
Another first-time winner
Is chess an Esport?
A pictorial tribute to the Chess Olympiads
Anniversaries
Online Olympiad advances to the next stage: Division 3
Polish Power
National Championships resume!
"Chess Life" and the new chess boom
A passionate chess coach from Msogwaba, South Africa
New appointments by the Australian Chess Federation
Anniversaries
United Nations: "Chess for recovering better"
International Chess Day
Letter by the IOC President Thomas Bach
Anna Ushenina wins the Women's Speed Chess Championship
Anniversaries
FIDE presents the Online Olympiad 2020
Main decisions of the FIDE Council meeting
Changes in the FIDE Commissions
Do you have any questions about the Laws of chess?
Swiss-Manager manual and online course
Ushenina and Gunina lead the Women's Speed Chess GP
Rising Stars Match
Anniversaries
Chess vs Coronavirus: 1-0, Checkmate!
Women's Speed Chess
Short news from National Federations
Chess and research studies
125 years of Swiss System
Shortlisted books for the Averbakh-Boleslavsky Award
Anniversaries
Checkmate Coronavirus enters its final week
Input request on the Arbiters' Manual
FIDE Trainer and Arbiter's seminars
Chess is back in orbit!
National Championships Records
Anniversaries
Checkmate Coronavirus: week one
Carlsen and Lagno take titles in Steinitz Memorial
FIDE held the first Online Cup for People with Disabilities
First online meeting of the FIDE Council
Continents go online
"We are all children of Informant"
Anniversaries
China wins the FIDE Chess.com Online Nations Cup
Carlsen and Lagno to star in FIDE Steinitz Memorial
Upcoming FIDE Trainer Seminars
Announcing the FIDE Online Cup for Players with Disabilities
Success story: US Chess Women & "Isolated Queens"
Anniversaires
FIDE Chess.com Online Nations Cup
FIDE Seminars
FIDE Candidates' Countries Youth Tournament
The chess community takes a step forward to support charity events
"One Million ChessKids" project launched in the UK.
Leela Zero defeats Stockfish at the TCEC Superfinal
Donald Schultz (1936-2020)
Anniversaries
Stay home, stay safe, stay sharp!
FIDE news and activities
Online events
FIDE distributes €35,000 among chess veterans
Chess in outer space
Happy birthday, Garry Kimovich!
A roundup of the first part of the 2020 Candidates
FIDE canceled events and our swift towards online activities
Online chess activity peaks during the global lockdown
50 years ago, the USSR was battling the rest of the World
FIDE Candidates Tournament opens today in Yekaterinburg
Dzagnidze clinches victory in Lausanne
New FIDE Charter approved
USA (+50) and Russia (+65) win gold at the World Senior Team Championship
Mercedes-Benz is the official auto partner of the Candidates Tournament