The 1st Quarter FIDE Presidential Board was held in the city of Al Ain, United Arab Emirates from 13 to 14 April 2006.
The Meeting was hosted by Sheikh Sultan Bin Khalifa Al-Nahayan and the UAE Chess Federation President Mr Ibrahim Al Bannai.

FIDE President Kirsan Ilyumzhinov delivered his report and stated that several major FIDE competitions had been completed with success. For the future, the Board had to take a number of decisions concerning the new world championship cycle and the Olympiads.

The Board is glad to announce that the World Chess Championship Match between Topalov and Kramnik shall be organized in Elista, Russia, from 21 September to 13 October 2006. President Ilyumzhinov has personally guaranteed the prize fund of US$1 million.

The Board took the decision to award the World Chess Championship Tournament to Mexico City in October 2007. The Organizing Committee has guaranteed a prize fund of US$1.3 million.

After due consideration of the bids for the World Youth Championships 2006, the Board approved the application from the Georgian Chess Federation. Backed by its Prime Minister, the event shall be held from 20 to 31 October in Batumi.

Six bids were received for the hosting of the 2010 Chess Olympiad. In view of the enthusiasm of the potential organizers and taking into consideration that almost all FIDE members will be attending the FIDE Congress in Turin soon, the Board decided to present all the six bids to the Delegates to decide at the General Assembly.

At the close of the meeting, President Ilyumzhinov thanked Sheik Sultan Bin Khalifa Al-Nahayan for his warm hospitality to the Presidential Board. He also thanked the UAE Chess Federation for successfully organizing the meeting.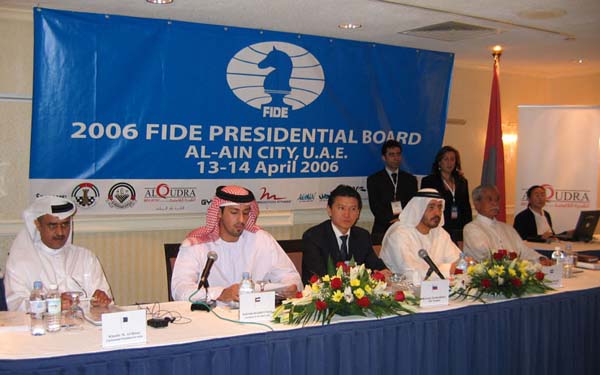 Seated are, from left: Continental President for Asia Khalifa Al Hitmi, Sheikh Sultan Bin Khalifa Al-Nahayan, FIDE President Kirsan Ilyumzhinov, UAE Chess Federation president Ibrahim Al Bannai and FIDE Honorary President Florencio Campomanes.