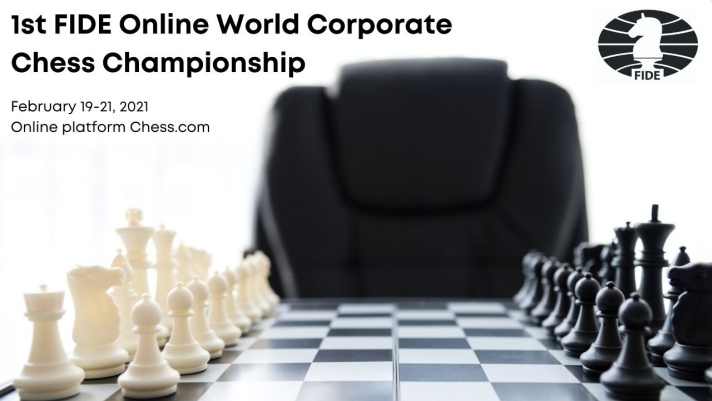 Day 1 in the Eastern pool of the FIDE Online World Corporate Championship is in the books.
After three rounds of play, we have the potential candidates for first place in all six groups - only the teams taking the top spots advance play-off. Such a strict qualifying formula is applied due to an unprecedented number of teams taking part in the tournament. Indeed, 288 companies assembled squads for this competition.
Team SBER, headed by one of the leaders of the Candidate Tournament Ian Nepominachtchi, is a heavy favourite not only in the group East A but also in the entire tournament. Although the Russian GM won all three games on the first board SBER is just second a half-point behind a "hell-raiser", another Russian team RIVC-Pulkovo. The match between the leaders in Round 4 most likely will decide which team gets through to the next stage.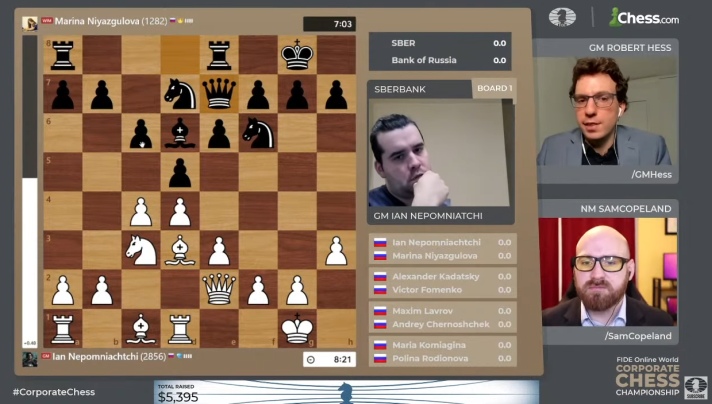 It was easy to predict that in the group East B Grenke Bank with Georg Meier and Alina Kashlinskaya and Yandex with GM Dmitry Yakovnko in the line-up (he actually works for the Russian IT-giant) would be the main contenders for the top spot. However, after two rounds two different teams - Khareba (Georgia) and VOZP (Czech Republic) - were in the lead. After the leaders drew their match in Round 3 the favourites caught up with them and now four squads are sharing first place with 10 points out of 12 each. It is almost certain that the ticket to the quarterfinals will go to one of the teams from this "magnificent four".
East C saw the toughest competition in the Eastern pool. Whitewashing 4-0 defeats, so popular in other groups were very rare here. Only two teams, Morgan Stanley (HUN) and Gazprom managed to win all three matches. Their fourth-round clash is going to be crucial, although the Optiver team led by Anish Giri (who conceded a half in his first-round encounter with Nihal Sarin) and the Rosseti Volga have not yet said their last word in this pool.
Sberbank Trade Union has confirmed its status as a rating-favourite in East D. The team, led by Anton Korobov, played the key match in Round 2, beating the number two seed Paypal Bulgaria. Evgenij Kretov definitely deserved a bonus for the crucial victory over former world champion Antoaneta Stefanova. Although Sberbank Trade Union lost only one point in three rounds, it is way too early to relax - Israeli Slav Group with Ilya Smirin on the first board is hard on their heels. Their head-to-head match in Round 4 most likely will be decisive.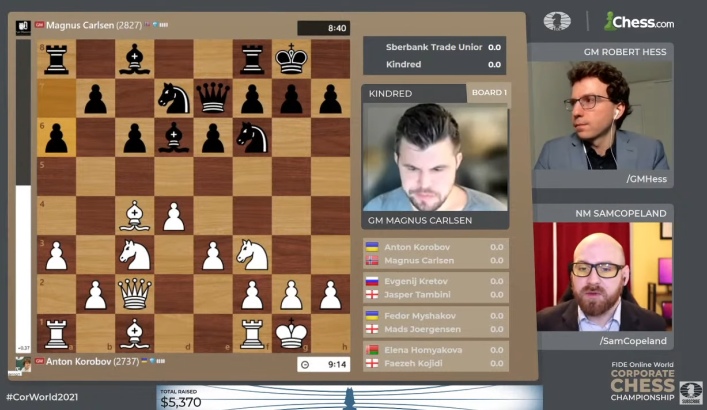 The East E bracket favourites, BCG Gamma headed by the sixth rated female player in the world Maria Muzychuk, and CSOB faced off in Round 3. The Czech team can't boast of big names but relies on a very balanced lineup with titled players on all the boards. In this important match, CSOB scored a very important victory: IM Jiri Jirka prevailed over IM Daniel Schlecht whereas WGM Karolina Olsarova got the best of FM Marti Mayo. The leader is facing a new challenge in Round 4 - Tata Consultancy Services Chennai, whose 15-year-old grandmaster Praggnanandhaa has crushed his opponents so far.
Many thought that in the group East F we would see a race between the rating favourites Emphie Solutions and Alkaloid, but the Macedonian company, known for its support of chess (chess club Alkaloid was European champion!) suddenly stalled. Two points lost on the first board and one more on the fourth resulted in a 2½-point trailing behind the leader, almost a whole match distance! Emphie Solutions conceded only two points but still fell behind an unexpected leader, State Bank of Mongolia. GM Batchuluun Tsegmid and one of the strongest female players of Asia, IM Batkhuyag Munguntuul, inspired their less experienced teammates to put in the best effort. If State Bank of Mongolia beats Emphie Solutions in the fourth round, the former will almost certainly clinch a playoff berth.
When the Eastern pool participants were long asleep, two groups of Western Pool entered the competition. The average level of the teams in the Western Hemisphere is slightly lower, but even in these groups, several squads are headed by strong GMs and IMs.
In West A, we will see a close battle for a single playoff berth until the last round. That became evident after a Round 3 match between two favourites Redmond (USA) and Anahuac (MEX) ended in a draw (2-2). As a result, Microsoft Redmond is leading by a minimal margin with 9½ points, followed by four teams with 9 points each – alongside Anahuac, Goldman Sachs (USA) and Telus (CAN), and Farber Group (CAN), led by FIDE Website and Social Media Manager Anna Burtasova won all their matches. Anna scored 3 out of 3 on her birthday, but in Round 2, she was really fortunate as her opponent forfeited on time in a roughly equal ending.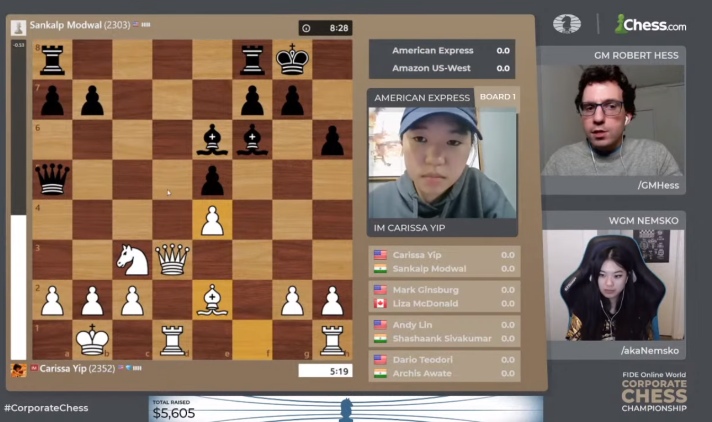 In the West B group American Express, headed by the hope of American women's chess Carissa Yip, immediately grabbed the lead. Although Carissa suffered an unexpected defeat in Round 3, her teammates won all their games. American Express is leading after the first day with 11 points out of 12 but a coveted playoff spot is not guaranteed. The rating favourite West B of PT Pelabuhan Tanjung Priok (Indonesia) played the sidekick on the first day but with 10 points out of 12 (second place) the team led by two IMs still has a good chance to win the pool. In order to do that the Indonesians should defeat their main and probably the only rivals from American Express in Round 4.
Three more rounds will be played tonight. In Eastern pools, the participants will start at 15:00 UTC; in the Western Hemisphere, play is resumed at 01:30 UTC.
We would like to encourage all participant companies, their employees, and chess fans in general, to support FIDE social projects Chess in Education, Chess for People with Disabilities and Chess for Vetarans Support Program. You can make a donation using the following link: https://give.softgiving.com/FIDE