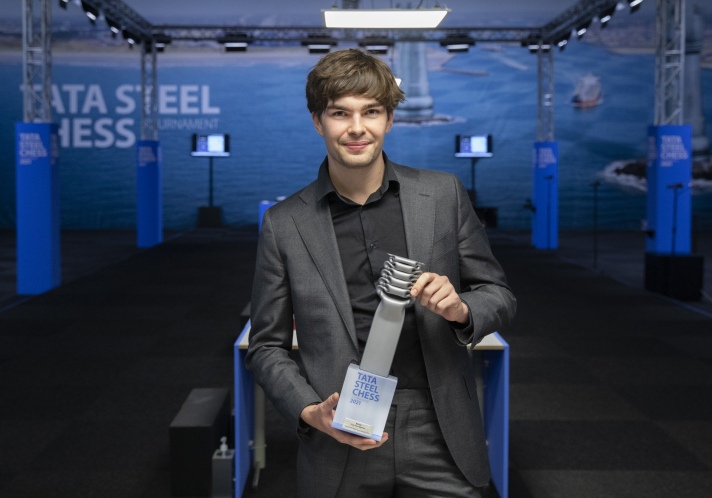 Jorden Van Forest won his home tournament Tata Steel 2021 after beating his countryman Anish Giri in Armageddon and became the first Dutchman to claim the title in Wijk aan Zee since Jan Timman in 1985.
In the final round, Anish Giri made a hard-fought draw David Anton but gave a chance to three players to catch up with him. Only Jorden Van Foreest was up to the challenge, whereas Fabiano Caruana and Alireza Firouzja had to settle for draws.
David Anton put the leader to a serious test and made him work hard for a draw. The Spaniard opted for a seemingly innocuous but very solid line against Najdorf variation of the Sicilian and after 19.a5, fixing Black's pawns on the queen-side he got a long-lasting advantage. Anish put up a stubborn and patient defense and scored a half-point that guaranteed him at least a tie for first place.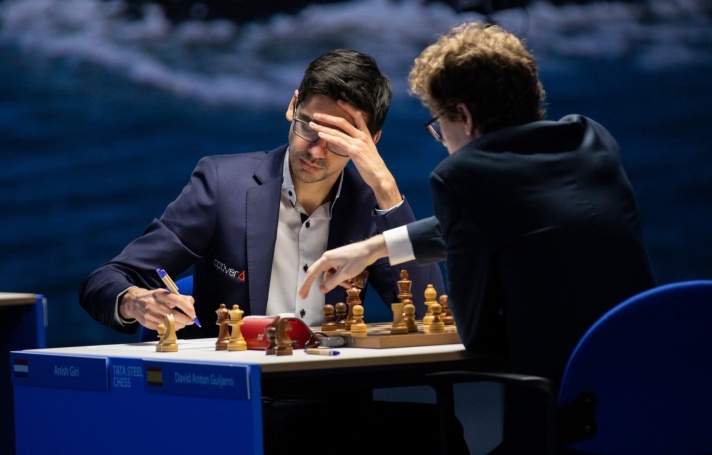 Out of three chasers, only Jorden Van Foreest managed to earn a victory over Nils Grandelius and catch up with Giri. The Dutchman went for a rare line in Najdorf Variation prepared at home, sacrificed a pawn, and got a fresh and complicated position with sufficient compensation. Nils was defending well in a maze of complications up to some point, but Jorden came up with a temporary piece sacrifice (21.Nb5!) and took control over the proceedings. In the end, White's king made a long trip to h6 to force the capitulation of Black's monarch.
Alireza Firouzja had a great chance to tie for first place with two Dutch players but it was not meant to be (although even in case of a victory he would not get into a tiebreak due to inferior Sonneborn–Berger). Alireza and Radoslaw Wojtaszek started improvising in a new position very early with White's eventually grabbing the initiative in the middlegame. Alireza correctly sacrificed an exchange but opted for the wrong move order and let Black stay in the game although in an inferior position. After some long maneuvering, Firouzja finally saw Wojtaszek's error but failed to capitalize on it. The opponents shook hands in an equal position on move 63.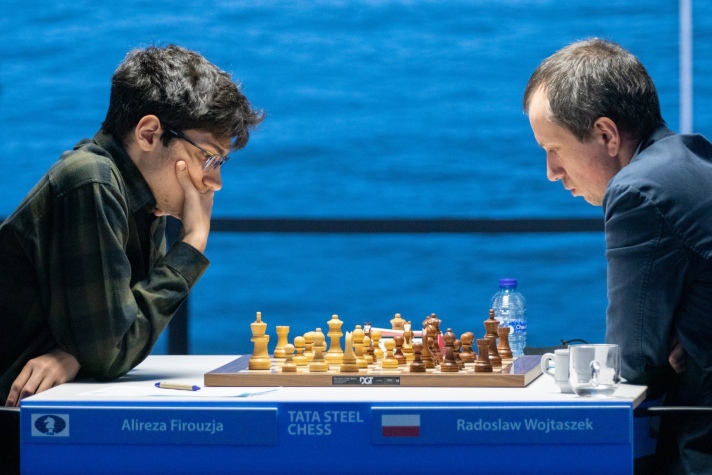 Fabiano Caruana sought complications on the black side of French Defense against Arian Tari, but it was really hard to do in the Exchange Variation the Norwegian opted for. Fabiano eventually got a slight edge, but it has never been big enough, and a draw came as a logical outcome.
Andrey Esipenko gradually equalized with Black against Alexander Donchenko but probably expected nothing more than a half-point but being short of time his opponent faltered with 27.e5? and then simply gave up a pawn. The Russian handily converted his advantage and finished along with Firouzja and Caruana – a great debut by the Russian teenager.
Magnus Carsen completed his Wijk-an-Zee campaign on a high note by overcoming Maxime Vachier-Lagrave. The Frenchman suffered another defeat in one of his trademark openings, the Gruenfeld Defense. Black was doing OK untill 18…Rce8 which seems to be a serious mistake. Magnus won an exchange and finished off his opponent with great panache.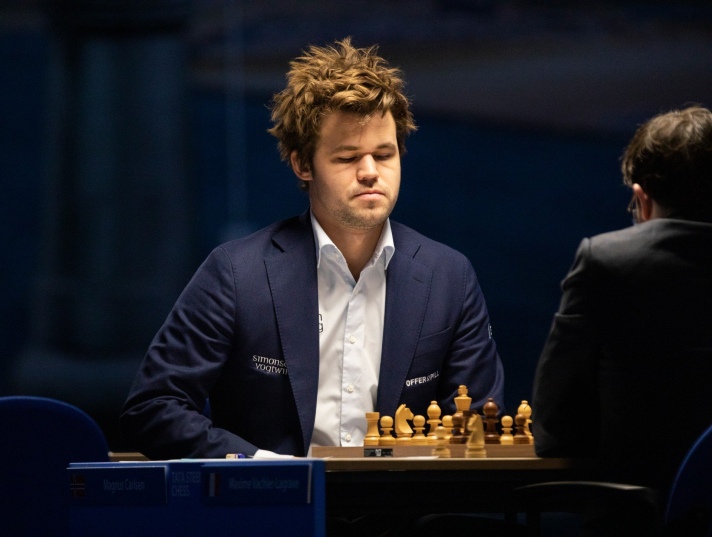 Pentala Harikrishna and Jan-Krzysztof Duda played a long theoretical line in Anti-Meran that is deemed as fine for Black. This long game did not overturn the verdict regarding this line.
Anish Giri and Jorden Van Foreest scored an equal amount of points and squared off in a tiebreak to determine the winner. In the first game that was drawn, Anish missed a great chance for a win, after overlooking 26…g3 with the idea of infiltrating with his rooks into the second rank.
In the second encounter Giri emerged up a pawn but Van Foreest held a draw in a rook endgame. It came down to Armageddon in which the younger of the two Dutchmen won the toss and chose black pieces. White got an overwhelming position by move 22 but spoiled everything with 26.c6?? Black emerged with an extra pawn in a drawn ending with opposite-colored bishops but the miracles did not end there. Jorden simply blundered his bishop but Anish just forgot about Black's passer and resigned facing its imminent queening.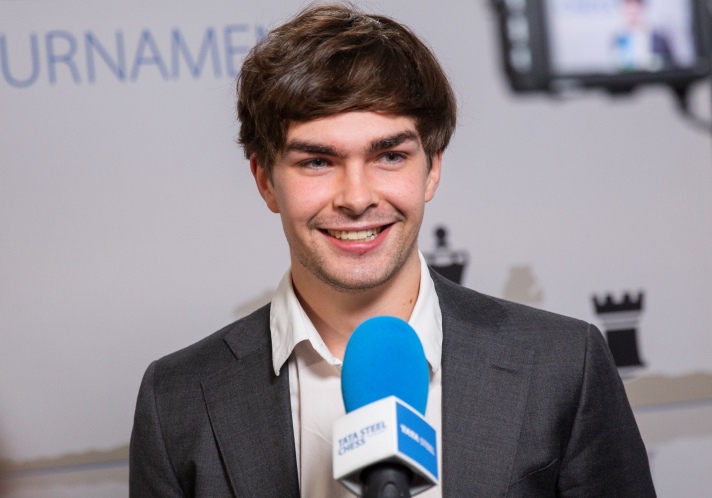 "He [Anish] played the better chess, I played faster chess in the end. Blitz is basically a coinflip. Anish played a great tournament and really deserved to win it. He could have won both games I think, but that is how it goes… I am on the top of the world, I can't feel any better" the happy winner said, who hit a 2700 rating mark for the first time in his career.
Final standings:
1. Jorden Van Foreest – 8½
2. Anish Giri – 8½
3. Andrey Esipenko – 8
4. Fabiano Caruana – 8
5. Alireza Firouzja – 8
6. Magnus Carlsen – 7½
7. Pentala Harikrishna – 6½
8. Arian Tari – 6
9. Nils Grandelius – 6
10. Jan-Krzysztof Duda – 5½
11. David Anton – 5
12. Radoslaw Wojtaszek – 5
13. Maxime Vachier-Lagrave – 5
14. Alexander Donchenko – 3½
Photo: Jurriaan Hoefsmit – Tata Steel Chess Tournament 2021
Official website: tatasteelchess.com/