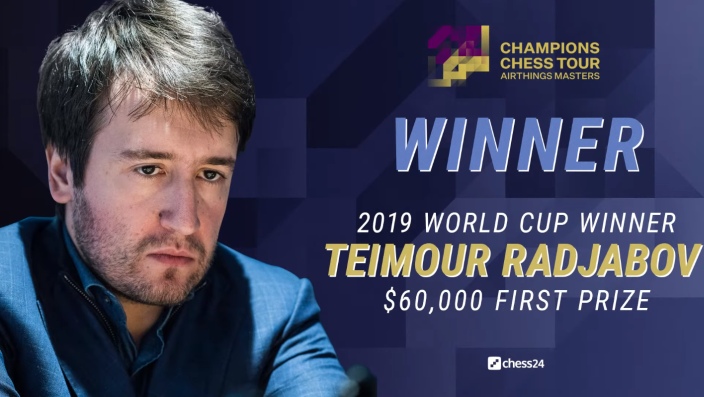 Teimour Radjabov clinched the Airthings Masters title, winning $60,000 and qualified for the tour final in September. In the match for third place, Maxime Vachier-Lagrave bested Daniil Dubov.
After winning the first set of the final Teimour needed just a draw in the second one, but Levon Aronian did not go down easily. In the first see-saw game, Aronian went for a very sharp line which is refuted by the only and very hard-to-find move (21…d3). Teimour missed it and found himself in a lost position but then it was Levon's turn to err. Teimour was winning but did not demonstrate necessary accuracy and the game was drawn.
In the second game, Radjabov showed excellent technique and converted a slight advantage in an endgame with opposite-colored bishops into a full point. Being in a must-win situation Levon tried his best in game 3 but Teimour gradually traded most of the pieces, reached a draw, and won the match.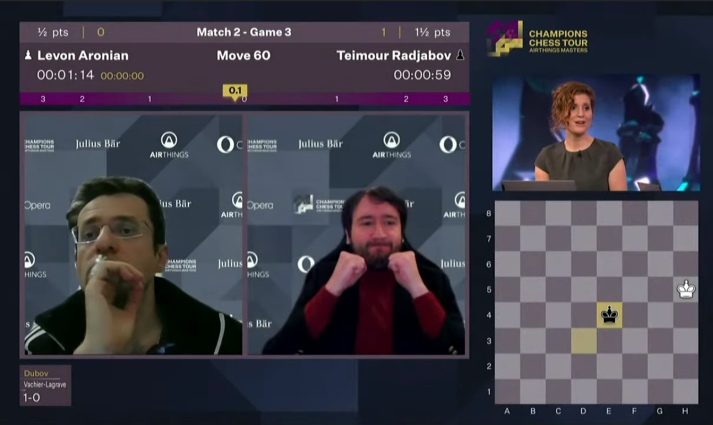 "Today it was really tough. Trying to keep the focus and concentration to the very end and takes a lot of emotions as well to keep this way of calmness that I am trying to produce and not to show if I am happy or unhappy about my position. But it just took so much energy I am completely exhausted. I was trying to take Levon to the blitz part of the match, honestly, after checking his games of preliminaries and knockout stage. He was playing almost perfect chess very close to his highest level, which he always shows when he is in top form. Some can say I was playing some kind of dry chess, but my point was to win the tournament, not to please anyone, to be honest," the winner said in a short interview right after the match.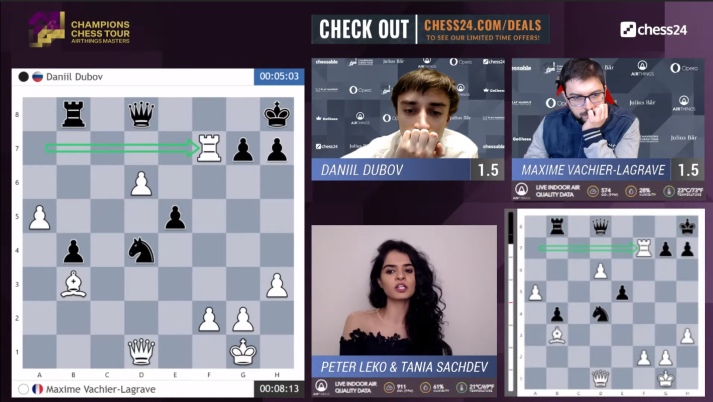 Daniil Dubov got a big advantage in the first and second games, but to his disappointment netted just a half-point. The Russian leveled the score after winning game 3 in good style but in the final encounter of the match, the Frenchman played his most consistent and cleanest chess in the match and tipped the scales in his favor.
Chess24 has revealed that the $1.5 million Champions Chess Tour has a new title partner - the California-based firm Meltwater, a big player in the market for media intelligence and social analytics solutions. The tour will now be renamed the Meltwater Champions Chess Tour.
Official website: https://championschesstour.com/