ISF World Schools Championship Online Chess 2020 is an online event, taking place on a virtual platform Premium Chess from 3 to 25 October 2020. The first finals in the U14 category (born in 2006-2007), 9-round Swiss tournaments with time control 3+2 were held on Saturday and Sunday, 18-19 October 2020.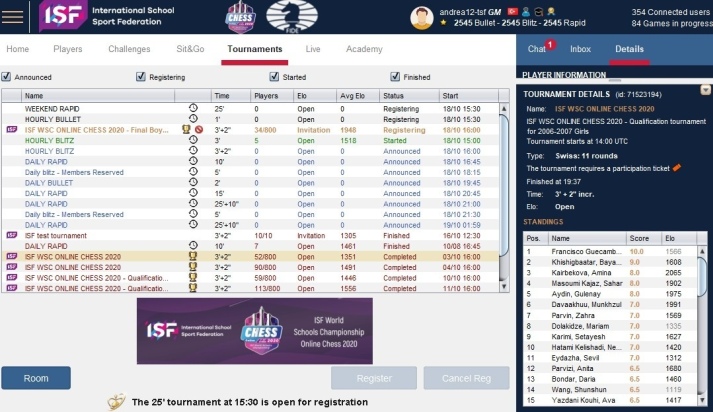 Young chess players from Iran claimed the titles in both groups. Mohammad Javad Khorshidi Paji won among the U14 Open, while Sahar Masoumi Kajaz came out on top in the U14 Girls category. Both players qualified for the ISF U15 World Schools Games in Belgrade, Serbia (scheduled for 26th June - 4th July 2021).
Final standings:
Open U14 category:
1. Mohammad Javad Khorshidi Paji (Iran) – 7 (took the title thanks to better tiebreaks)
2. Read Samadov (Azerbaijan) – 7
3. Simon Lamaze (France) – 6.5
4. Mykhailo Matviienko, (Ukraine) – 6.5
5. Timur Balmagambetov (Kazakhstan) – 6
Girls U14 category:
1. Sahar Masoumi Kajaz (Iran) – 7.5 (took the title thanks to better tiebreaks)
2. Candela Belen Francisco Guecamburu (Argentina) – 7.5
3. Munkhzul Davaakhuu (Mongolia) – 6.5
4. Gulenay Aydin (Turkey) – 6.5
5. Ava Yazdani Kouhi (Iran) – 6
The finals were broadcasted to 1 Play Sports social media channels and moderated by the Soumya Swaminathan, a former FIDE World Junior Girls champion and World #24 player Vidit Gujrathi (both India).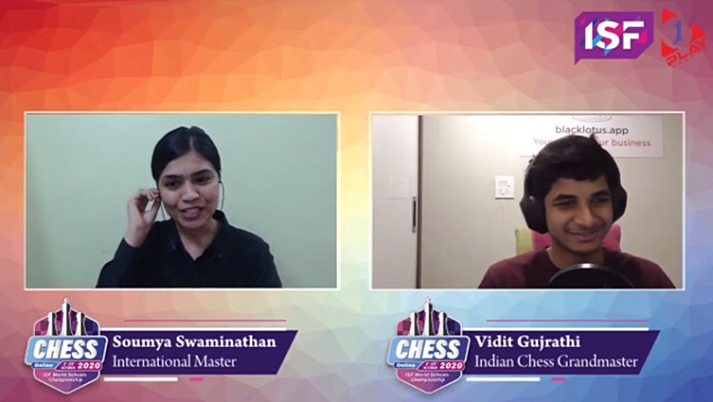 The second round of the finals, in the U17 category (born in 2003-2004-2005), will take place on 24-25 of October. The live broadcast will begin at 14:00 UTC.
Full results and archive of the live stream:
https://www.isfsports.org/isf-world-schools-championship-online-chess-2020