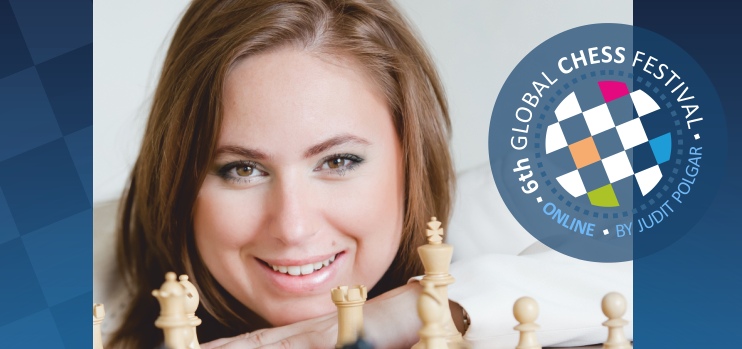 From casual fans to professional players, everyone can join in this year's educational, scientific, artistic and sports activities as the chess festival event moves into online format.
On Thursday 1 October, 2020, from 10 to 11 am, Olympic chess champion Judit Polgár, one of the greatest female players of all time, and Norbert Fogarasi, Managing Director of Morgan Stanley Budapest, the main sponsors of the event, and a board member of the Hungarian Chess Federation, will hold a press conference about the 6th Global Chess Festival, to be held on 10 October, 2020.
You can join the press conference, following a brief registration procedure HERE, clicking on "LIVE".
Journalists can participate in the press conference online. A limited number of spaces will be available for TV crews and photographers to join Judit Polgár and Norbert Fogarasi in the Global Chess Festival's digital control room under safe conditions, at the following address: RentIT, Komócsy utca 9, H-1141 Budapest.
Our topics at the press conference:
Pandemic and crisis management from a Grandmaster's perspective. Chess has brought masters and students closer to each other across continents during the lockdown as millions have played online and streaming audiences have multiplied. Judit Polgár has built on her experience and tactical skills from chess tournaments to see the challenges of the past few months as opportunities, and has created an exciting online space for the Global Chess Festival that everyone can join.

This year's festivities will feature Garry Kasparov and the Polgár sisters.

Chess in (remote) education. Chess helps education and the integration of various communities in society. Judit has invited internationally renowned experts to discuss various topics during this year's Global Chess Festival. One of the topics will concern the handling of social and psychological problems of children from immigrant families, and the positive effect of chess on prison convicts. Judit has again invited more than 500 schools and 2,000 teachers to join the Global Chess Festival, and will discuss the recent work she has done in Hungarian schools among teachers.

The role of chess in business. Norbert Fogarasi will talk about the lessons businesses can learn from chess, and how the skills developed while playing can benefit employees in many ways.

Tournaments and the champions of the future. Judit will host several legendary competitors at this year's festival, including chess Grandmaster and pro footballer Simen Agdestein, who discovered and mentored the talent of reigning World Champion Magnus Carlsen.

Judit will discuss online tournaments and chess courses that everyone can join – from beginners to the champions of tomorrow. Events will include a virtual simultaneous exhibition with Judit and Sofia Polgár.
Questions may be submitted through the online interface during the press conference under the QUESTIONS menu. Please indicate any requests for interviews in advance. A press release, photographs and a detailed festival programme will be shared with journalists.
Please note that any and all on-site TV crew personnel will be requested to wear face masks. Thank you!
For further information and interview requests please contact the person in charge from the GCF team Arpad Lipcsei: press@GlobalChessFestival.com
Official website: http://www.globalchessfestival.com/