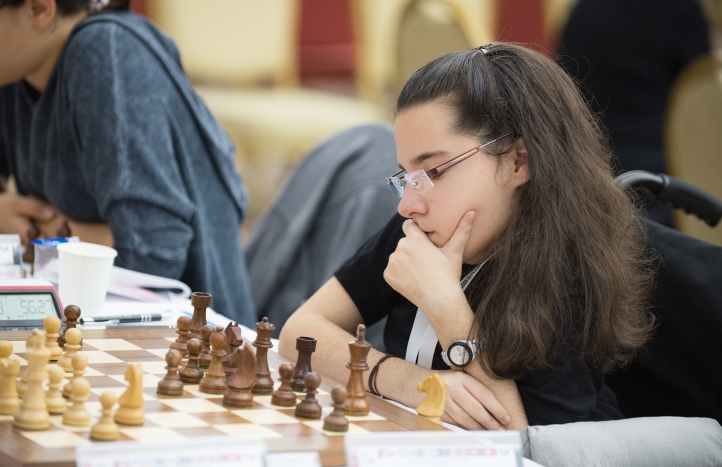 Handenur Şahin is a well-known personality in Turkish chess circles. She is one of the best female players in the country, as well as one of the best women in the world among players with disabilities.
She was born with spinal muscular atrophy (SMA), a kind of muscular disease that severely affects mobility from an early age. As a consequence, she started using a wheelchair when she was just four years old.
Despite the extra difficulties derived from her physical disability, Handenur's achievements are not limited to the chessboard. Recently, news broke on social media that Handenur had graduated with a first degree in the Political Science Department, and a second degree in the Faculty of Economic and Administrative Sciences, from Galatasaray University. This is one of the most reputable colleges in Turkey, but it is only natural that Handenur ended up there: she had previously graduated with a first-place from primary school, and then again she was the first on her promotion at high school.
"I have a competitive side that comes from chess, actually", explains Handenur, who is vivacious and outspoken. She was taught to play when she was 10, following a suggestion from one of her school teachers, and she started taking part in school competitions barely two weeks later. She is convinced that chess played a fundamental role in her development.
"I think I was more vulnerable before I started playing chess. But then I took up chess and the game made me stronger. Soon I learned to not give up after defeats, and this is one of the defining characteristics of my personality. Chess also teaches me to be more patient while studying anything."
If these qualities are very important for any person, in the case of somebody with a physical disability, they become crucial: "Yes, due to my disability, this feature of being more determined about my goals becomes so important for me. Most things are more difficult to achieve for me and it is so important to know not to give up when you encounter any obstacle which comes from physical problems, or from other people's prejudices."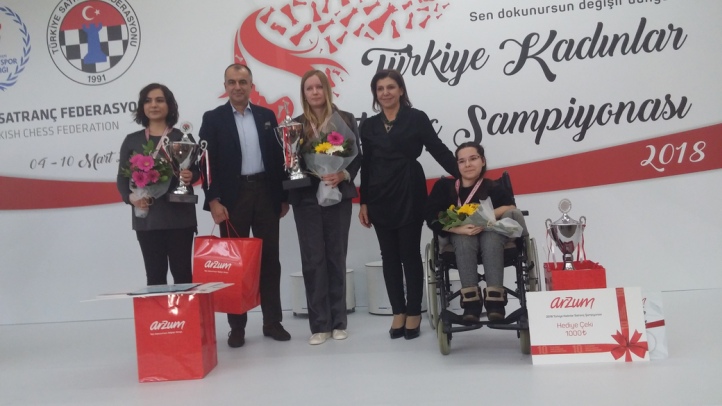 Handenur grew to become one of the top female players in her country, reaching third place in the Turkish Women's Championship in 2018. That year, she won the "Sportswoman of The Year" award by Spor&Spor Magazine. She had previously won several medals in youth categories: gold in U-18, and bronze in U-16 and U-15. She was also the winner of the FIDE Confederation Cup for Disabled People in 2019, and this year she came out second in the online version of this competition, only surpassed by Natasha Morales Santos, from Puerto Rico.
"My parents are the heroes of my story"
From an early age, Handenur had to spend a lot of time doing physiotherapy, and of course, she was forced to spend more time at home than the average kid. "My mom taught me how to spend my time efficiently", she recalls, as one of the keys to her success. "My parents are always so selfless! They are the heroes of my story".
They didn't spoil her just because she was more vulnerable, and they made her realize she would need to work harder and more efficiently than other kids. "They taught me to be more resilient, and with time I also learned to do anything on my own, without asking for help from them. They were very supportive, but they treated me like every other child and taught me to become an individual like everyone else, regardless of my disability.
When asked what piece of advice she would give to the parents of a kid with a physical disability, she doesn't hesitate before giving an answer that applies to any parents: "I recommend families to teach their children to become as self-confident and independent as possible".
About being different
"I always knew I was different. Maybe because the symptoms of my illness are with me since my early childhood, I accepted them easier and learned to live with them", she explains. "These differences became more evident when I started primary school, but I knew this was like any other physical difference, such as the color of your eyes or hair. Everyone is different".
"With time, I realized how I could convert my disadvantages into advantages. I had more time to study, so I decided to make use of this time more efficiently. This is actually one of the reasons why my family encouraged me to play chess in the first place".
As a user of a wheelchair, Handenur highlights the importance of making buildings and cities more accessible and friendly to people with disabilities. However, the physical barriers are not the ones that annoy her the most. When asked what could others do to make things a bit easier for a person with a disability, she answers immediately: "I would ask them to get rid of their prejudices. I think it is the most important thing they can do for us because the most challenging obstacle we encounter is the prejudices of other people"
Dreams and goals
"I like spending time with my friends. When I'm alone, I prefer to read something about political science and international relations, but also about history. In so doing, I improve myself, but that's what really gives me joy: learning different things".
Handenur cites Kasparov's My Great Predecessors as her favorite chess book, and The Kite Runner, by Afghan-American author Khaled Hosseini, as her favorite fiction book. She is also a fan of the Harry Potter series, and she loves Sci-Fi. "The Hunger Games and The Pianist" are two of my favorite movies.

Last year, Handenur worked as an intern for the Sabancı Foundation, a Turkish philanthropic organization. Established in 1974, the foundation gives money for a variety of causes, awarding scholarships to college students and funding projects led by women, young people, and people with disabilities.
"In the future, I would like to work for humanitarian affairs, if it's possible in an international institution. I would like to work especially for disadvantaged people, to improve their conditions and to ensure them the chance of opportunity as much as possible".