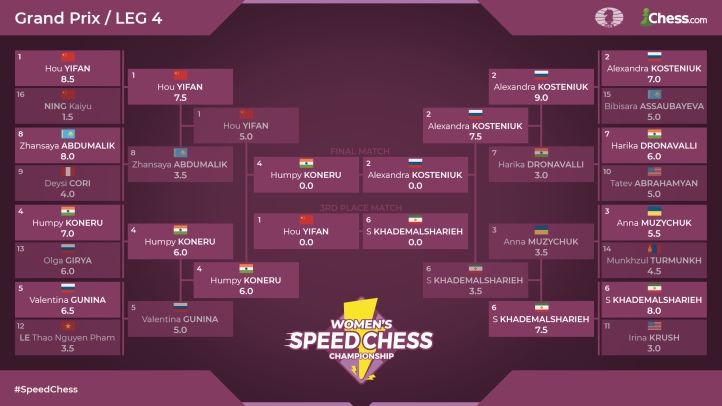 Humpy Koneru and Alexandra Kosteniuk will meet in the final of the fourth and last leg of the Women's Speed Chess Grand Prix on July 19.
The semifinals saw two close battles. The rivalry between Hou Yifan and Humpy Koneru goes back to 2011 when the two played a world championship match, confidently won by the Chinese chess star. Today Indian #1 took revenge - the players went neck and neck until the last bullet game which Humpy won with Black by weaving the mating net around the white king to clinch the victory 6-5. It was a painful loss for the world's highest-rated player as she failed to qualify for the Super Final spot.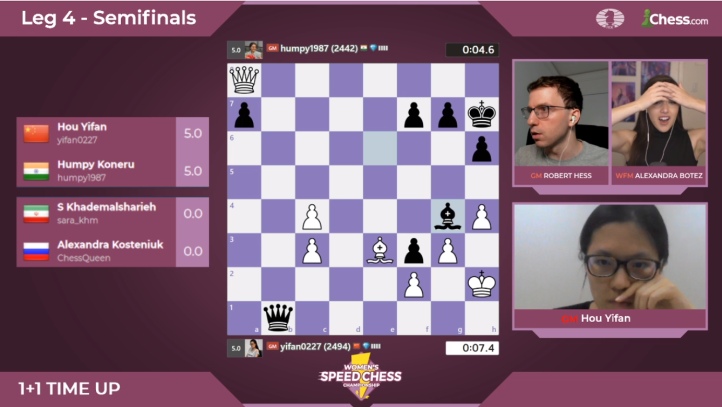 The second semifinal between Alexandra Kosteniuk and Sarasadat Khademalsharieh started as a very tight match too. Kosteniuk had a one-point lead going into the bullet portion but proved superior in the fastest time control extending it to comfortable four points, 7.5-3.5.
"I was not too happy with my play. Early on, in the first games, I missed a lot of small tactics. That made me worried. But all's well that ends well," summarized Kosteniuk.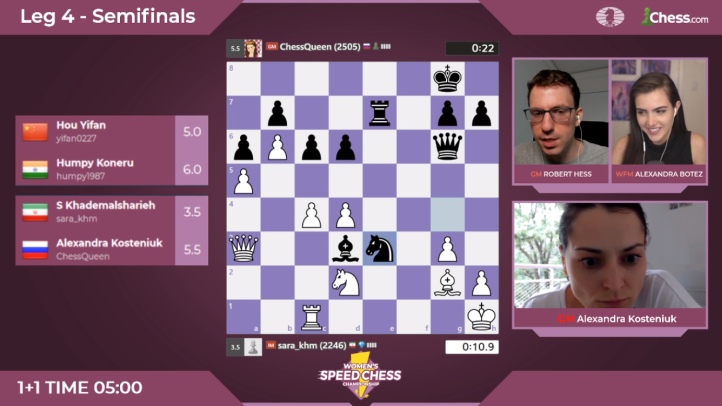 With this victory, Kosteniuk eliminated one of the rivals on the way to the vacant Super Final spot. As Ushenina and Gunina are sitting on the top of the WSCCP standings with 22 GP points, it's all in Kosteniuk's hands now. If she wins the final against Koneru on Sunday, the July 20 Super Final match will be Kosteniuk vs Ushenina (the Ukrainian has a better tiebreak over Gunina). If Kosteniuk loses to Koneru (who is out of the race), the Super Final will become the third instance of Leg 1 and 2 finals - Ushenina vs Gunina.