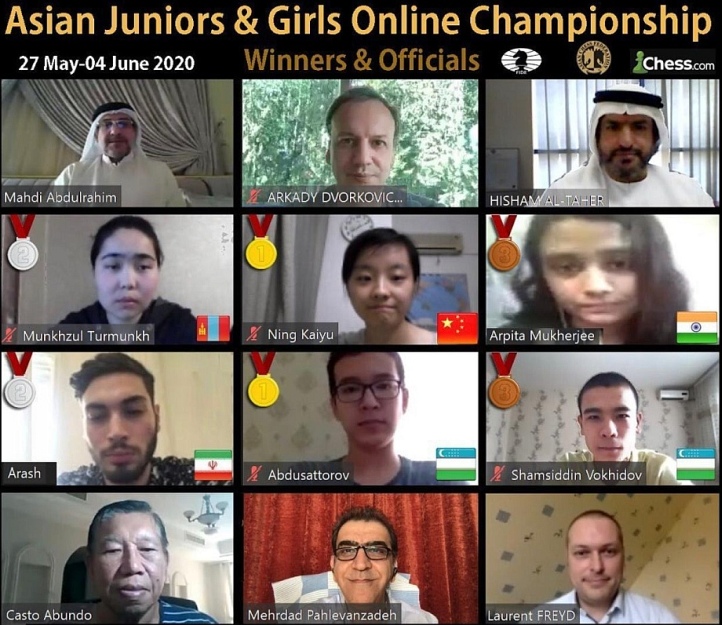 FIDE President Arkady Dvorkovich congratulated the winners of the Asian Juniors and Girls Online Chess Championships organized by the Asian Chess Federation and Chess.com. FIDE President joined the closing ceremony in the Zoom room together with Asian Chess Federation Secretary General Hisham Al Taher and FIDE Arbiters Commission Chairman Laurent Freyd as Chief Arbiter Abulrahim Mahdi announced top-three winners in the juniors and girls divisions.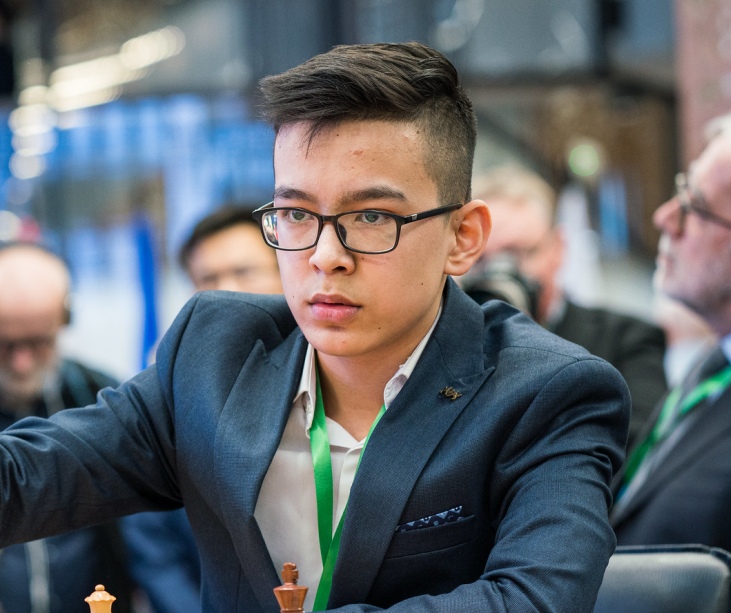 Photo: Lennart Ootes
The nine-round Swiss tournament brought together over 200 participants from 43 countries. GMs Shamsiddin Vokhidov (UZB) and Parham Maghsoodloo (IRI) rated 2500+ were considered to be the main favorites in the junior section but it was another rising young star from Uzbekistan Nodirbek Abdusattorov, who came to the top with an excellent result 7.5 out of 9. On his way to the title, the champion won six games and made just three draws.
In the girls division WIMs Ning Kaiyu (CHN) and Munkhzul Turmunkh scored 7 out 9 and tied for the first place with the former taking the title thanks to better tiebreaks. It is worth mentioning that the champion was ranked just seventh (1884) in the starting list.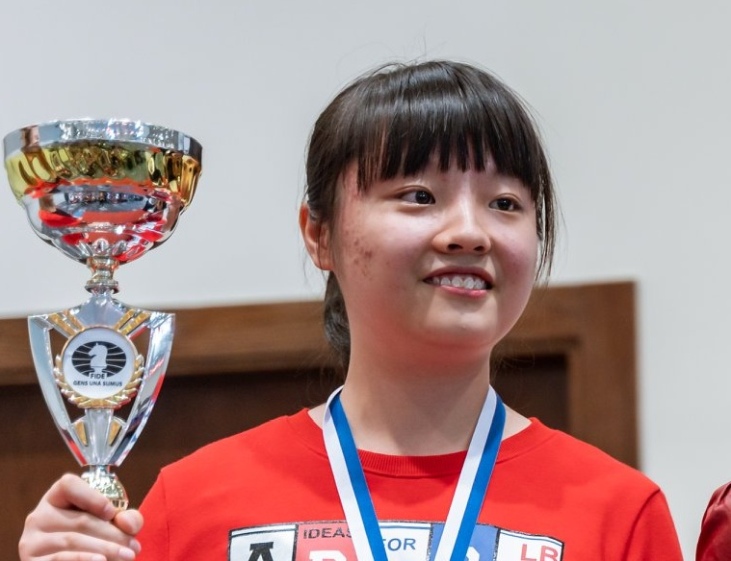 Photo: Niki Riga
In the course of the closing ceremony, the winners expressed their thanks to the organizers for a successful tournament. The tournament Director Mehrdad Pahlevanzadeh made pairings by Swiss Manager program and uploaded the results to Chess.com. Assisting the tournament were Deputy Chief Arbiters Haroon or Rashid of Bangladesh and K.K.Chan of Hong Kong together with Pairings Assistants IA Patrick Lee and FA Felix Poloyapoy of the Philippines. GM Dimitri Komarov of Ukraine and Jaime Kenmure of Australia provided live commentary on Twitch.
Asian Chess Federation gratefully acknowledges Nick Barton and Simon McNamara of Chess.com for their support.
Final standings:
Juniors
| | | | | |
| --- | --- | --- | --- | --- |
| | Player | Country | Rating | Points |
| 1 | Abdusattorov Nodirbek (ChessWarrior7197) | UZB | 2469 | 7.5 |
| 2 | Tahbaz Arash (Arash_Tahbaz) | IRI | 2302 | 6.5 |
| 3 | Vokhidov Shamsiddin (Vokhidov11) | UZB | 2538 | 6.0 |
| 4 | Batsuren Dambasuren (baag) | MGL | 2118 | 6.0 |
| 5 | Peng Xiongjian (NewCosmos) | CHN | 2364 | 6.0 |
| 6 | Tabatabaei M.Amin (amintabatabaeai) | IRI | 2381 | 6.0 |
| 7 | Maghsoodloo Parham (parhamov) | IRI | 2532 | 5.0 |
| 8 | Zhalmakhanov Ramazan (Zhalmakhanov_Ramazan) | KAZ | 2475 | 5.0 |
| 9 | Mitrabha Guha (mitrabhaa) | IND | 2122 | 5.0 |
| 10 | Liu Yan (temporarywork) | CHN | 2427 | 5.0 |

Girls
| | | | | |
| --- | --- | --- | --- | --- |
| | Player | Country | Rating | Points |
| 1 | Ning Kaiyu (Qnmeng) | CHN | 1884 | 7.0 |
| 2 | Munkhzul Turmunkh (munkhzul_turmunkh) | MGL | 2044 | 7.0 |
| 3 | Arpita Mukherjee (chessdreamer2001) | IND | 1837 | 6.5 |
| 4 | Pandey Srishti (Srisshhhtea) | IND | 1962 | 5.5 |
| 5 | Bai Xue (chess_littlebear) | CHN | 1825 | 5.5 |
| 6 | Aakanksha Hagawane (aakankshachess) | IND | 1870 | 5.5 |
| 7 | Abrorova Sabrina (Sabrinachess2006) | TJK | 1302 | 5.5 |
| 8 | Alinasab Mobina (Ama18) | IRI | 2143 | 5.0 |
| 9 | Altantuya Boldbaatar (altantuya_tuya) | MGL | 1735 | 5.0 |
| 10 | Singgih Diajeng Theresa (Chezzgirl04) | INA | 1823 | 5.0 |