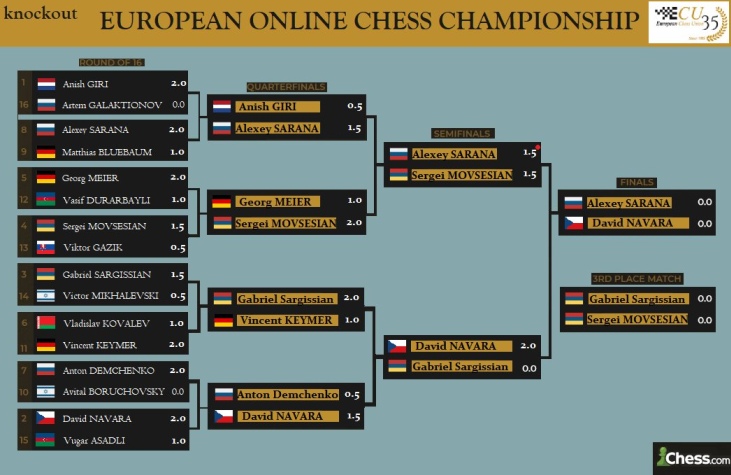 On Sunday, May 31, 2020, GM Alexey Sarana (Russia) won the title in the group for 2300+ players of the first European Online Chess Championship and took home €1,200. The tournament was held in different rating categories ( A 1000-1400, B 1401-1700, C 1701-2000, D 2001-2300, and E 2300+) May 16-31 on Chess.com.
The Russian GM won a 16-player playoff to which he qualified from two Grand Prix events (held on May 20 and 30) along with thirteen other participants. At this knockout stage, two invited players - Anish Giri and David Navara - joined the competition. The matches were played in best-out-of-two rapid games format (time control 10+2) with an Armageddon if needed.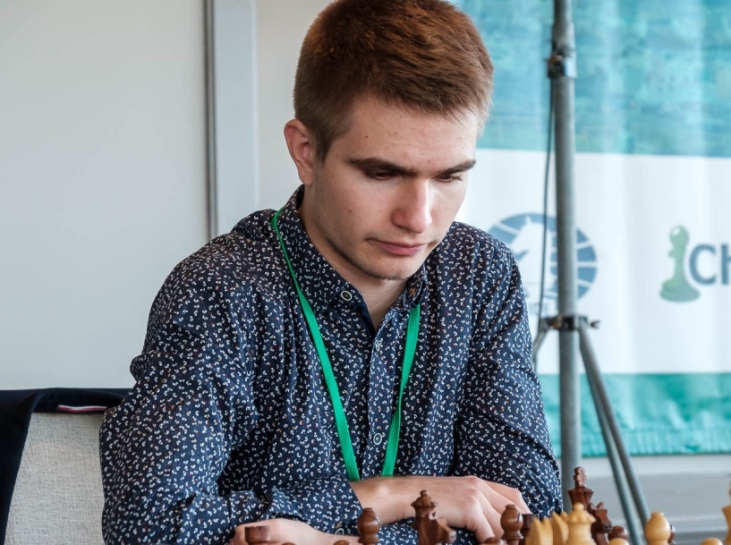 Photo: John Saunders
The eventual champion had a tough test in quarterfinals as he faced Anish Giri. After holing with black, Alexey won with white by breaking through and advancing his pawns on the kingside. It is worth mentioning the success of Armenian chess, as two representatives of this country Sergei Movsesian and Gabriel Sargissian made it to the semifinals. David Navara became the fourth semifinalist after defeating Anton Demchenko.
Sarana – Movsesian semifinal was unique as the former advanced to the without winning a single game: the Russian GM drew all the encounters, including the Armageddon. Meanwhile, in the other semifinal, Navara whitewashed Sargissian.
Sarana was in full control in the final – after winning the first game in a solid positional style, in the second encounter he impressed his opponent, commentators, and spectators with an unexpected but very sound move with an idea of exploiting the darks squares:
Navara - Sarana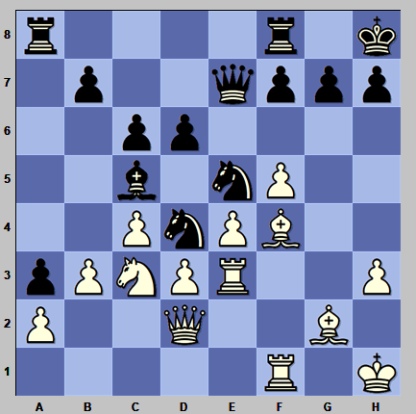 20…g5! after this move, Black is simply better 21. fxg6 fxg6 22. Na4 Ba7 23. Ree1 Ne6 24. Bh6 Rxf1+ 25. Rxf1 g5 26. Qa5 g4 27. Nb6 Rg8 28. Qxa7 gxh3 and seven moves later White capitulated 0-1
"I am really happy we had this tournament because for players like me and other 2600 players, there are big tournaments but there is a lot of competition and very low prices. It's difficult for us to play; it's hard to get anything," said the champion in a short online interview.
Sarana, Navara, Sargissian, who beat his compatriot Movsesian in the match for third place, all qualified for the European Individual Championship, scheduled for December 8-21, 2020 in Terme Olimia, Slovenia.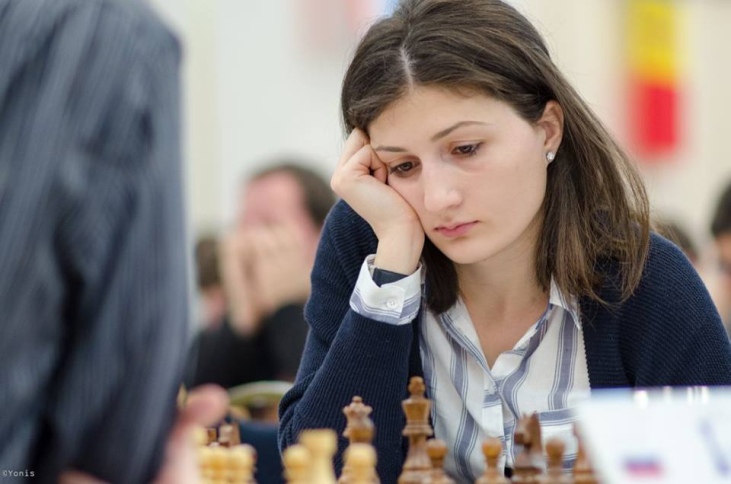 Nino Batsiashvili (GEO) scored 10 points in two Grand Prix events won the title of European Women Online Chess Champion. The champion received €700 and directly qualified for the European Individual Women's Championship (October 31-November 12 in Mamaia, Romania). Polina Shuvalova (RUS) and Daria Voit (RUS) tied for the second with the former taking silver thank to better tiebreaks.
Final standings:
Category A 1000-1400:
Mustafa Sezgin (TUR, 1201 rapid rtg)
Gulsana Aghayeva (AZE, 1329 rapid rtg)
Roman Popov (CZE, 1379 rapid rtg)
Category B 1401-1700:
Richard Stalmach (CZE, 1667 rapid rtg)
Ognjen Domovic (CRO, 1544 rapid rtg)
Ahmet Donmez (TUR, 1483 rapid rtg)
Category C 1701-2000:
Sebastian-Ion Pavel (ROU, 1996 rapid rtg)
Elnur Mehtiyev (AZE, 1968 rapid rtg)
Artur Davtyan (ARM, 1854 rapid rtg)
Category D 2001-2300:
Murad Ibrahimli (AZE, 2155 rapid rtg)
Abdula Gadimbayli (AZE, 2254 rapid rtg)
Artur Davtyan (ARM, 1854 rapid rtg)