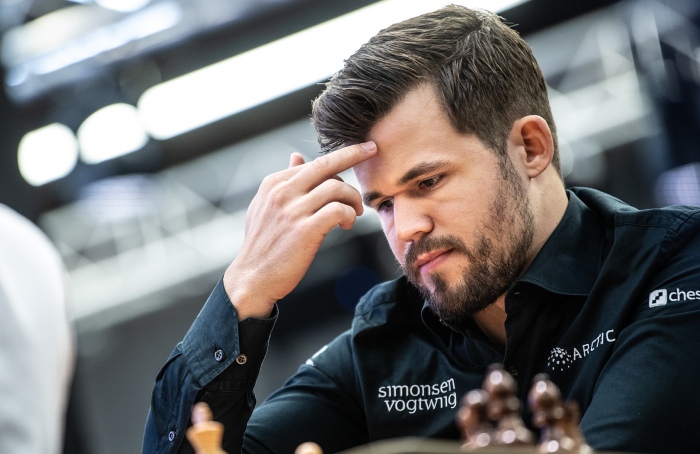 Historic event to remember the father of modern chess
Reigning World Champion Magnus Carlsen will star
20 top players compete in two sections
FIDE event held on Chess24.com from May 14
From its inception in 1886 to Magnus Carlsen today, a mere 16 people have worn the official crown of undisputed World Chess Champion.
Now, to celebrate the legacy of the man who started it all, the chess world is staging a unique online competition in memory of Wilhelm Steinitz (1836-1900).
The International Chess Federation FIDE and broadcaster Chess24.com have joined forces to hold the first FIDE Online Steinitz Memorial tournament.
It will take place over the Austrian-American legend's birthday between May 14 and 17 and be a thoroughly modern online event - fitting for a true chess legend, considered the father of the modern game.
The star performer is Carlsen, the current undisputed World Chess Champion and heir to. He's joined by 3-time World Blitz Champion Alexander Grischuk, 2013 World Blitz Champion Le Quang Liem, and star players such as Peter Svidler and Shakhriyar Mamedyarov. 2018 and 2019 Women's World Blitz Champion Kateryna Lagno heads the women's line-up, with former Women's World Champions Alexandra Kosteniuk, Antoaneta Stefanova and Tan Zhongyi, and 2018 World Blitz silver medalist Sarasadat Khademalsharieh, all in action.

Photo: Österreichische Nationalbibliothek
Mr. Dvorkovich said: "Steinitz is the first official World Chess Champion, and with him began a long tradition lasting to our day. He was also a revolutionary, who created a whole new school of chess: 'positional play' was a concept that didn't exist before him. His historic 25 game winning streak, or his 32 years undefeated in match play, speak volumes about his caliber as a player. He was also a celebrated author and publicist. All this is his legacy, a legacy to which we pay tribute today.

We are very proud to have Magnus Carlsen taking part in this event, as a worthy heir of this long lineage of champions. Probably Magnus understands better than anyone that the role of a World Champion implies certain responsibilities, and he has always been on the frontline when it comes to giving chess the role it deserves in our society. It is safe to say that Steinitz would have been proud of him."

Carlsen added: "Organising the FIDE Online Steinitz Memorial is a nice way to commemorate the first official World Chess Champion and to highlight the significance of the strong tradition his match against Zukertort started for modern chess history."
The Steinitz Memorial will be a double-round robin blitz contest broadcast online in at least six languages: English, Spanish, French, Portuguese, and Turkish.
Steinitz, who moved to America and was buried in New York, was the dominating chess figure for most of the latter half of the 19th century.
He was crowned the first official World Chess Champion after his match victory against Johannes Zukertort in 1886. Steinitz himself, though, claimed his reign truly commenced with his match victory against Adolf Anderssen at London 1866. Either way, the highly influential writer and chess theoretician's place in chess history is secure: Steinitz is the original chess champion and the forerunner of today's great players.
Steinitz Memorial - List of the invited players
| | | | | |
| --- | --- | --- | --- | --- |
| N | Open section | Blitz Rating | Women section | Blitz Rating |
| 1 | Carlsen | 2887 | Lagno | 2608 |
| 2 | Grischuk | 2765 | Lei Tingjie | 2530 |
| 3 | Bu Xiangzhi | 2760 | Kosteniuk | 2521 |
| 4 | Svidler | 2754 | Tan Zhongyi | 2510 |
| 5 | Xiong | 2724 | Stefanova | 2485 |
| 6 | Dubov | 2720 | Sebag | 2482 |
| 7 | Mamedyarov | 2716 | Khademalsharieh | 2431 |
| 8 | Le Quang | 2690 | Abdumalik | 2409 |
| 9 | Korobov | 2667 | Paehtz | 2396 |
| 10 | Anton Guijarro | 2590 | Cori D | 2391 |

FIDE Online Steinitz Memorial Regulations (pdf)
Tune in to honor him at the Fide Online Steinitz Memorial, live on Chess24.com from May 15.
Schedule (all times are CEST):
Friday, May 15th

Saturday, May 16th

Sunday, May 17th

Rounds 1-6 Women:
15:00 – 18:15


Rounds 7-12 Women:
15:00 - 18:15


Rounds 13-18 Women:
15:00 – 18:15

Rounds 1-6 Open:
18:30 – 21:30

Rounds 7-12 Open:
18:30 – 21:30


Rounds 13-18 Open
18:30 – 21:30

FOR MORE INFORMATION:
David Llada
david.llada@fide.com
+34 623 021 120