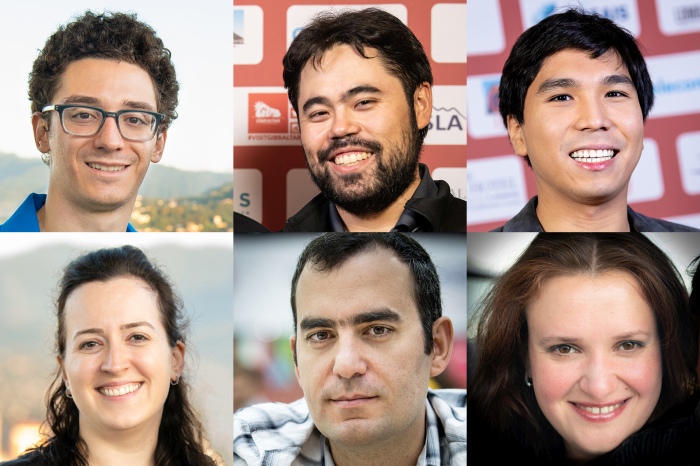 The USA, winners of the 2016 Olympiad, brings to the competition all their top guns:
Captain: John Donaldson
Willaim John Donaldson was the captain of the US team at numerous chess Olympiads, including the golden team of 2016. A world-renowned expert in chess history and the author of more than 30 books, in 2018 John Donaldson won the Mikhail Botvinnik Award for the best trainer of men or a team in an open event.
Fabiano Caruana (Std. 2835 Rpd. 2773)
One of the youngest grandmasters in history Fabiano Caruana became the third-highest rated player ever (2844) after winning the 2014 Sinquefield Cup. He participated in three Candidates Tournaments and in 2018 became the first American challenger since Robert Fischer. The winner of numerous international events, Fabiano played on the first board for the US golden team in 2016. He is currently ranked second in the world, right behind Magnus Carlsen.
Hikaru Nakamura (Std. 2736 Rpd. 2829)
A five-time US Champion and a member of the US Golden team 2016 Hikaru Nakamura reached his peak rating in 2015, which made him second in the world at the time. A recognized expert in rapid chess formats (particularly in bullet) he is currently #1 in the blitz rating.
Wesley So (Std. 2770 Rpd. 2741)
The first official Fischer Random World Champion and the 2017 US Champion Wesley So is the fifth-highest rated player in the history of chess. In 2016, he played for the US on the third board at the Chess Olympiad 2016 and won team and individual gold.
Irina Krush (Std. 2429 Rpd. 2392)
A seven-time and the youngest ever US Women's chess champion Irina Krush was awarded the title of Grandmaster in 2013. A permanent member of the US team at Chess Olympiads, she won silver in Calvia (2004) and bronze in Drezden (2008).
Leinier Dominguez Perez (Std. 2758 Rpd. 2786)
A five-time Cuban champion and Blitz World Champion (2008), Leinier Domínguez Perez achieved his best career result in the 2013 FIDE Grand Prix event in Thessaloniki (2013) where he finished clear first ahead of many elite players. He also can boast of the individual silver medal won the Chess Olympiad 2016 in Baku. In 2018 he changed federation and currently represents the USA.
Anna Zatonskih (Std. 2420 Rpd. 2327)
Born in Ukraine, Anna Zatonskih has represented the US since 2003. A four-time US women's champion, she played for her new home country in eight Olympiads since 2004. Her resume includes silver in Calvia (2004) and bronze in Drezden (2008).