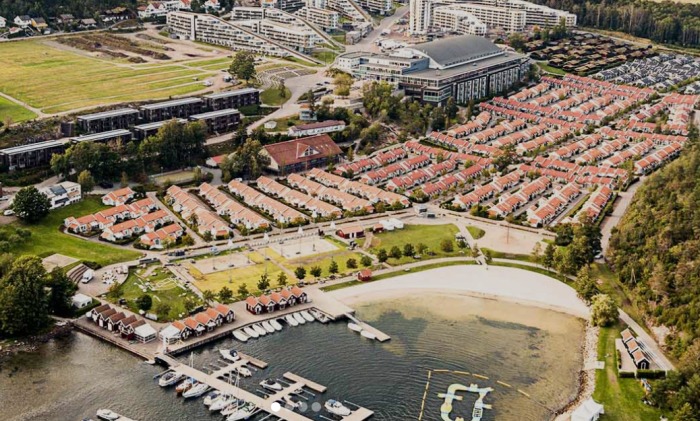 From May 22 to May 24, the Oslofjord Convention Cente, beautifully situated by the coast in the municipality of Sandefjord, Norway, will host ChessParty 2020. With over 12,000 beds in apartments and cottages and a plenary hall that seats more than 7,000 attendees, the Oslofjord Convention Center is on track to become one of Europe's largest combined accommodations and events venues.
ChessParty is first and foremost a major social event. It's a party for everyone, where activities like football, skating, swimming, boating, beach volleyball, table tennis, and barbecuing mean the entire family will be able to experience Norway at its finest.
• Meet many of the world's top players such as Magnus Carlsen, Wesley So, and Fabiano Caruana
• Watch Magnus Carlsen play simultaneously against his fans
• PRO Chess League finals powered by Chess.com
• Open Fischer Random Tournament
• Norwegian Championship for Teams!
• Children's Grand Prix Tournament
• Chess exhibition
• Courses and lectures by well-known profiles such as Simen Agdestein and Henrik Carlsen
• Opening show Friday and award show on Saturday
• Player party both Friday and Saturday
• Famous Norwegian hosts and artists
• Continuous mini-tournaments at all levels
There will be courses for both beginners and advanced players as well as lecture by Henrik Carlsen, the father of Magnus Carlsen.
In the PRO Chess League, many of the world's top players participate, such as Wesley So, Fabiano Caruana, Ding Liren, Maxime Vachier-Lagrave, Alexander Grischuk, Ian Nepomniachtchi, Shakhriyar Mamedyarov, Anish Giri, Jan Krzysztof Duda, Hikaru Nakamura, Alireza Firouzja, Jon Ludvig Hammer and the 2017 junior world champion Aryan Tari.
The regular season of the PRO Chess League is underway, and by March 12, it will be clear which four teams will be battling for the right to be crowned PCL champions in Norway.
The Open Fischer Random Tournament will feature 6 rounds of rapid and 12 rounds of blitz. Cash prizes will be the same across both the winner of the open section, as well as the highest placing non-tournament winning gender. Bonus prize: The person(s) leading after the rounds of rapid chess will have the opportunity to play against the Fischer Random World Champion Wesley So.
Official site: https://www.chessparty.com/