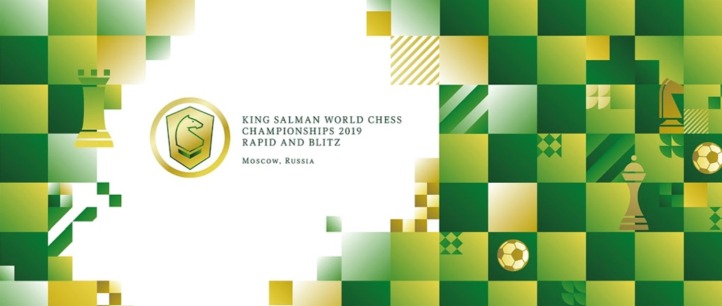 Magnus Carlsen and Kateryna Lagno are leading in their sections after the first day of the World Blitz Chess Championship in Moscow. With nine rounds to go in the Open section, Carlsen (10/12) is half a point ahead of the second-placed Maxim Matlakov (9½/12), while another three players are on nine points. In the Women's Blitz, the leader, Kateryna Lagno scored 8/9. She is chased by four players with seven points.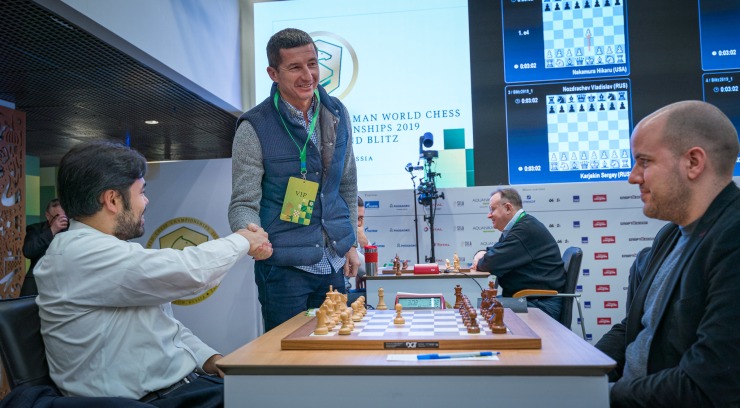 The World Blitz Championship, which is taking place in the historic Luzhniki Stadium, was opened by Russian footballer and former national team member Evgeni Aldonin, who made the first move on board one, where Hikaru Nakamura was facing Marin Bosiocic.
The first part of the Open tournament saw a surprising rise of the 15-year-old Uzbek GM Nodirbek Abdusattorov who started with five wins. The only other player with a maximum score after five rounds was Magnus Carlsen. In Round 6 two leaders clashed. Abdusattorov sacrificed a pawn but Carlsen managed to take control of the game by consolidating his position and preserving an extra pawn. However, the Norwegian blundered badly on move 33 and lost a pawn. The World Champion couldn't hide his anger and betrayed his frustration with a sudden hand movement. Carlsen was in trouble but eventually, the game ended with a draw. Abdusattorov's performance slipped in the second half of the first day, but with 7/12 against some of the strongest players in the Open section, his score is very impressive.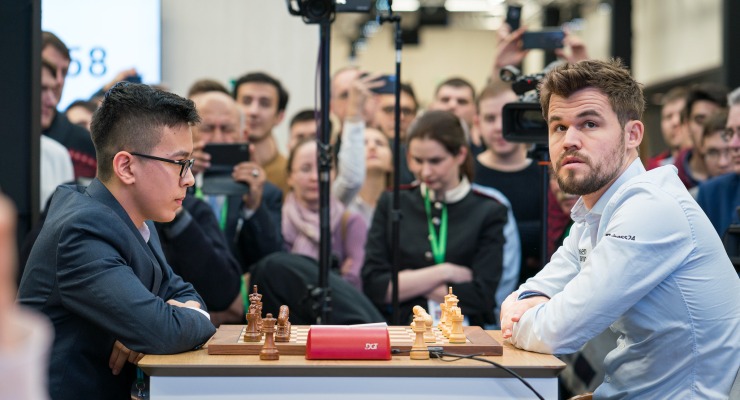 The biggest surprise came in Round 7, which saw Carlsen suffer his first defeat in both championships. After drawing his sixth game, Carlsen (who entered round seven with 5½/6) lost to Dmitry Andreikin, the two-time Russian champion. Carlsen found himself in time trouble and an inferior position due to his insecure king ended up two pawns down and eventually resigned. Carlsen quickly brushed it off and won four games and draw only one in the final five rounds.
Maxim Matlakov, who is holding the second position after the first day, had five points after the first six rounds (four wins and two draws). He then had a series of three consecutive draws followed by three wins which landed him in second place by the end of the day. Matlakov's key moment will likely come in the first game of the second day, in Round 13, when he will be facing Magnus Carlsen on board one.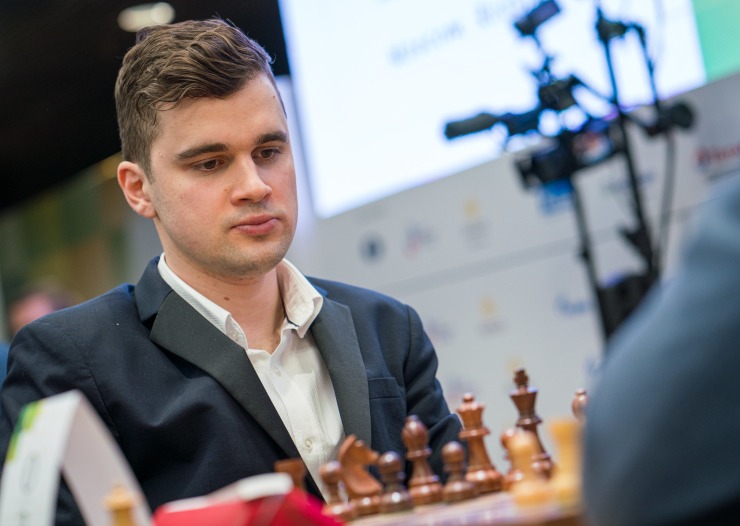 Three players are tied for the third place: Hikaru Nakamura, Daniil Dubov, and Ian Nepomniachtchi. The bronze-medalist from the 2018 Blitz in St. Petersburg, Hikaru Nakamura, had the momentum taken away from him in the third round when he bit the dust in the encounter with Alireza Firouzja, and then barely saved a draw in Round 4 against Timur Gareyev. Dubov started his blitz campaign with a loss to Ilia ljiushenok but then regained his confidence and maintained a good rhythm throughout the day. Ian Nepomniachtchi suffered two loses on the first day (to Ponkratov and Socko), but won his last four games, which will likely bolster his confidence ahead of the decisive day of the Blitz Championship.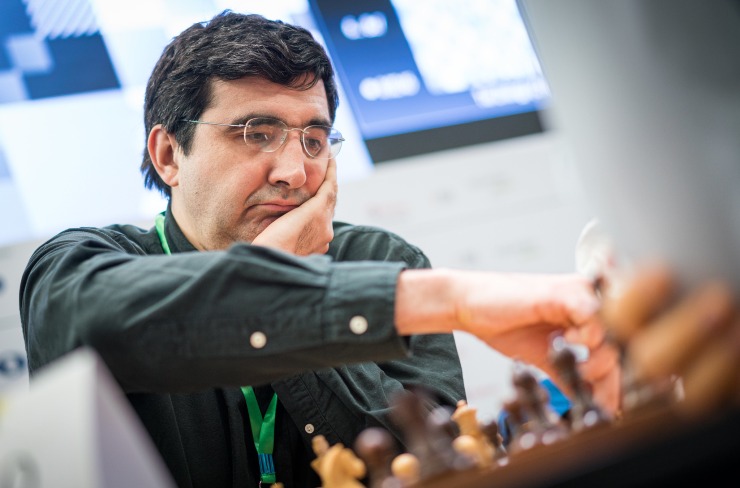 The former World Champion Vladimir Kramnik is on eight points after 12 rounds. Kramnik's first loss came in Round 5, where he fell to Sergey Karjakin. The former world champion lost two more games to Gabriel Sargissian and Boris Savchenko but secured a place close to the top echelons. Overall, not a bad result so far for someone who retired from active chess.
1. Magnus Carlsen (NOR) 2865 – 10
2. Maxim Matlakov (RUS) 2720 – 9½
3. Hikaru Nakamura (USA) 2885 – 9
4. Daniil Dubov (RUS) 2736 – 9
5. Ian Nepomniachtchi (RUS) 2826 – 9
6. Vidit Santosh Gujrathi (IND) 2756 – 8½
7. Vladislav Artemiev (RUS) 2793 – 8½
8. Jan-Krzysztof Duda (POL) 2796 – 8½
9. Shakhriyar Mamedyarov (AZE) 2706 – 8½
10. Yu Yangyi (CHN) 2807 – 8½
The Women's Blitz
Nine games were played on the first day of the Women's Blitz. Kateryna Lagno showed her determination to defend her 2018 women's world blitz champion title. She not only scored 8 points out of 9 but also already defeated some of her most likely competitors for the title.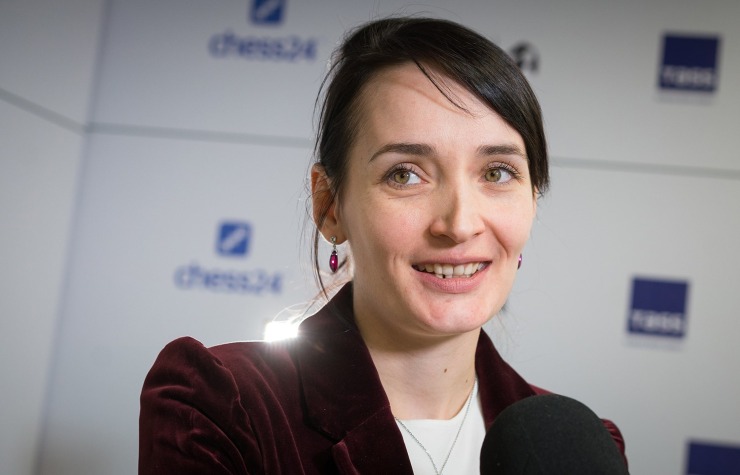 There are four players are on the leader's heels: Alexandra Kosteniuk, Humpy Koneru, Daria Charochkina, and Alina Kashlinskaya, all on 7/9.
Alexandra Kosteniuk finished the day with just one loss and will face Lagno in Round 10. The winner of this year's Women's Rapid, Humpy Koneru lost to the day-one leader Katerina Lagno in a dramatic battle in the final round of the first day but continues her quest for her second title in Moscow.
1. Kateryna Lagno (RUS) 2606 – 8
2. Alexandra Kosteniuk (RUS) 2521 – 7
3. Humpy Koneru (IND) 2489 – 7
4. Daria Charochkina (RUS) 2212 – 7
5. Alina Kashlinskaya (RUS) 2282 – 7
6. Tan Zhongyi (CHN) 2480 – 6½
7. Batkhuyag Munguntuul (MGL) 2282 – 6½
8. Anastasia Bodnaruk (RUS) 2375 – 6½
9. Zhansaya Abdumalik (KAZ) 2415 – 6½
10. Anna Muzychuk (UKR) 2504 – 6½
Official website and LIVE broadcast: https://wrbc2019.com
Text: Milan Dinic
Photos: Lennart Ootes
Photos are available for the press at our official Flickr account.