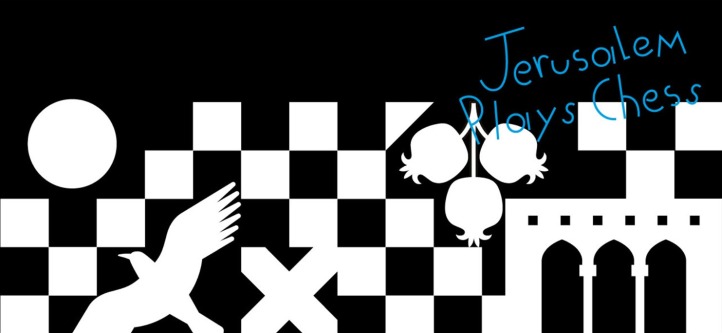 Ian Nepomniachtchi wins the Jerusalem Grand Prix after defeating Wei Yi 1,5-0,5 in the final, thus qualifying to the Candidates Tournament 2020. The second game of the final match finished in a draw after 26 moves.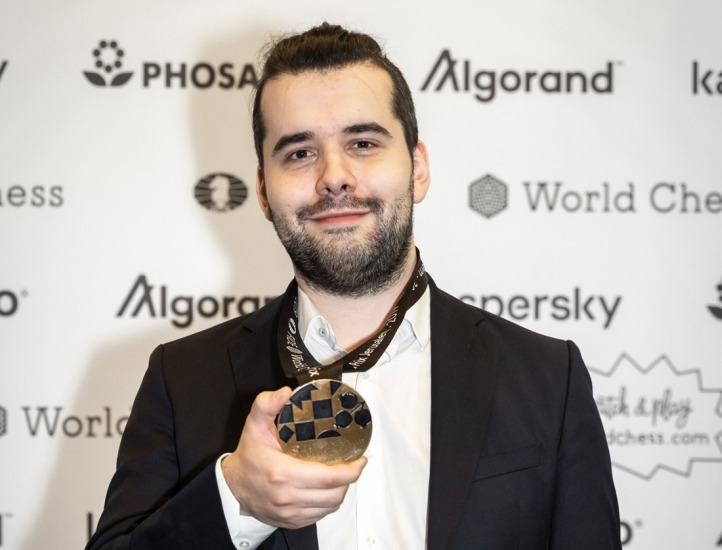 Dmitry Vasiliev, First Deputy Director General of CROC, one of the Russian IT market leaders, was the guest of honor in today's round. He made the first move in the last game of the FIDE Grand Prix 2019, organized by World Chess. It was not an easy task for Wei Yi today, who had to find a way to put up a decent fight with Black in the second game of the final. The Chinese grandmaster had to win the second game to equalize the score in the final match after losing the first game on the previous day. Wei Yi chose to play the Pirc system which looked promising for Black. The Chinese grandmaster decided to sacrifice 2 pieces in order to break through on the King's side but White had enough resources to defend and to keep the material advantage.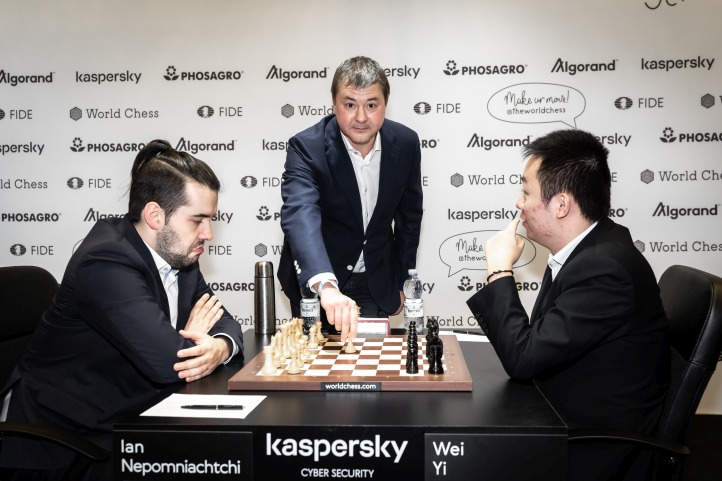 According to Ian, he was sure he had a strategically better position, and after he put his bishop on f5, White should be out of any danger. "Obviously, in the end, I could try to play on, but when I realized that I could end the game with the perpetual check I thought "why not?" It looks like my opponent attacked me, sacrificed two pieces and then brilliantly found a perpetual check. Everyone should be happy with today's game", said Ian with a smile.
"I have very mixed feelings. It was a very busy and tough year and actually, my strategy was not to qualify for the London Grand Chess tour, as I knew that London almost clashes with the last leg in Jerusalem, which I suppose would be very difficult."
"Speaking seriously, I would like to say that it's a very big moment in my career. The run is still on and it's a bit difficult because I'm tired after this year and probably there will be no rest as I need to prepare for the Candidates right now. In fact, every match was tough, including yesterday's game but the toughest match was against Boris Gelfand. I was the only match where I completely deserve to lose but managed to escape," said Nepomniachtchi after his victory.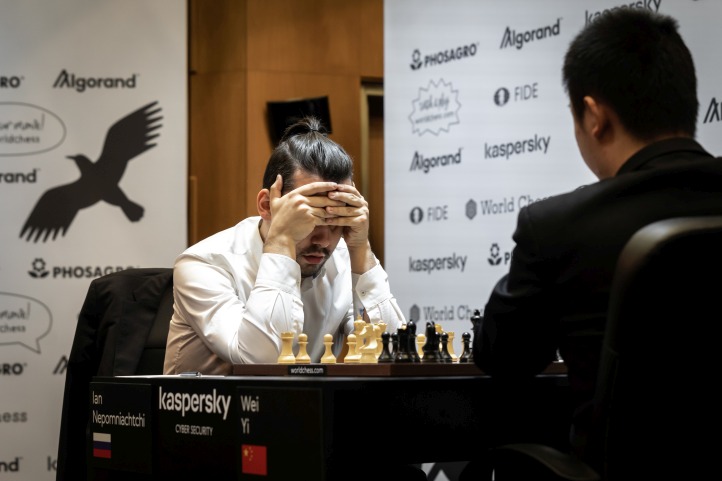 When asked about his chances in the Candidates, Ian added: "First of all I should play better in the Candidates than here if I want to have a few chances. I'm not a hundred percent sure who is playing there. Clearly it's a good point that I have a good experience playing in Grand Chess Tour events with a similar field, including Ding Liren, Fabiano Caruana and others. Let's wait until Candidates happens and let's show the best chess I'm capable of."
The overall winner of the Grand Prix series 2019 is Alexander Grischuk, with 20 points, one more than Ian Nepomniachtchi. The third in the final standings for the series is Maxime Vachier-Lagrave, with 16 points: despite having had a very good 2019, his result is not good enough to get the Frenchman a place in the Candidates tournament.
FIDE Grand Prix Series 2019
Final Standings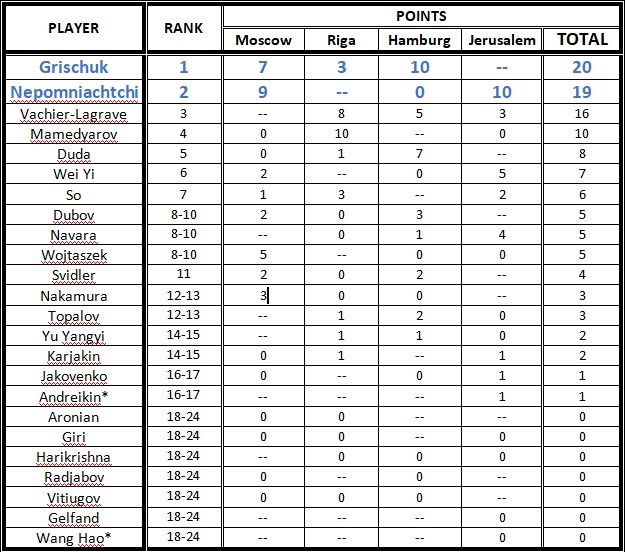 *Replacements
At the closing ceremony, Ilya Merenzon, CEO of World Chess said: "The Series was dramatic. I am very grateful that all the players showed their best, but some were disappointed with the results, but that means that chess is a sport and is as unpredictable as the sport can get. Thanks to those who followed the Series that will no doubt become a part of chess history."
Arkady Dvorkovich, FIDE President said: "The last stage of the FIDE Grand Prix Series 2019 is over. We watched the incredible games of the best chess players in the world. There were many bright and dramatic moments. At the end of the series, the spots in the Candidates Tournament are held by Alexander Grischuk and Ian Nepomniachtchi. Congratulations to all the winners and FIDE Grand Prix participants."
Andrey Guryev, Vice-President of the Russian Chess Federation and the head of PhosAgro expressed his satisfaction with the results: "The last stage of the FIDE Chess Grand Prix ended triumphantly for Russian chess players. Ian Nepomniachtchi showed a great game and will join Alexander Grischuk in the Candidates Tournament! PhosAgro will keep its promise and sign a personal sponsorship contract with both Grandmasters. Now the chances of bringing the chess crown back to Russia are much higher!"
Costin Raiu, Director, Global Research & Analysis Team, Kaspersky: "Our work is very much like a game of chess - a constant struggle and fight between good and evil. Building a strong defense can take years, while some attacks happen in seconds. I learned a lot about security strategies while playing chess - overprotection, development, and time or space advantages are incredibly similar in both disciplines. As defenders, we need to be right every single time, while attackers only need to get lucky once. In chess - one bad move can undo 50 good ones. However, in security, we can often learn both from our mistakes and wins. In the words of one of the greatest players who ever played the game of kings - José Raúl Capablanca - "You may learn much more from a game you lose, than from a game you win. You will have to lose hundreds of games before becoming a good player."
Official website and LIVE broadcast: https://worldchess.com
FIDE Press officer for the event: Anastasiya Karlovich
Official Photographer: Niki Riga
Photos are available for the press from the following link to Dropbox.
Leading partners supporting the FIDE World Chess Grand Prix Series 2019 include:

Algorand as the Exclusive Blockchain Partner
PhosAgro as the Official Strategic Partner
Kaspersky as the Official Cybersecurity Partner
Usetech as the partner of the Jerusalem Grand Prix
Prytek as the Technology Transfer Partner