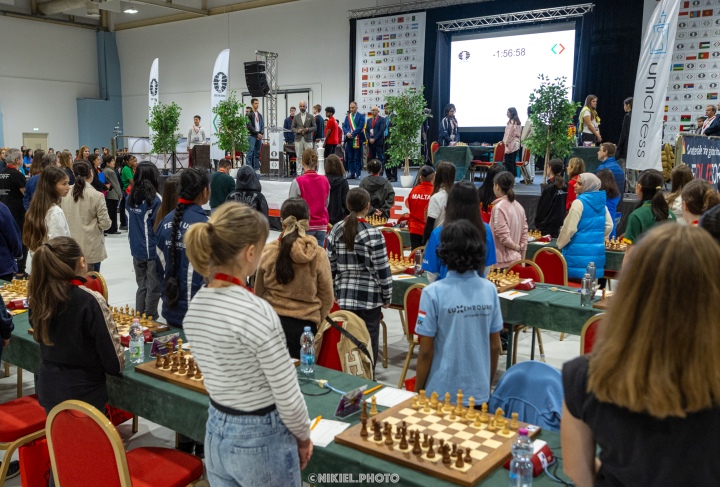 The 2023 World Youth Chess Championship started in Montesilvano, Italy. The Opening ceremony took place in Congress Center - Pala Dean Martin, the official playing venue of the competition.
First, the Anthems of the host country, Italy and the International Chess Federation were performed. Among the distinguished guests were Ottavio De Martinis, Mayor of Montesilvano; Adriano Tocco, the city council; Veronica Goi, Vice-President of the Italian Chess Federation; and FIDE President Arkady Dvorkovich, who made short speeches.
Ottavio de Martinis, Mayor of Montesilvano, thanked the FIDE President and the Italian Chess Federation for an opportunity to host the championship and greeted the participants.
"On behalf of the entire Montesilvano, I wish you a wonderful championship and amazing days in our city", he said.
"The year is coming to an end, and very soon, we will know the names of six new World Youth Champions. And who knows, maybe some of you, the best of you, will have a chance to participate in the upcoming World Rapid and Blitz Championship in Samarkand, Uzbekistan. So, try to show your best. I really hope that many of you will represent your countries in the very top events all around the world, including possibly in Italy in 2028. Who knows. Italy made a bid for the Olympiad in 2028," FIDE President said.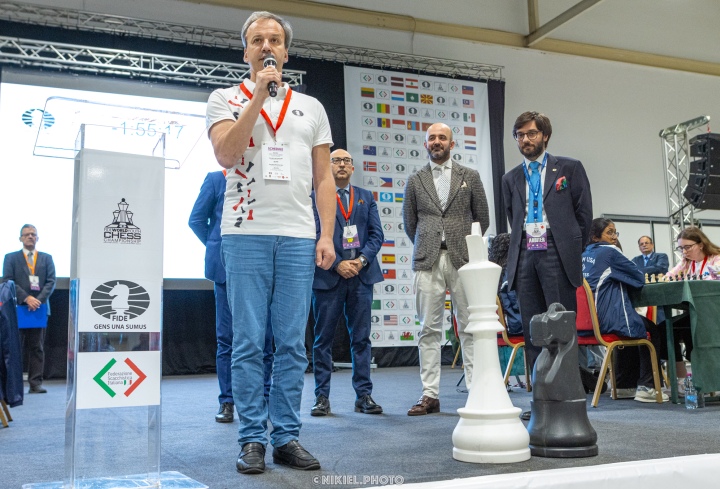 He also thanked the municipality of Montesilvano for its tremendous hospitality and for making the participants feel comfortable in the competition.
"Chess is a conflict of two intellects, but at the same time, it is the game that can unite and build good partnership… Take this tournament as a big experience for all of you, and good luck," said Veronica Goi, Vice President of the Italian Chess Federación
After Arkady Dvorkovich and Ottavio De Martinis made the first ceremonial moves, the competition got off the mark.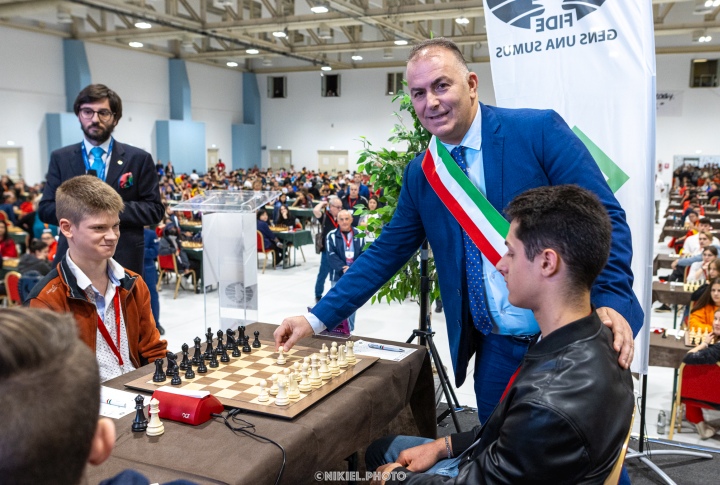 The event brought together 766 participants from 80 federations of FIDE, with 134 players in Open category U18, Open U16 138 players, Open U14 178 players; in Girls category U18 86, Girls U16 138, and Girls U14 125 players.
The top seed players in all categories are GM Volodar Murzin(FIDE, 2625), IM Jan Klimkowski (POL, 2520), IM Savva Vetokhin (FIDE, 2403), WIM Yelyzaveta Hrebenshchykova, (UKR, 2292), WIM Nurmanova, Alua (KAZ,2367), WFM Shukhman, Anna (FIDE,2263).
There were several surprises in the first round of the championship. In the Open U18 category, the second seed, Indian IM VuppalaPrraneeth, was defeated by Mathias Lind Schouten of Norway, rated 2175.
The second upset of the day occurred on the second board in the Girl U16 section as Liya Kurmangaliyeva (KAZ, 2236) managed only a draw facing Jessica Hyatt (USA,1818).
Round 1 results:
Photos: Przemek Nikiel
Official website: worldyouth2023.com/