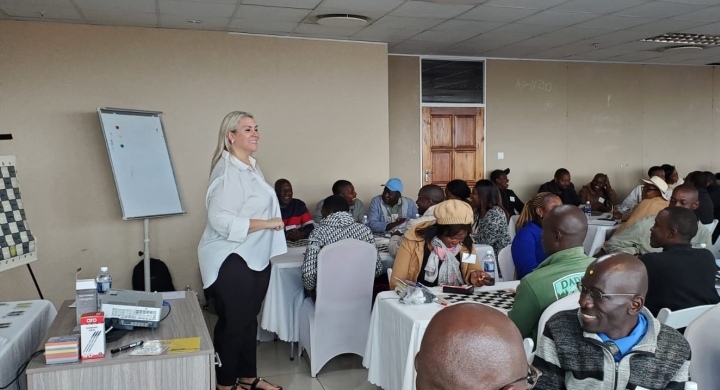 How do you introduce chess as an educational tool in classrooms on a regional or country-wide scale? The challenges for successfully implementing a chess in education (CIE) initiative can be as complex as the game of chess itself. CIE brings chess to the learners in their comfortable and familiar classroom environment. Introducing chess in the classroom proves to be equally educational to educators, federations, and even national governments. Knowledge is indeed power!
FIDE's Chess in Education Commission continues to assist federations in developing scalable and sustainable CIE initiatives. Recently completed visits to Zimbabwe and Nigeria included in-person Preparation of Teachers (PoT) courses alongside visits from government and business leaders. Partial funding from the International Olympic Committee enabled us to carry out this project effectively. Such activities laid the groundwork for the expansion of CIE and provided national federations greater visibility and credibility with stakeholders.
The Chess in Education Development team and International Advisory Board from FIDE EDU expanded the resources for in-person training by including tangible resources and workbook materials for classroom use. For many countries, an in-person PoT course provides the opportunity to showcase the federation chess as an educational tool. The course allows for media coverage and meetings with key stakeholders in government and business. Federations that are seen as partners in education within the country may gain access to human and financial resources that would otherwise not be available. An added benefit is the influx of a new generation of young chess players.
As a result, FIDE EDU has a positive impact on the educational environment, and the outcome of these projects is not merely the qualification of School Instructor titles to successful participants of our PoT courses but the empowerment of federations to the wide-scale introduction of CIE in their countries.
Visits similar to those in Zimbabwe and Nigeria are scheduled or in the process of being scheduled for the remainder of the year. The confirmed PoT courses and accompanying stakeholder meetings include:
11-15 September: Guyana
25 – 30 September: Namibia (2 PoT deliveries, one in Windhoek and another in Swakopmund)
2-5 October: Nigeria
18 – 21 October: Tanzania
27 – 29 October: Cape Town, South Africa
25 – 28 November: Victoria Falls, Zimbabwe
PoT courses are also planned in Botswana, Zambia, and The Gambia in December.
Here are some highlights from our recent visits to Nigeria and Zimbabwe: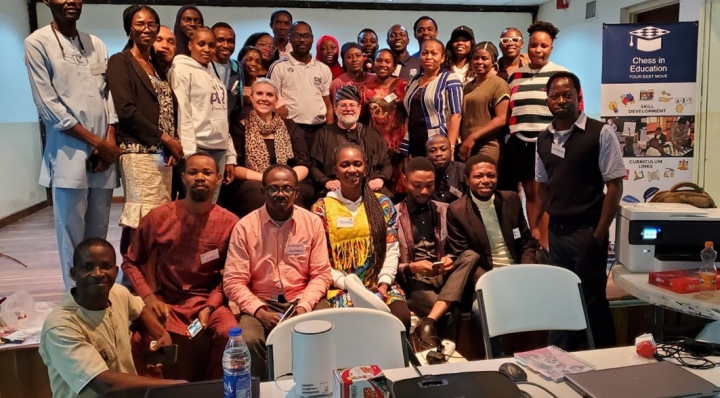 The participants of the PoT course with the lecturers Anzel Laubscher (FIDE EDU member) and Jerry Nash (FIDE EDU Chair) in Lagos, Nigeria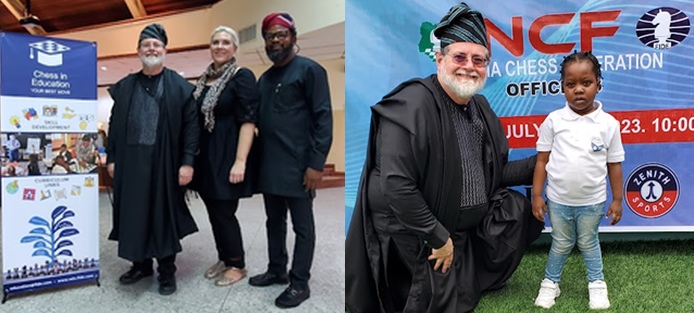 Jerry Nash dressed in traditional Nigerian attire with Anzel Laubscher, Prince Adeyinka Adewole and the most important participant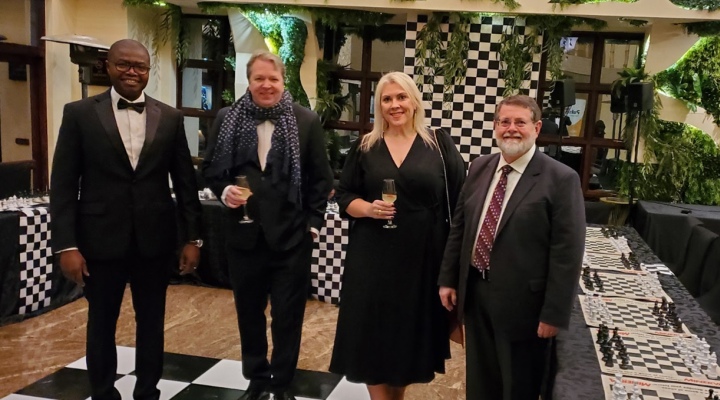 Corporate simul hosted by Zimbabwe Chess Federation was a successful opportunity to create awareness and raise funds for Chess in Education locally
Anyone interested in discussing the possibilities of developing CIE initiatives in their country may contact FIDE EDU by email: education@fide.com.