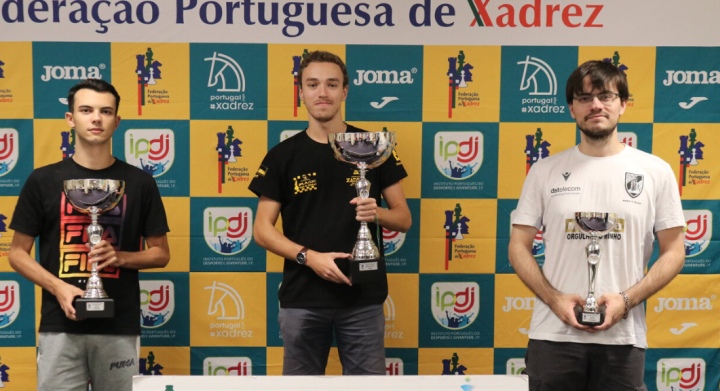 José Guilherme Santos is the new champion of Portugal. The 20-year-old FM turned in a commanding performance and won his first national title with a round to spare.
The 2023 Portuguese national chess championship took place from September 3-10 at the Hotel D. Luís in Coimbra.
José Guilherme Santos dominated the field from the start, scoring an impressive 8/9 and conceding his opponents just two draws. The champion completed his second IM norm and picked up 49 rating points.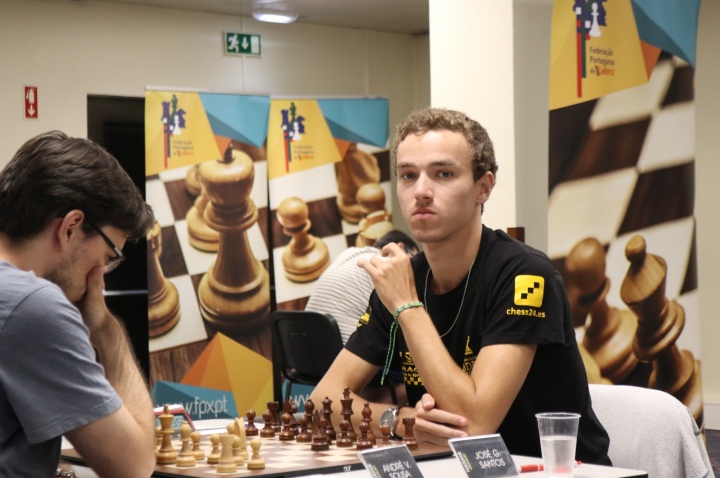 FM Bruno Martins finished 1.5 points behind the champion and took silver. Thanks to his final-round victory over Paolo Dias, Bruno also achieved an IM norm. Rounding out the podium was a four-time national champion, IM André Sousa, who had won this event in 2019-2022.
The champion and the runner-up became the only unbeaten players in the tournament.
Final standings:
| | | | | |
| --- | --- | --- | --- | --- |
| 1 | FM | SANTOS, José Guilherme | 2392 | 8 |
| 2 | FM | MARTINS, Bruno | 2325 | 6½ |
| 3 | IM | SOUSA, André V | 2430 | 6 |
| 4 | IM | ROCHA, Sérgio | 2306 | 5½ |
| 5 | IM | VEIGA, Francisco | 2354 | 5 |
| 6 | GM | FERNANDES, António | 2321 | 5 |
| 7 | NM | FIDALGO, André Neves | 2229 | 4 |
| 8 | IM | DIAS, Paulo | 2320 | 2½ |
| 9 | FM | SANTOS, António P | 2219 | 2 |
| 10 | NM | SOUSA, João Dinis | 2249 | ½ |

Official website: fpx.pt/
Photos: official website