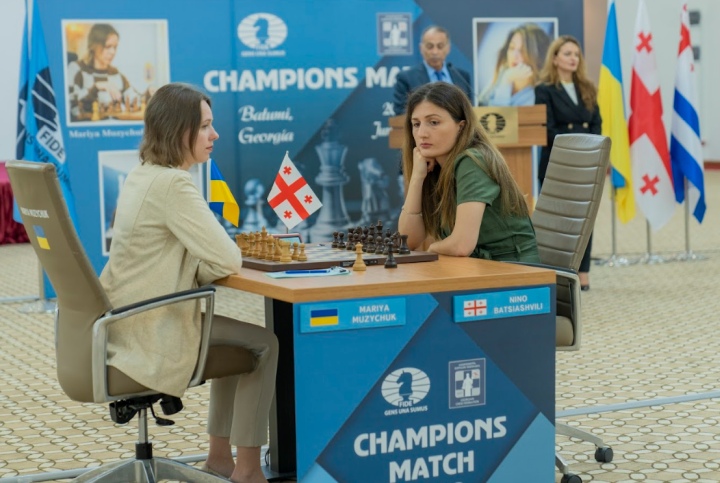 The Muzychuk sisters pressured with White, but the Georgian players stood their ground.
On June 5, the Champions Match got off the mark in the conference hall of the Legend Hotel after a short opening ceremony.
Before starting the clock, the participants were greeted by the Minister of Education, Culture and Sports of Adjara Maya Khajishvili and FIDE Special Tasks Director and the President of the Georgian Chess Federation, Akaki Iashvili.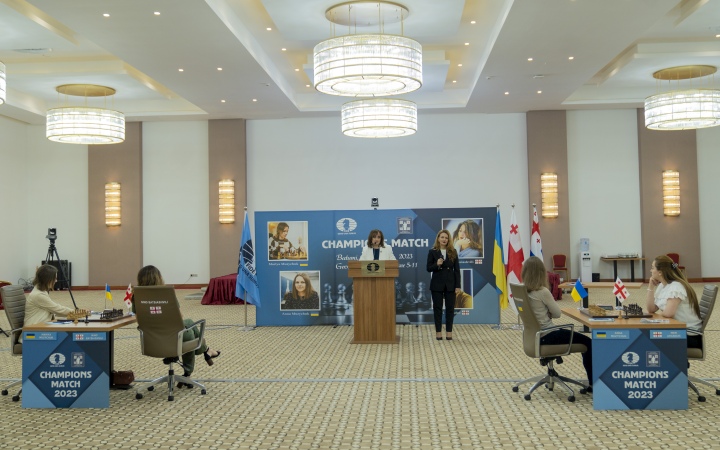 Mariya Muzychuk – Nino Batsiashvili (0.5-05)
The opponents tested a popular line of the Sveshinkov Sicilian in which Black traded his light-squared bishop for White's centralized knight and found herself in an inferior position. However, after a couple of sluggish moves by Mariya, Nino exchanged the queens and transposed into a roughly equal endgame where the opposite-coloured bishops suggested a draw as the most likely outcome. Indeed, the ladies split a point on move 44.
Anna Muzychuk – Meri Arabidze (0.5-0.5)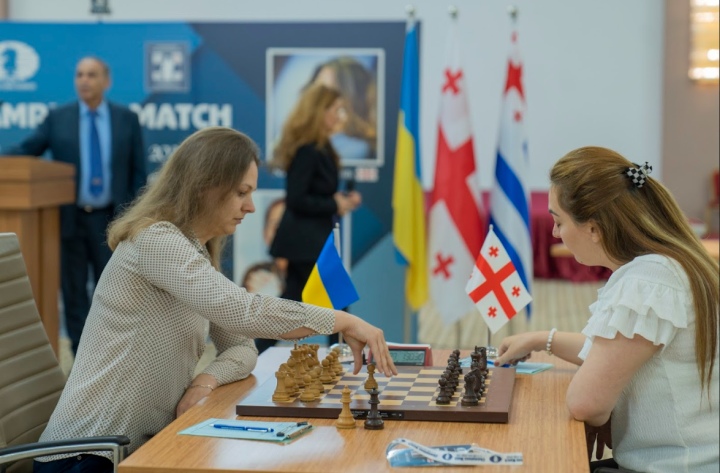 Meri comfortably equalized as Black in the Closed Ruy Lopez, but on move 26, she preferred activity to passive defence and sacrificed a pawn. It did not work out for Arabidze as, after a series of mutual inaccuracies, White gradually consolidated and achieved a winning position.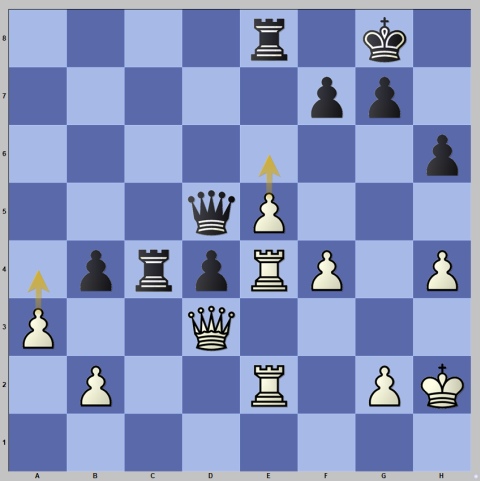 After 48.a4 Black is hard-pressed for a reasonable continuation. However, Anna hastily played 48.e6? and let her opponent escape after 48…Rxe6 49.Rxe6 fxe6 50.Re5 Qc6.
A draw was agreed in a rook endgame in which Black had sufficient activity for White's extra pawn.
The second round of the Champions Match will start on June 6 at 3 PM local time, with the Georgian players having the white pieces.
Photos: Mindia Malakmadze
Official website: batumi2023.fide.com/