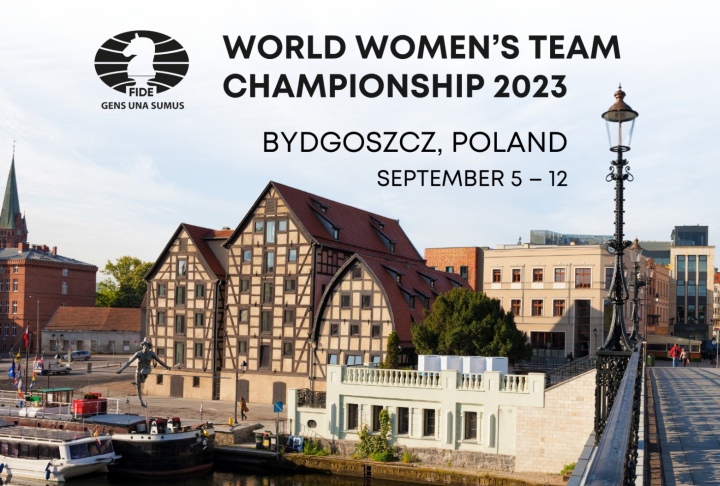 The city of Bydgoszcz, in Poland, will host the 9th edition of the FIDE World Women's Team Championship 2023, to be held from September 5-12.
The competition will follow a similar format to the previous edition, held in Sitges (Spain) in 2021. Twelve teams of four players each (plus two reserves) will be divided into two pools of approximate strength, according to the average rating of the team. The matches are decided by team points, with 2 points for the winning team, and 1 each in case of a draw. Four teams will be eliminated at the pool stage, with the best eight teams advancing to a double-round knockout stage.
In the pool stage, board points will be used as a tie-break, while in the knock out the eventual ties will be decided through blitz matches (see the regulations for more details).
The time control is 45 minutes for the whole game with an increment of 10 seconds per move starting from move 1.
"I am proud to say that Poland has established itself as one of the main host countries for all kinds of top-level sporting events, particularly since the highly successful UEFA Euro 2012. This of course includes chess, a sport that has always been extremely popular in the country, and even more so in recent years. The European Blitz and Rapid Chess Championships in 2021 and 2022 held in Katowice, and the FIDE World Rapid and Blitz Championships held in Warsaw at the end of 2021 -under very challenging circumstances- are a testimony of how valued chess is in the country", said FIDE's Secretary General, Lukasz Turlej, who originates from Katowice. "These previous experiences show that Poland is nowadays one of the most suitable places to host a high-level chess competition, both in terms of organizational standards and fan engagement".
Radoslaw Jedynak, Grandmaster and President of the Polish Chess Federation, added: "Hosting a Women World Team Championship, especially in connection with the silver medal achieved by Poland during Olympiad in Baku 2016 and the rise of many young female talents in our country, holds immense importance. Witnessing top-level athletes competing on the international stage in their own country can ignite a passion for the sport among the youth. The event showcases the pinnacle of skill, determination, and sportsmanship, motivating aspiring players to set ambitious goals and work hard to achieve them".
Located in northern Poland, less than 200km from the capital Warsaw, Bydgoszcz sits at the junction of the rivers Vistula and Brda. With 350,000 inhabitants, it is served by its own domestic airport. An architecturally rich city, Bydgoszcz is home to a number of universities, like the Casimir the Great University, University of Technology and Life Sciences and a conservatory, as well as the Medical College of Nicolaus Copernicus University in Toruń. With a thriving cultural life, it also hosts the Pomeranian Philharmonic concert hall and the Opera Nova opera house.
More information about Bydgoszcz: www.bydgoszcz.pl
Tournament regulations: https://handbook.fide.com