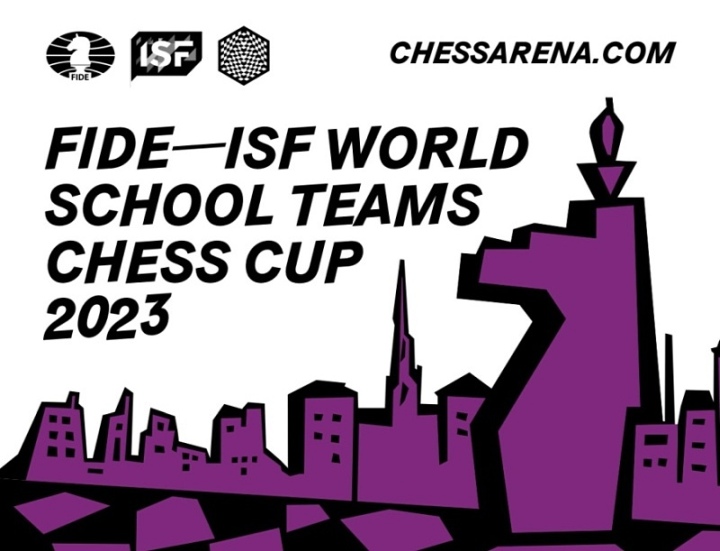 The FIDE – ISF World School Teams Online Chess Cup 2023, co-organized by the International Chess Federation (FIDE), the International School Sport Federation (ISF), and FIDE Online Arena, took place on May 6 and 7. The tournament showcased the remarkable talent and strategic prowess of 329 schoolchildren from around the globe, competing in the U-15 and U-18 category tournaments.
On May 6, in the U-15 category tournament, 58 teams representing schools from 24 countries participated. The Harker School from the United States emerged as the champions with an impressive score of 35 points. The New Millennium School from Bahrain secured the second position with 30.5 points, while Doha Modern Indian School Doha from Qatar and the International School of Beijing from China both scored 30 points, but the Qatari school claimed third place based on superior tiebreaks.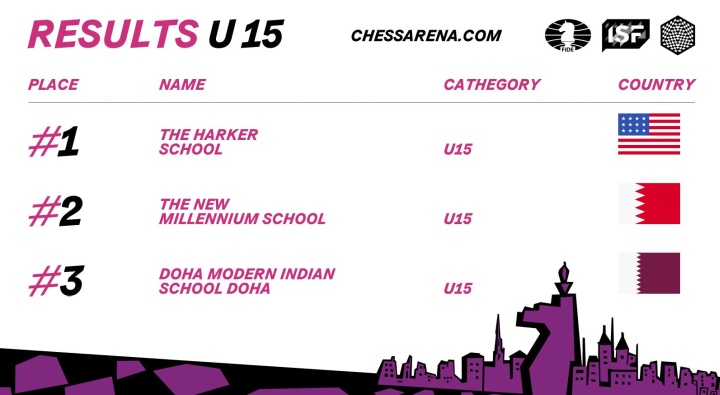 Notably, the team results were calculated based on the four best results of the teams' representatives in the tournament. The outstanding individual performances that contributed to their teams' success were demonstrated by Dylan Tang from The Harker School and Haresh Kashyap from Doha Modern Indian School Doha, both scoring an impressive 10 points out of 11 games. Following closely, Rohan Rajaram from The Harker School, Le Nguyen Hoang Nhat Dinh from Nguyen Thai Binh Secondary School, and Aleksandrs Karasevics from Cantell School all scored 9.5 points.
The following day, on May 7, the U-18 age category teams competed. A total of 29 teams from 17 countries participated in the event. Ekpedeftiria Vassiliadi School from Greece claimed the title with a score of 34.5 points, leaving no room for discussion. Indian School Muscat from Oman secured second place in the tournament with 29.5 points, closely followed by SMK Bukit Jambul from Malaysia with a score of 28.5 points. The High School Affiliated to Renmin University of China, BASIS Chandler from the United States, and SHSID from China took fourth, fifth, and sixth places, respectively.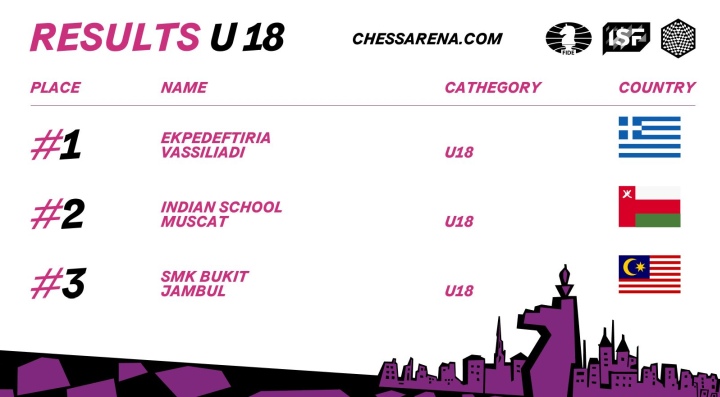 In the individual standings, the representatives of the Ekpedeftiria Vassiliadi school team dominated the podium. Dimitrios Stoimenidis and Stefanos Magalakis both scored an impressive 9.5 points in 11 games, while Michail Karamichos trailed closely by half a point. Valentin Nicolas Unhold from Escuela Modelo de Bella Vista netted 8.5 points each and secured the fourth place, while Atharv Bansal from Indian School Muscat and Emils Janis Mierins from Riga Commerce School both scored 8 points, securing the fifth and sixth positions, respectively.
As the FIDE – ISF World School Teams Online Chess Cup 2023 came to a close, the winners will soon be awarded valuable prizes carefully selected to help schoolchildren develop their chess skills. Among these prizes are unique chess sets signed by world-leading grandmasters, access to dozens of master classes by the strongest players in the world, and the grand prize – an individual online session with one of the most popular grandmasters, whose name will be revealed soon.