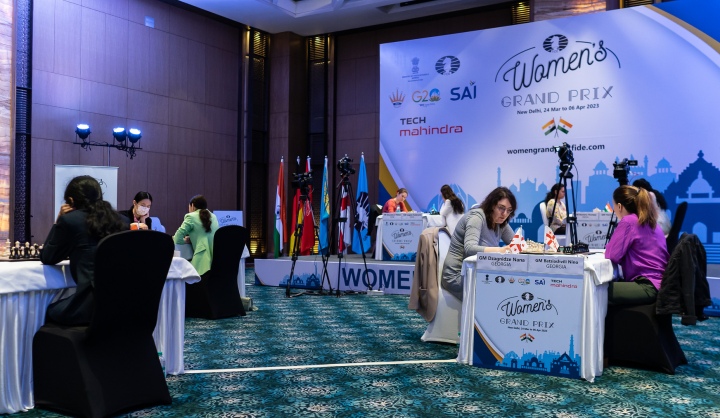 All four games played in the first round of the Women's Grand Prix in New Delhi ended with a draw. IM Vaishali R won on default after Elisabeth Paehtz decided to withdraw from the tournament.
Bharat Singh Chauhan, Chairman of FIDE's Advisory Board and Secretary of the All India Chess Federation, made the ceremonial first move in the game between Koneru Humpy and Harika Dronavalli in the inaugural round of the New Delhi Women's Grand Prix.
"This is a huge event for women's chess and chess in India. We should all look at the broader picture and acknowledge all the efforts made to organise this event and to help boost women's chess both in India and globally. It's not easy to find sponsors today given the global situation, but we and FIDE are committed", Bharat Singh said.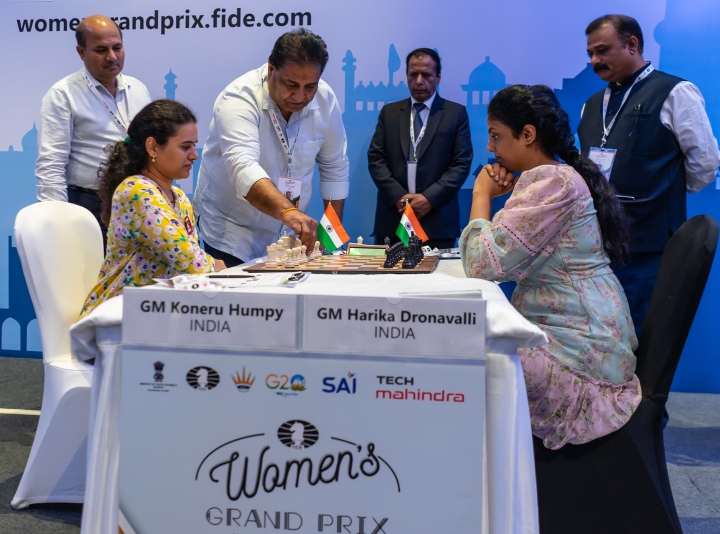 The round started at 3 PM local time, as planned. Shortly before the round, Elisabeth Paehtz sent a letter to FIDE announcing her decision to withdraw from the tournament.
Save for a relatively peaceful draw between the top two Indian players, all other games were fought to (an almost bitter) end.
Polina Shuvalova –Kateryna Lagno: Sharp meets aggressive
Polina Shuvalova and Kateryna Lagno drew their game after much tension on the board and time trouble.
Following 1.d4, Lagno played the King's Indian Defence. Shuvalova opted for a sharp line, advancing her pawn on h4, to which Lagno responded by offering a pawn sacrifice a la Benko Gambit and then opening the centre. White went for a breakthrough in the center and exchanged the queens hoping that Black's weaker pawn structure would provide opportunities for an initiative. However, Lagno had enough play for her pieces. Instead of waiting for Shuvalova to probe Black's weaknesses, Lagno also played actively and aggressively.
Still, White had some pressure but on move 20, Polina opted for a tempting but not so-strong 20.Nfg5, allowing Kateryna to get sufficient counterplay, bringing her rook to the second rank. Both players ended up in time trouble. After massive exchanges in the centre and on the queenside, the position was even, and the two agreed to draw their game.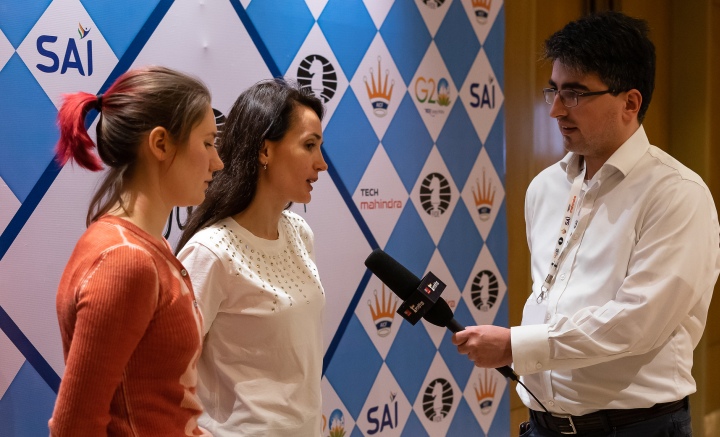 In the post-game interview, both players said they were happy with the start and optimistic about their tournament.
Humpy Koneru – Harika Dronavalli: A peaceful draw
The Indian derby between Humpy Konery and Harika Dronavalli ended in a peaceful draw. Dronavalli opted for the Gruenfeld Defence, which, as she said, "might have been a surprise" for her opponent. Humpy went for a lesser-known line but did not achieve much. As the game progressed, both players centralized their pieces and then initiated massive exchanges. After transpiring into an equal rook endgame, the Indian GMs agreed on a draw after 31 moves.
Zhu Jiner – Aleksandra Goryachkina: A missed chance for Zhu
Zhu Jiner missed a huge chance to settle a score with Aleksandra Goryachkina, who defeated her in Astana as Black, in the first leg of the Grand Prix.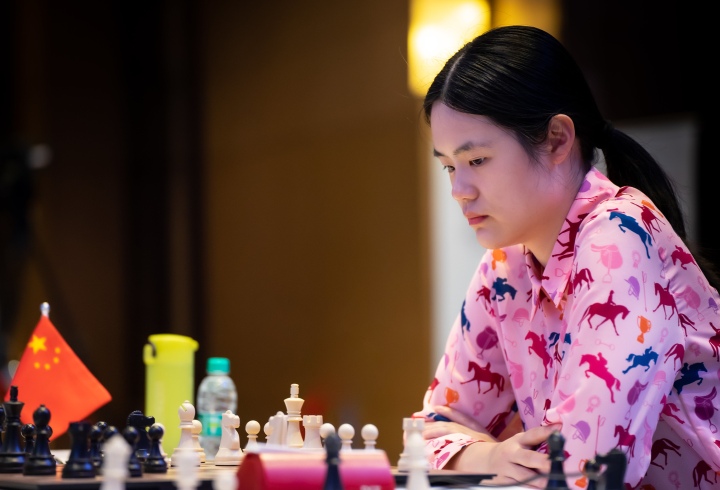 It was a duel between two leaders of the ongoing Women's Grand Prix series. Zhu currently holds the second position in the overall standings. However, emerging from Astana with a commendable second-place finish, Goryackhina has secured her status as a top contender for the top of the Grand Prix cycle. Notably, this is only her second tournament in the cycle, adding a thrilling element of unpredictability to the competition.
Following 2.e4 by Zhu, the two quickly entered the Berlin defence of Ruy Lopez, a popular line among the chess elite. Zhu went straight for an exchange path, leading to a typical Berlin endgame. An interesting choice given Goryachkina is well-known for her excellence in endgames. Black was confidently holding her ground up to a certain point but closer to the time control Aleksandra made a severe mistake taking the rook on f7.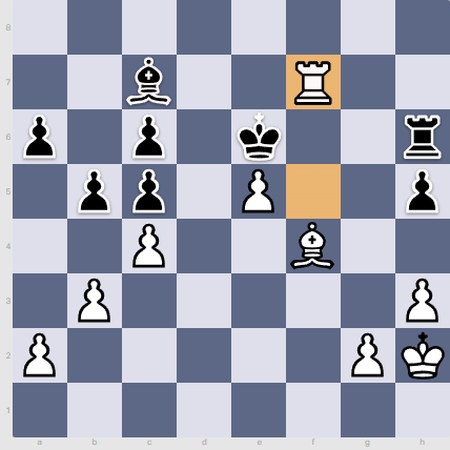 Аfter 39…Kxf7? (39...Bxe5!) 40.Bxh6 White has a much better bishop endgame thanks to a remote passer on the kingside, which she imminently creates.
Indeed, several moves down the road, Zhu got a dominating position and was winning. With her back against the wall, Goryachkina resisted, and eventually, it paid off, but not without some help from her opponent.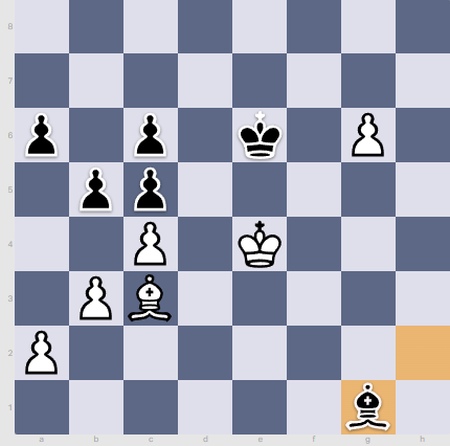 In this position, instead of 60.Be5 (60.g7 also looks very strong) followed by pushing her g-pawn and then moving in with the king on the queenside pawns, Zhu missed Black's only defensive idea and carelessly played 60.Kf4? allowing Aleksandra to get off the hook by 60…bxc4 61. bxc4 Bd4!
Finally, after more than five hours of play, the two agreed to a draw.
Nana Dzagnidze – Nino Batsiashvili: Ups and downs
Nana and Nino are two members of the highly successful Georgian women's team. Between them, Nana has a better score, but in an event such as the Grand Prix, that might not mean anything.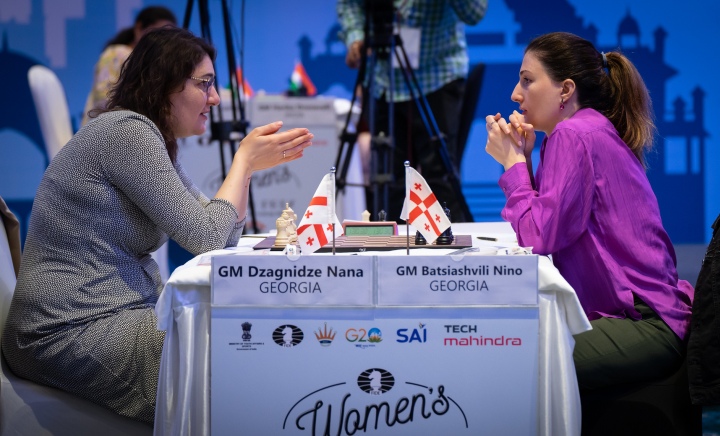 Batsiashvili, who generally plays the Queen's Indian Defence, today went for the Queen's Gambit Declined, hoping to surprise her opponent. Dzagnidze preferred the Catalan - which generally gives white a small initiative in most cases. The two found themselves on an uncharted territory by move 14 and ended up in a position with the opposite-coloured bishops.
The first breaking point of the game occurred on move 30.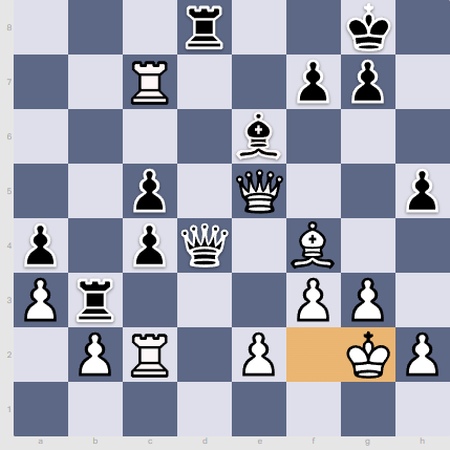 In time pressure Batsiashvili played 30…Rb5? directly forcing her to give up her queen.
However, after 31. Rd2 Qd2 32. Bd2 Rd2 Nana returned the favour and now she was the one to blunder.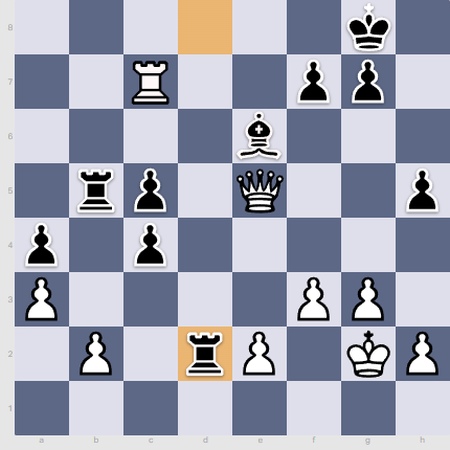 Dzagnidze opted for 33.Rxc5?, which enabled Black to exchange a pair of rooks and then collect two pawns on the second file. In time trouble, Dzagnidze ended up giving all her pawns on the kingside in an attempt to open up the black king for checks.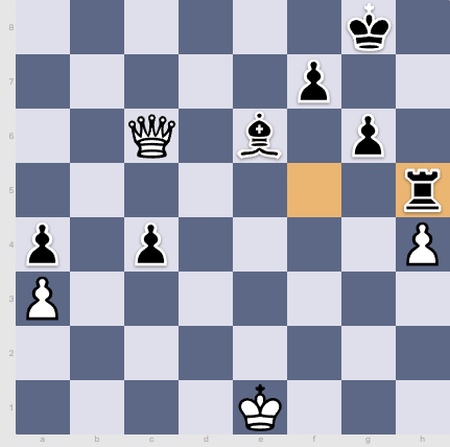 Now it was Batsiashvili who had the upper hand, having reached the time control and achieving a seizable advantage. However, in time trouble, she couldn't find the right setup, and eventually, the two agreed on a draw after move repetition.
In the post-game interview, both players were asked to comment on how they deal with such huge ups and downs which happen in a game. The answer both gave: "You just play on because you have to, and that's it".
The second round of the third leg of the Women's Grand Prix is due to start on Monday, 27th March, at 3 PM local time.
Round 2 parings:
Vaishali Rameshbabu – Bibisara Assaubayeva
Aleksandra Goryachkina – Nana Dzagnidze
Harika Dronavalli – Zhu Jiner
Polina Shuvalova – Humpy Koneru
Kateryna Lagno and Nino Batsiashvili have a free day.
Text: Milan Dinic
Photo: Ismael Nieto
---
About the Women's Grand Prix
The FIDE Women's Grand Prix consists of four tournaments played between September 2022 and May 2023 and includes 16 women players who take part in three of the four tournaments. The two players who score the greatest number of cumulative points in theseries shall qualify for the FIDE Women Candidates Tournament 2023-24.
The players participating in the Women's Grand Prix have been selected based on their performance in key FIDE events and their ELO. Also, each of the four local tournament organisershas a right to nominate a player of their choice.
The time control for the tournament is 90 minutes for the first 40 moves, followed by 30 minutes for the rest of the game with an increment of 30 seconds per move starting from move one.
The total prize fund for each one of the four events is €80,000, with another €80,000 being distributed among the top eightplayers in the overall standings for the Grand Prix series.
General information about the venue and the dates
The third leg of the Women's Grand Prix will take place in New Delhi's Leela Ambience Convention Hotel. The five-star hotel is designed to cater to business events and large meetings and should make an ideal place for a tournament of this level.
The rounds will be played each day from 3 PM local time (9.30 GMT)