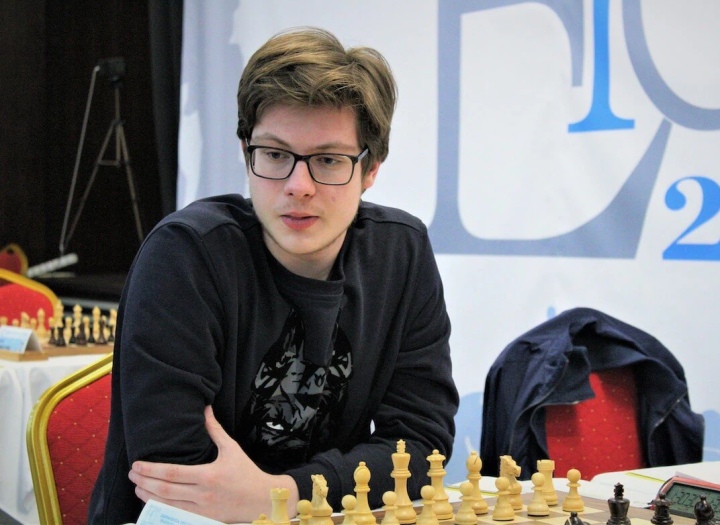 Heading into the last round of the European Individual Chess Championship 2023, GM Alexey Sarana (FIDE, 2668) and GM Kirill Shevchenko (ROU, 2668) share the lead sitting on 8 points each.
GM Kirill Shevchenko (ROU, 2668) outplayed GM Benjamin Gledura (HUN, 2637) in the penultimate round to catch up with the leader. Shevchenko had a slightly better position from the opening that transformed into the pawn-up edge in the endgame. Gledura still had chances for escape but after a questionable 30…Rb2?! the Romanian GM gradually converted his advantage into a full point.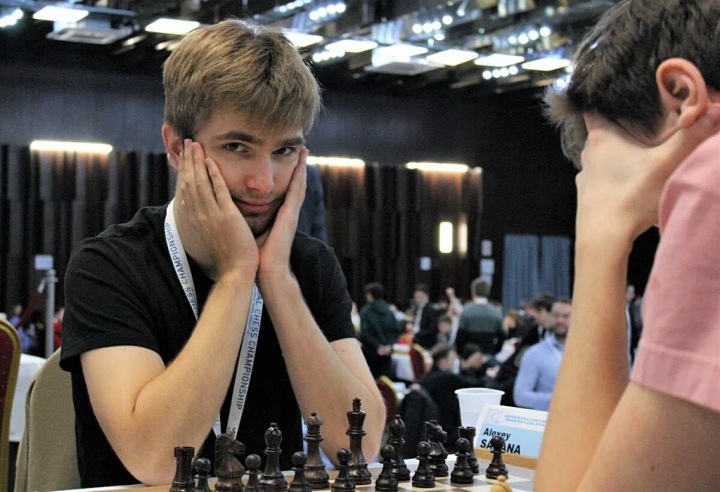 Playing on the first board, GM Alexey Sarana (FIDE, 2668) held a draw with black pieces against GM Andrey Esipenko (FIDE, 2680). Esipenko was searching for a victory and had a clear advantage most of the time, but Sarana found a very nice sequence making the opponent force a draw by perpetual check and secured the joined lead coming into the final round.
Twelve players are trailing the leading duo by a half-point: GM Anton Korobov (UKR, 2658), GM Etienne Bacrot (FRA, 2659), IM Stamatis Kourkoulos-Arditis (GRE, 2520), GM Thai Dai Van Nguyen (CZE, 2651), GM Jaime Santos Latasa (ESP, 2655), GM Andrey Esipenko (FIDE, 2680), GM Valentin Dragnev (AUT, 2561) (pictured below), GM Yuriy Kuzubov (UKR, 2616), GM David Paravyan (FIDE, 2584), GM Daniel Dardha (BEL, 2610), GM David Anton Guijarro (ESP, 2685), and GM Igor Janik (POL, 2527).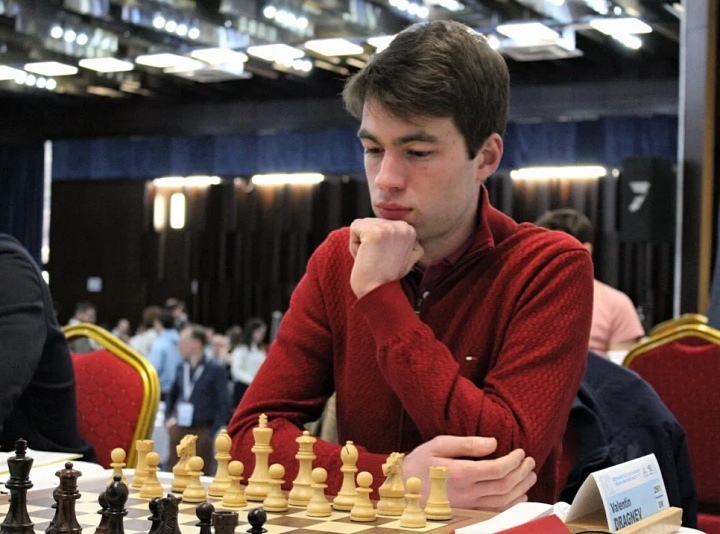 The final round starts tomorrow at 15:00 CEST, featuring the direct encounter for the gold medal on the first board between GM Alexey Sarana and GM Kirill Shevchenko.
Round 11 top 10 pairings:
1. Sarana, Alexey (8) – Shevchenko, Kirill (8)
2. Kuzubov, Yuriy (7½) – Anton, Guijarro David (7½)
3. Paravyan, David (7½) – Esipenko, Andrey (7½)
4. Janik, Igor (7½) – Bacrot, Etienne (7½)
5. Korobov, Anton (7½) – Dardha, Daniel (7½)
6. Santos Latasa Jaime (7½) – Dragnev Valentin (7½)
7. Kourkoulos-Arditis, Stamatis (7½) – Nguyen, Thai Dai Van (7½)
8. Predke, Alexandr (7) – Pechac, Jergus (7)
9. Yuffa, Daniil (7) – Gelfand, Boris (7)
10. Brkic, Ante (7) – Grandelius, Nils (7)
The closing ceremony of the event will be held on March 13 at 22:00 CEST.
Live broadcast with commentaries by IM Miodrag Perunovic can be followed through the ECU YouTube channel.
Text and photos: official website
Official website: eicc2023.com/