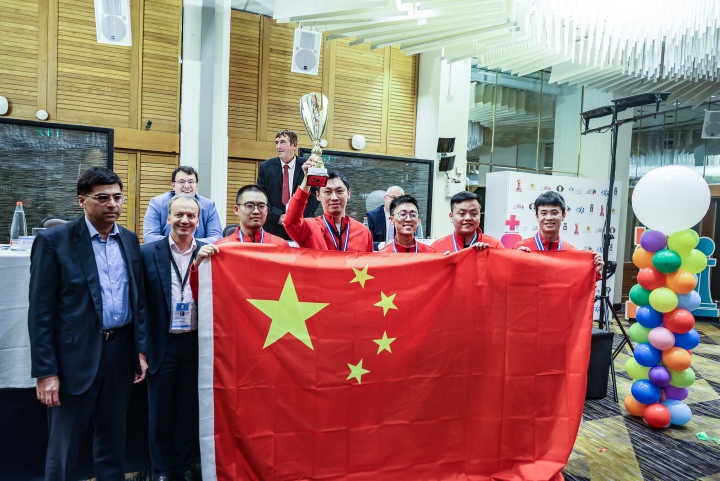 Uzbekistan second, Spain third, India fourth
The FIDE World Team Championship 2022 featured a faster time control than in previous editions of this tournament. GM Ivan Sokolov, the Captain of the Uzbekistan team, said, "this increment of 10 seconds per move probably favours a bit younger players." Sokolov noted that the two teams which played for gold, China and Uzbekistan, had young players on their rosters.
The four grandmasters who played the final two matches for China were Lu Shanglei, age 27, Xu Xiangyu, age 23, Bai Jinshi, age 23, and Li Di, age 23. Their opponents from Uzbekistan were, in round 1, GM Nodirbek Yakubboev, age 20, GM Javokhir Sindarov, age 16 (the youngest player in this championship), GM Shamsiddin Vokhidov, age 20, and GM Jakhongir Vakhidov, age 27. In round 2, IM Ortik Nigmatov, age 22, took over the fourth board, Vakhidov moved up to the third board, and Vokhidov, who lost in round 1, sat out round 2.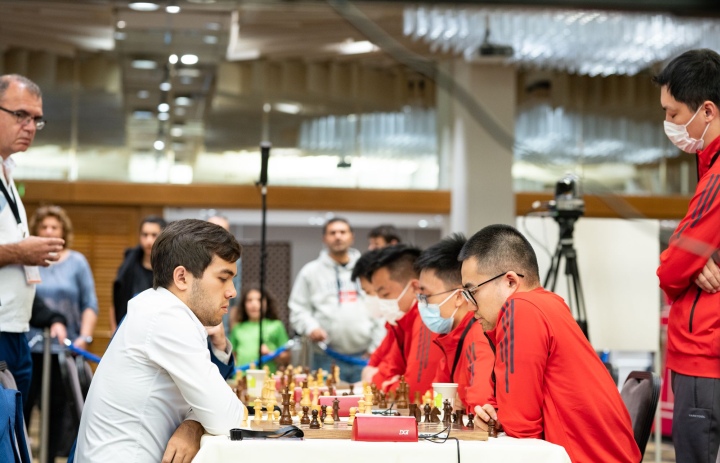 Dignitaries and Commentary
Arkady Dvorkovich, FIDE President, rang the gong to start the first round, while former Israel Chess Federation President Israel Gelfer, who is also a former FIDE Vice President, kicked off the second round.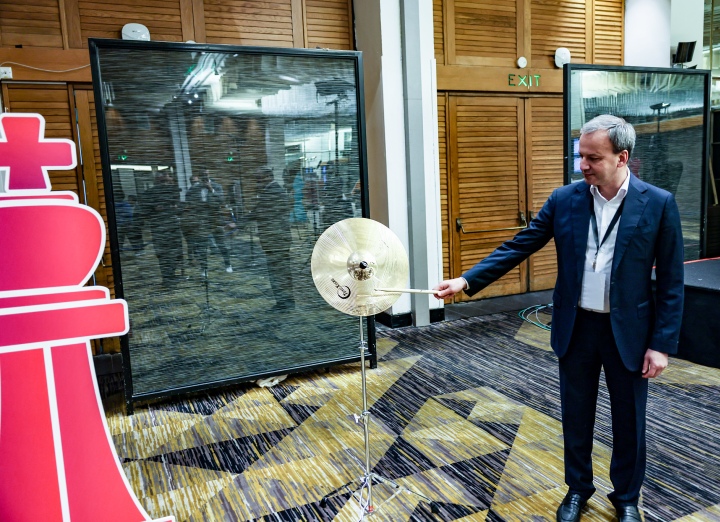 GM Alik Gershon and IM Almira Skripchenko were in the commentary booth during round 1. Gershon, of Israel, is known for playing 523 simultaneous games in 2010, to break what was then the world record. A seven-time French Women's Chess Champion, Skripchenko, commentated every round in Jerusalem.
Grandmaster and former World Chess Champion Viswanathan Anand served as a commentator daily. The only exception was round 1 on Friday, when he participated in a FIDE Council meeting. Anand was back for round 2 to share commentating duties with Skripchenko again.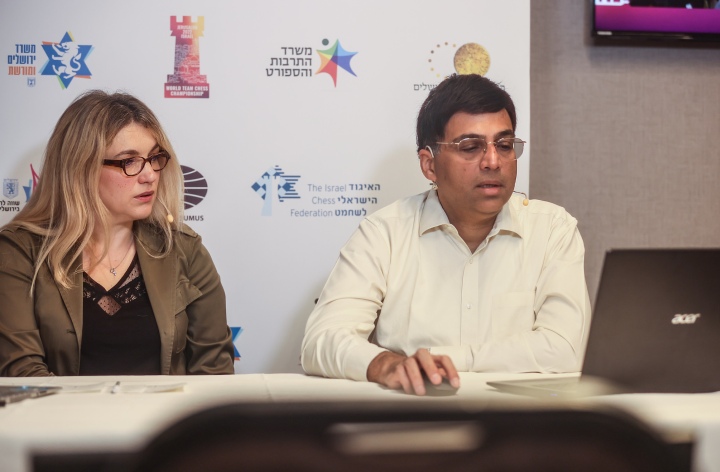 Ms Feruza Makhmudova, Ambassador of Uzbekistan to Israel (pictured below), visited the FIDE World Team Championship 2022 on its final day. Speaking about Uzbekistan's second-place finish in this tournament, Makhmudova said, "This tournament was a new step in the development of the chess culture in our country. Chess gives Uzbekistan a way to present its strength. I am very excited that our team is a young team, as more than 60% of our population is under the age of 30. These team members are chess ambassadors, and they are doing their jobs excellently. They are connecting Uzbekistan to other countries."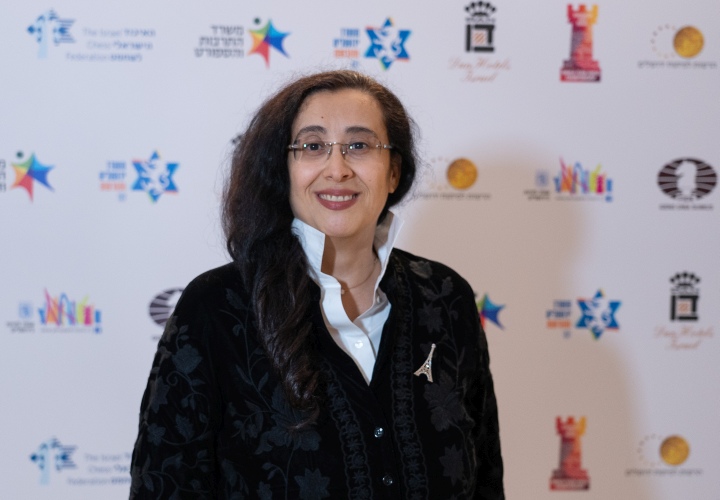 Final: Round 1
China defeated Uzbekistan in their round 1 match 2.5-1.5. The games on boards 1, 2 and four were drawn, but on board 3, Bai Jinshi got the better of Shamsiddin Vokhidov, who missed some important tactics in the following critical position:
Bai Jinshi - Shamsiddin Vokhidov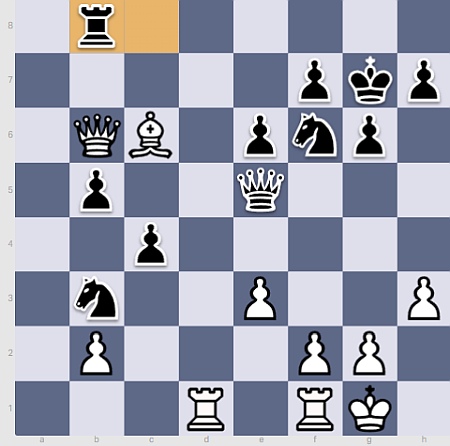 Black had sufficient compensation for an exchange but one careless move 33...Rb8 cost him dearly. After 34.f4! Qxf4 35.Qa7! Qe5 36. Rxf6 Kxf6 37.Rf1+ Kg5 (more stubborn was 37…Kg7 38.Qxf7 Kh8) 38.Rxf7 Rh8 39.Qe7+ Kh6 40.Qh4+ Qh5 41.Qf6 Rg8 42.Bf3 Shamsuddin threw in the towel. 1-0
Small Final: Round 1
India and Spain tied their round 1 match 2-2. The teams traded blows on boards 2 and 4, where Nihal Sarin (India) and Ruiz Miguel Santos (Spain) beat David Anton Guijarro and Krishnan Sasikiran and split points on boards 1 and 3.
Final: Round 2
Uzbek players started strong in a must-win situation and had a chance to send the final match into a tiebreaker at some point.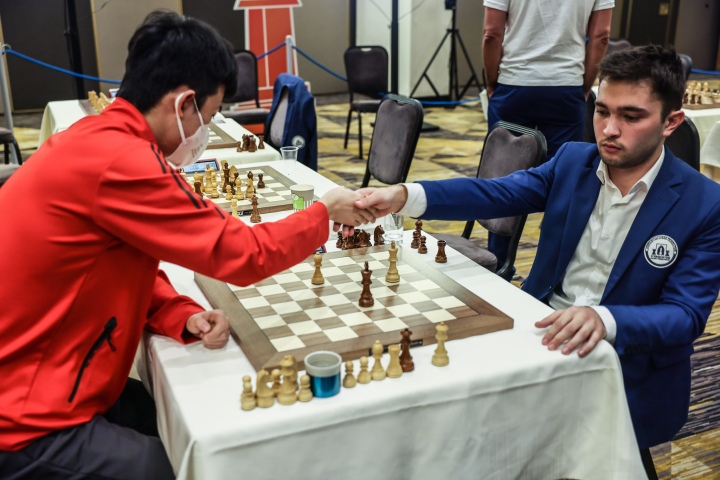 Indeed, Nordirbek Yakubboev put tremendous pressure on Lu Shanglei on the first board while the positions on three other boards seemed balanced. It did not pan out for Uzbekistan this time, though. Yakubboev snatched a "poisoned" pawn in an overwhelming position and let his opponent off the hook, while Ortik Nigmatov misplayed a drawish rook endgame and lost to Li Di.
Two other games were drawn, and China scored another 2.5-1.5 victory to clinch the title. In a short interview after his game, Li Di thanked the Chinese Chess Association for sending the team to Jerusalem and said he would remember this experience for his whole life.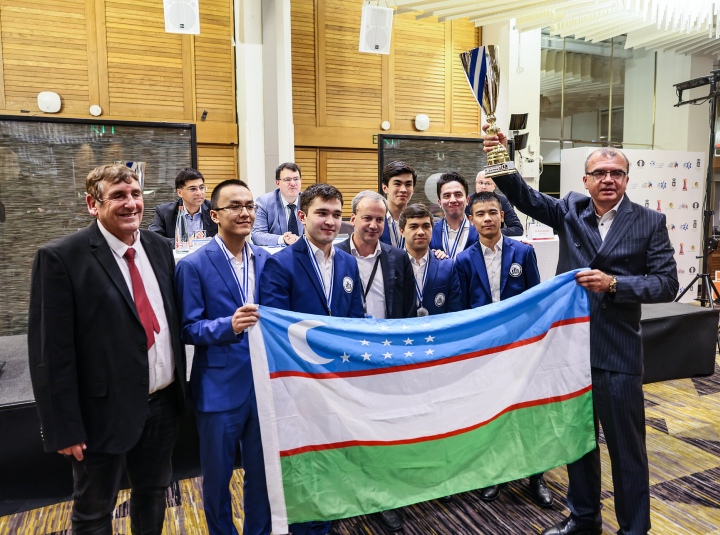 Small Final: Round 2
India and Spain tied their round 2 match by drawing all four games and putting another 2-2 on the scoreboard. The first game to finish was played on board 3 where S. L. Narayanan, as Black, drew with Daniil Yuffa, who stepped in for Alexei Shirov. Narayanan said he expected to play Shirov again, so he replied on his own knowledge of chess rather than player-specific preparation against Yuffa. Three other games were also uneventful draws.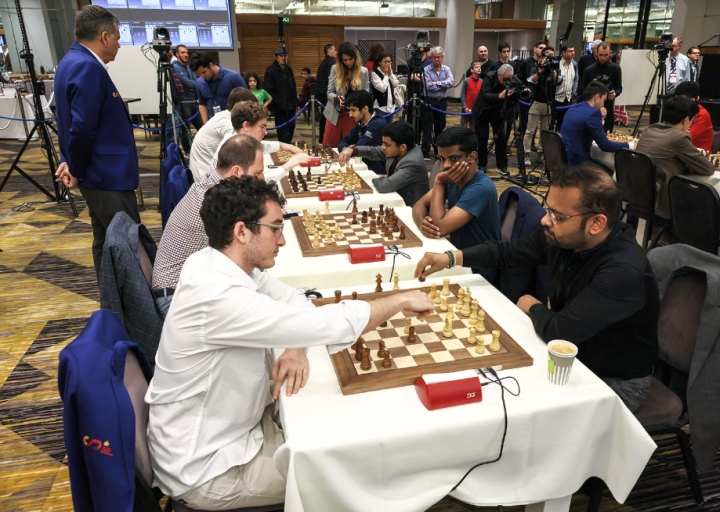 Tiebreak
Spain won the tiebreak against India 3-1 and took bronze (their first medal ever in team competition), with Jaime Santos Latasa and David Anton Guijarro winning on boards 1 and 2.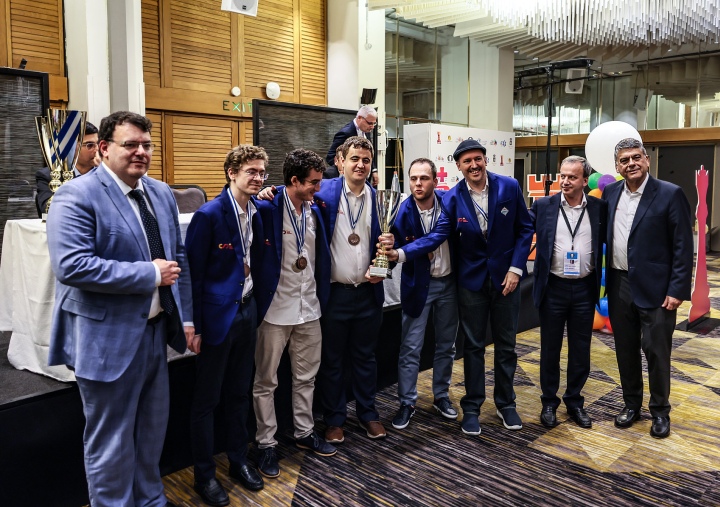 Knockout stage: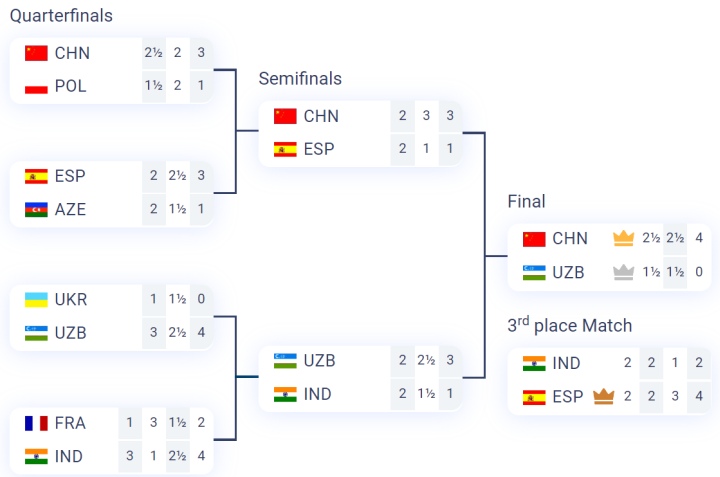 Individual Board Awards
Players assigned to the same board number (including boards 5 and 6) compete for individual gold, silver, and bronze board awards. A player needed to play at least five games to be eligible for a board award.
Board 1
1. Vachier-Lagrave, Maxime (2782, FRA)
2. Lu, Shanglei (2752, CHN)
3. Mamedyarov, Shakhiryar (2749, AZE)
Board 2
1. Sindarov, Javokhir (2764, UZB)
2. Nabaty, Tamir (2764, ISR)
3. Shevchenko, Kirill (2763, UKR)
Board 3
1. Fressinet, Laurent (2742, FRA)
2. Guseinov, Gadir (2737, AZE)
3. Narayanan, S.L. (2716, IND)
Board 4
1. Bai, Jinshi (2739, CHN)
2. Vakhidov, Jakhongir (2705, UZB)
3. Gumularz, Szymon (2538, POL)
Board 5 (first reserve)
1. Li, Di (2661, CHN)
2. Santos Ruiz, Miguel (2581, ESP)
3. Kevlishvili, Robby (2511, NED)
Text: WIM Alexey Root, FIDE Press Officer, Jerusalem
Photos: Dr. Mark Livshitz and Maria Emelianova
Official website: worldteams.fide.com