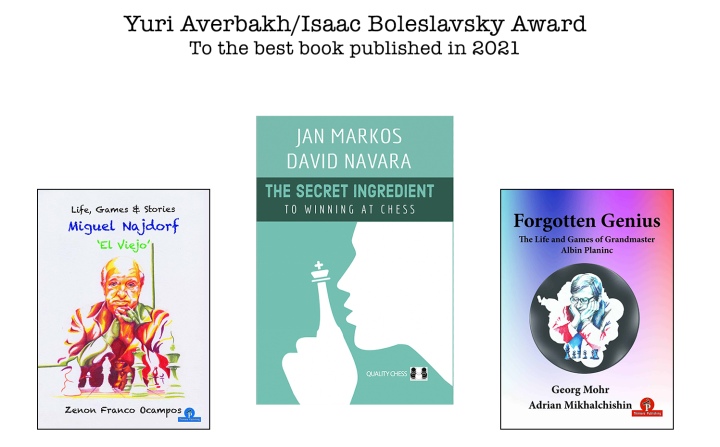 The Yuri Averbakh/Isaac Boleslavsky Award for the best book published in 2021 goes to "The Secret Ingredient", co-authored by Jan Markos and David Navara and published by Quality Chess.
The runners-up were "Miguel Najdorf – 'El Viejo' – Life, Games & Stories", by Zenón Franco, and "Forgotten Genius - The Life and Games of Grandmaster Albin Planinc", by Georg Mohr and Adrian Mikhalchishin, both published by Thinkers Publishing.
The jury was composed of three renowned Grandmasters: Antoaneta Stefanova, Thomas Luther, and Boris Gelfand. Luther shared the following comments on each book:
"The search for 'The Secret Ingredient' to success, both in life and chess, is what this great book tries to answer. Following the advice given in this book will make each player stronger and each coach more focused on the tasks and challenges we face in life.
'Forgotten Genius' is a very touching book about the life and chess of Albin Planinc. Facing many difficulties in life myself, I could feel the struggle Albin Planinc endured. It is wonderful to highlight this book about overcoming challenges and learn from it about the constant and never-ending fear of losing the most important fight in life.
'El Viejo', a biography about the life of Miguel Najdorf, is a must-read for everybody who loves chess. While Najdorfs successful chess career and his games are very impressive by themselves, the book is a great reminder of the horrible crimes humankind faced in World War II. Reading about how Miguel Najdorf lost all his family members left me speechless and full of sadness. The book is a necessary historical document about the horrors of evil and war."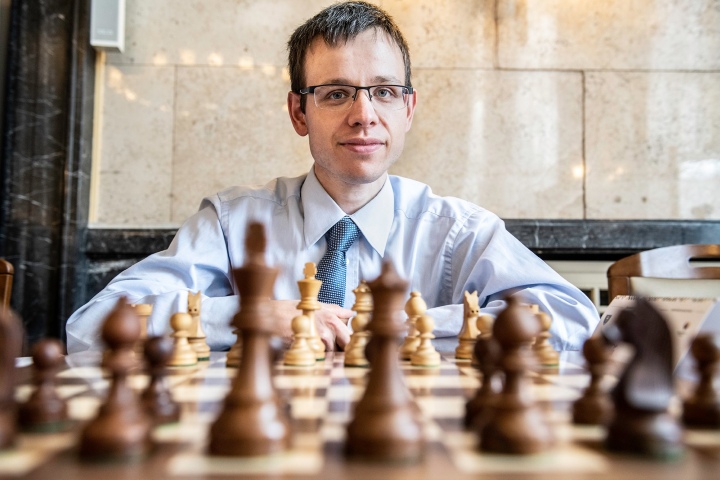 There are also three special mentions:
"A Knight Without a Castle: A Story of Resilience and Hope", by Robert Katende, gets the one to the most inspiring story. "Chess & Brain. Art and Science", by Adolivio Capece, Razvan Sandru, Stefano Salis, and Zachary Mainen, gets the special mention to the best book for chess as art & science. And the special mention to the best instructional/educational books goes to "Los Colores del Ajedrez" ("The colours of chess") by Jose Antonio Coleto.
About the winner, "The Secret Ingredient"
The Secret Ingredient is a grandmaster guide to maximizing your chess results, focusing on key elements of practical play which have received little to no attention in previous chess literature.
How exactly can we best make use of computers?
What's the ideal, step-by-step way to prepare against a specific opponent?
How can we optimize our time management at the board?
And what's the one key skill that separates the best players from those who have yet to reach their full potential?
GM Jan Markos sheds light on these topics and many more, helped by the world-class insights of his good friend GM David Navara.
About the authors:
Jan Markos is a Slovakian trainer and Grandmaster. His previous book, "Under the Surface", was the English Chess Federation's 2018 Book of the Year.
David Navara is a ten-time Czech Champion and world-class Grandmaster. He is noted for combining fighting spirit with outstanding sportsmanship.
"The Secret Ingredient", by Quality Chess 2021