The 2022 Champions Showdown: Chess 9LX kicked off today with an elite 10-player rapid round-robin featuring Chess960 (Fischer Random), a rich variant where the starting arrangement of the pieces is shuffled on the back rank.
After the first day of action, 2022 FIDE Candidates winner Ian Nepomniachtchi leads the field with a perfect 3/3 score, while 2018 World Championship challenger Fabiano Caruana is currently in clear second with 2.5/3.
Also taking part in the event is legendary 13th World Champion Garry Kasparov, who along with 8-time Russian Champion Peter Svidler had a difficult start, failing to score any points on the first day.
ROUND 1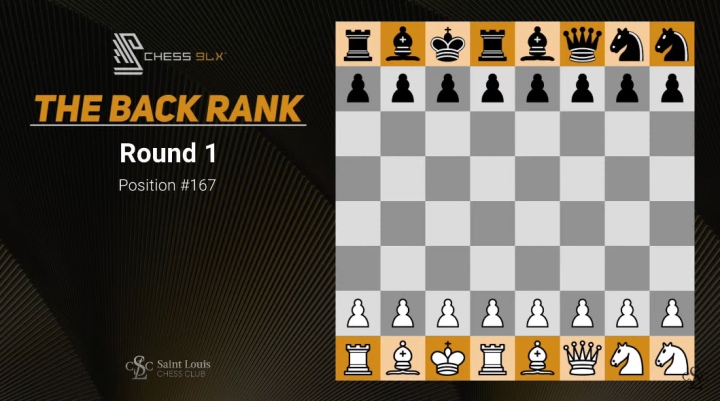 Round 1 - Starting Position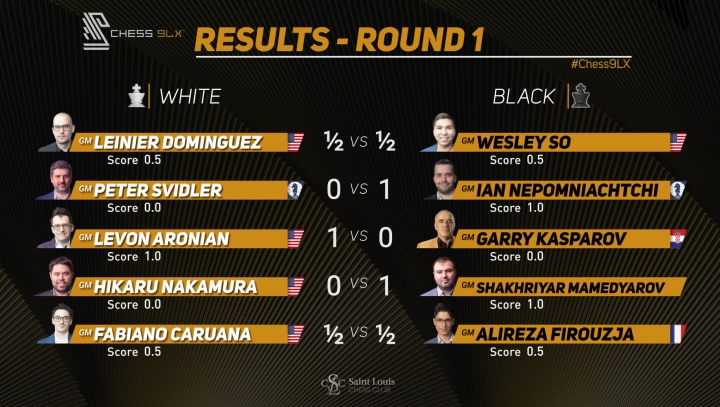 The first round saw three decisive outcomes as Nepomniachtchi took advantage of a blunder by Svidler to win an exchange, while Aronian found a small trick in the endgame to defeat Kasparov. The best game of the round was Shakhriyar Mamedyarov's win over Hikaru Nakamura, where 'Shakh' sacrificed an exchange for long term control over the light squares, eventually culminating with a direct mating attack.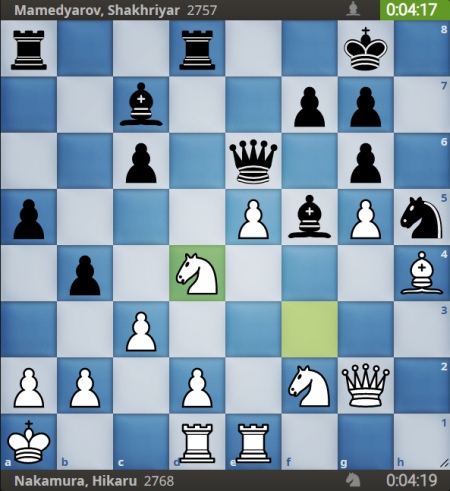 After 22.Nd4, Mamedyarov found the powerful 22…Rxd4! 23.cxd4 a4-+ and soon tore apart White's queenside. | 0-1, 28 moves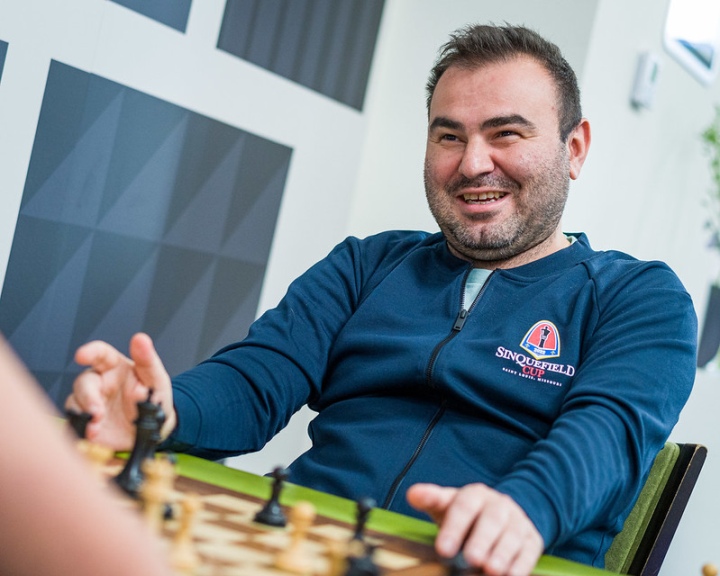 Mamedyarov scored an even 1.5/3 on the first day. | Photo Courtesy of Saint Louis Chess Club, Lennart Ootes
ROUND 2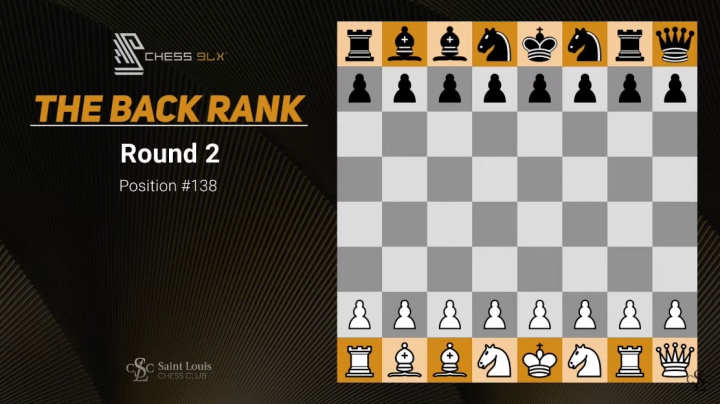 Round 2 - Starting Position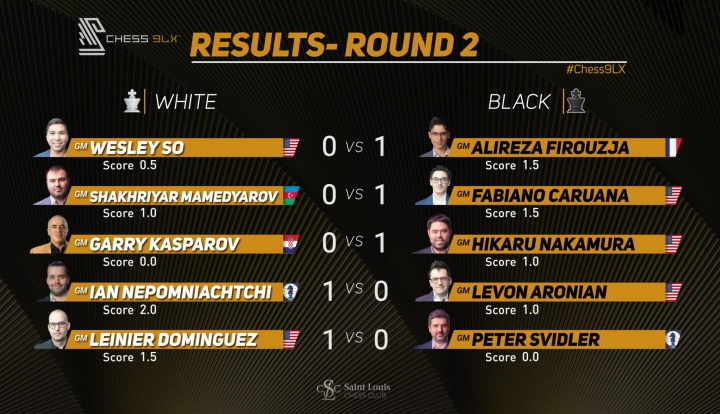 The second round was even bloodier than the first, with all five games ending decisively. Nepomniachtchi continued his run when Aronian grabbed a risky pawn and ended up blundering into a queen trap shortly thereafter.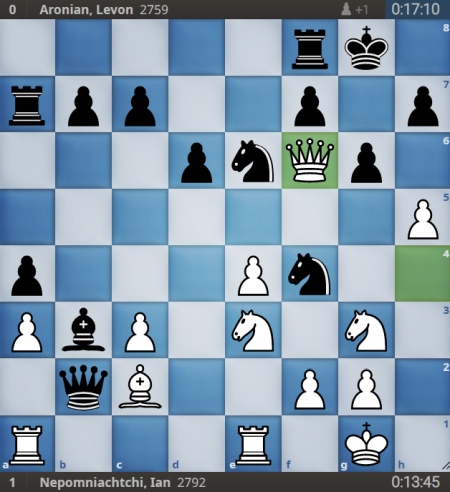 After 18.Qf6!, threatening both Ng4-h6 and Reb1, with no defense for Black. | 1-0, 35 moves
Kasparov was 'playing for two results' against Nakamura, with an extra pawn in a queen and opposite-coloured bishop endgame, but in severe time trouble hung his bishop to a fork, losing the game. Meanwhile, Firouzja, Caruana, and last year's Chess 9LX champion Leinier Dominguez all scored their first wins of the event.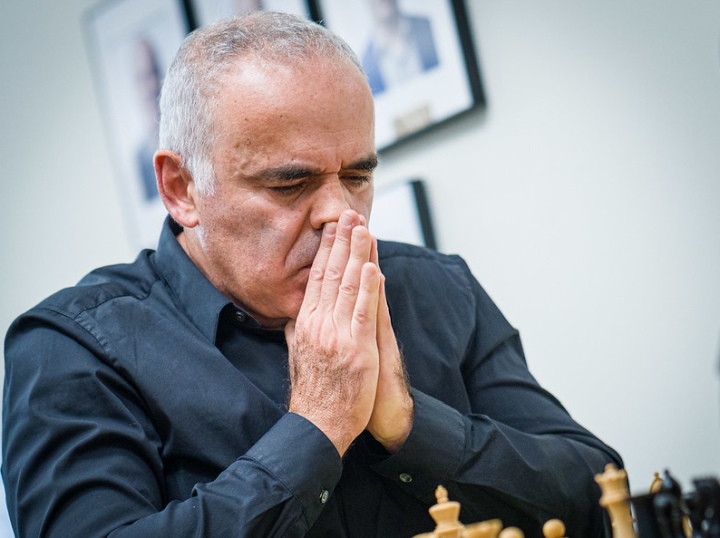 The 13th World Champion had chances in every game but ultimately struggled under time pressure. | Photo Courtesy of Saint Louis Chess Club, Lennart Ootes
ROUND 3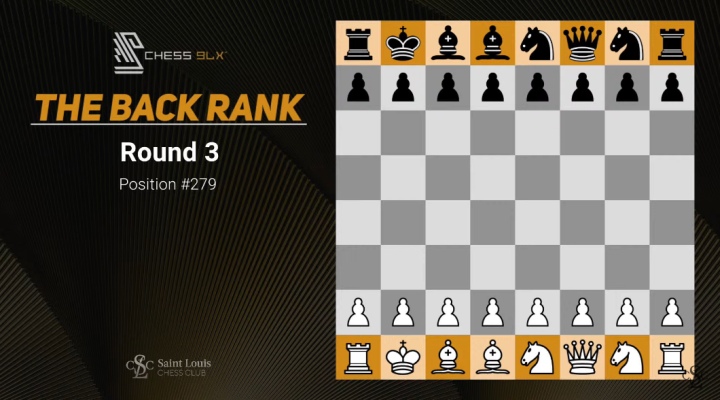 Round 3 - Starting Position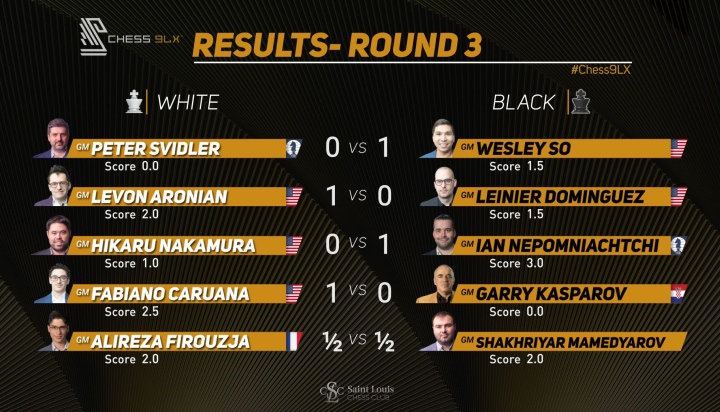 The final round of the day started out with a bang, as Nepomniachtchi won his third straight game in style, beating Nakamura in 19 moves thanks to his huge lead in development.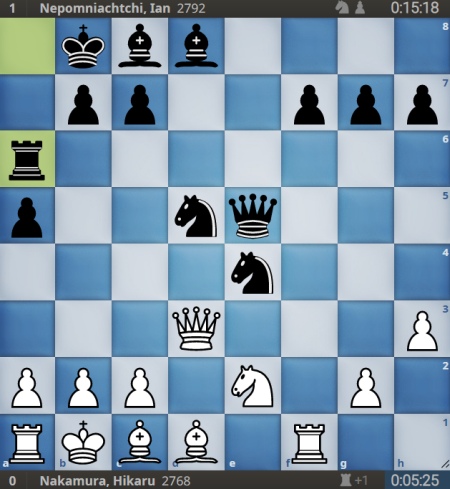 After 13…Ra6!, Black's initiative became overwhelming. | 0-1, 19 moves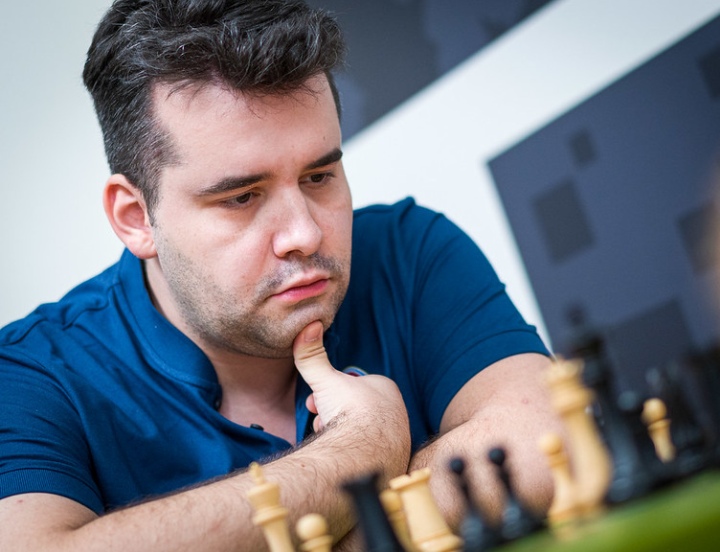 Ian was simply on fire today. | Photo Courtesy of Saint Louis Chess Club, Lennart Ootes
In the meantime, Caruana managed to break into second place with a time scramble win over Kasparov, and Aronian earned his second point of the day as he successfully prevented Dominguez from getting his pieces out. Lastly, Wesley So collected his first win, after correctly simplifying into a winning king and pawn endgame against Svidler.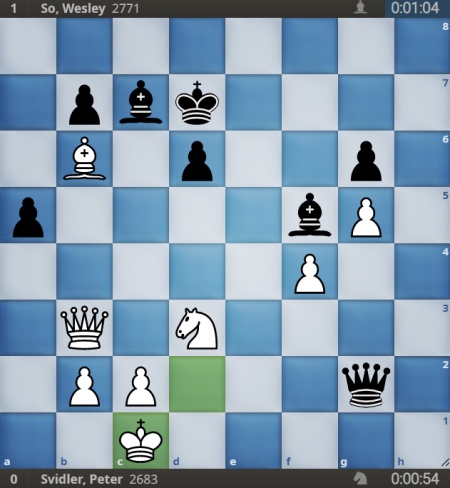 Using 46 seconds out of his remaining 1:06, So found a clean path with 35...Bxb6! 36.Qxb6 Bxd3 37.cxd3 Qc6+ 38.Qxc6 bxc6-+, with a completely winning king & pawn endgame. | 0-1, 44 moves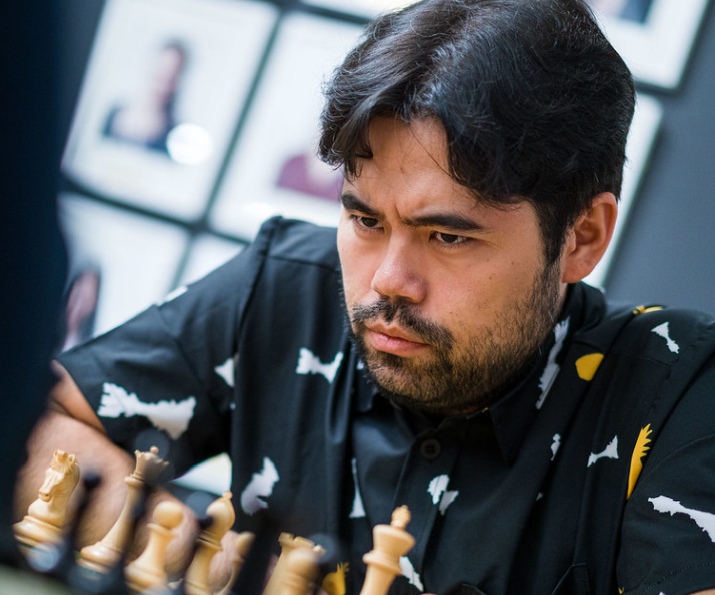 Despite beating Kasparov, Nakamura had a tough first day, finishing on 1.0/3. | Photo Courtesy of Saint Louis Chess Club, Lennart Ootes
ULTIMATE MOVES
Taking place in between the Sinquefield Cup and the Champions Showdown was the yearly Ultimate Moves exhibition, a fun rapid event filled with banter that featured Saint Louis Chess Club founder Rex Sinquefield taking on John Beckstead of Edward Jones, as they teamed up with five world-class players each.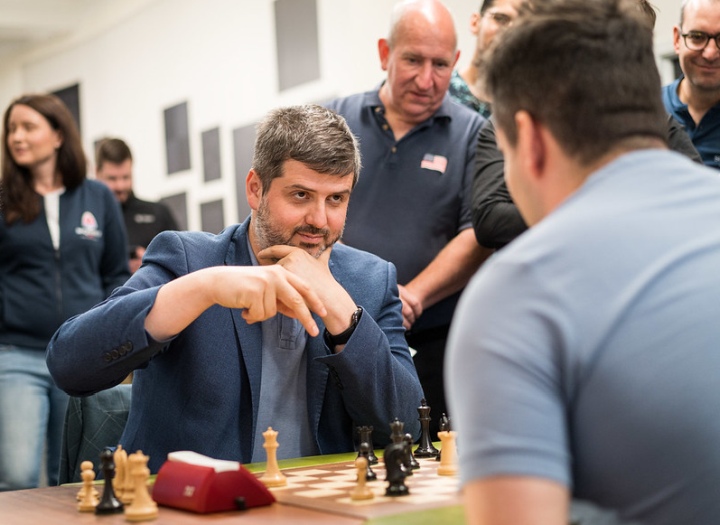 Svidler makes a move against Nepomniachtchi. | Photo Courtesy of Saint Louis Chess
Team Rex consisted of Aronian, Caruana, Mamedyarov, Dominguez, and Svidler, while Team John included Kasparov, Nepomniachtchi, Firouzja, So, and Nakamura, as the players took turns playing five moves each in a four-game rapid match. Team John won Rounds 1 and 3 playing Black, while Team Rex won Round 2. But in the final game, Team John managed to draw by repetition to clinch the match 2.5-1.5 in their favour.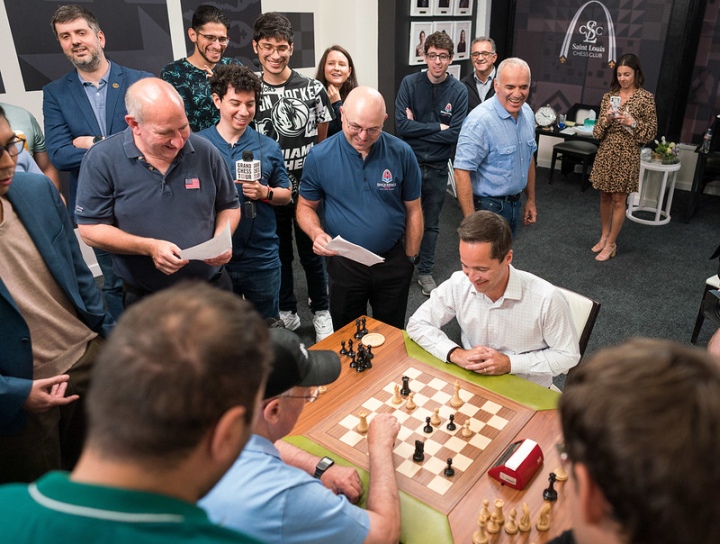 Rex vs. John had a particularly exciting finish. | Photo Courtesy of Saint Louis Chess Club, Lennart Ootes
The 2022 Champions Showdown: Chess 9LX continues Thursday, September 15, starting at 1:50 PM CT. Tune in to watch WGM Anastasiya Karlovich, GM Yasser Seirawan, & GM Cristian Chirila provide live commentary on uschesschamps.com and on the Saint Louis Chess Club's YouTube and Twitch.tv channels.
Text: IM Kostya Kavutskiy
---
Dates & Location:
September 14 - September 16, 2022
Saint Louis Chess Club
Livestream:
USChessChamps.Com
YouTube: @STLChessClub | Twitch.tv: @STLChessClub
Web: uschesschamps.com | Twitter: @STLChessClub
Instagram: @STLChessClub | Facebook: @STLChessClub
#ChampionsShowdown #Chess9LX #STLChessClub
Press Contact:
Rebecca Buffington
rbuffington@saintlouischessclub.org
Photo Credits:
Photos and appropriate credits available on Flickr
Saint Louis Chess Club | Building Champions
4657 Maryland Avenue, Saint Louis, MO 63108 | (314) 361.CHESS (2437)