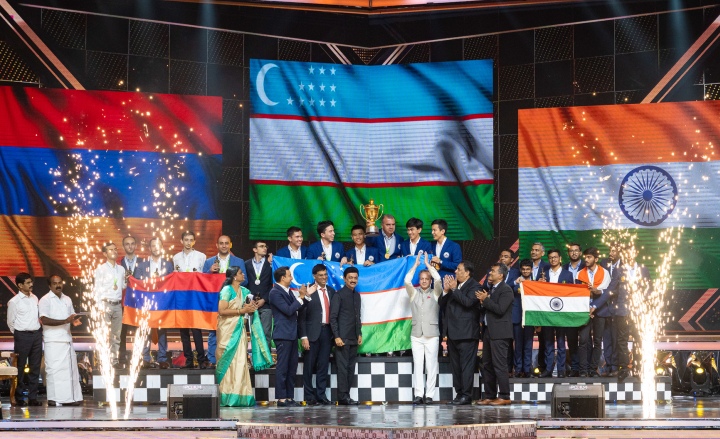 FIDE president Arkady Dvorkovich hands over the Olympic flag to the president of the Hungarian Chess Federation
The closing ceremony for the 44th Chennai Chess Olympiad took place at the Jawaharlal Nehru Stadium yesterday evening, with the presence of Tamil Nadu Chief Minister M.K Stalin along with FIDE president Arkady Dvorkovich, Deputy President and GM Viswanathan Anand, among other authorities.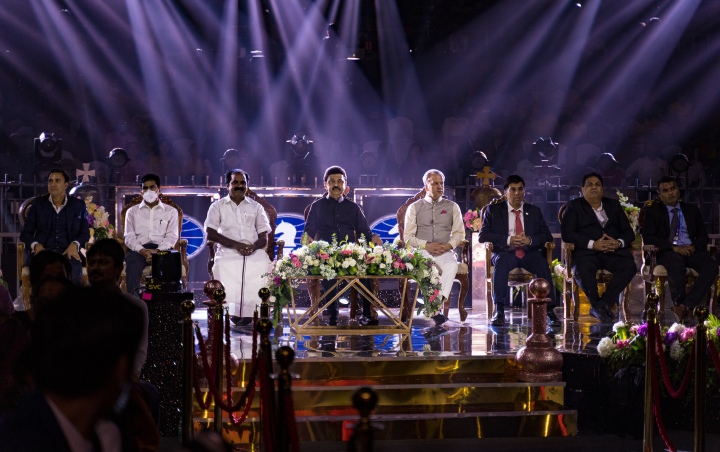 During the action-packed evening, the authorities awarded medals and other prizes to all winners. Chief Minister M.K. Stalin presented the medals to the winners in the open category – Gold for Ukraine – while FIDE President Arkady Dvorkovich handed over the open section winner's trophy to GM Ivan Sokolov, outstanding coach and captain of the young Uzbekistan squad.
In between awards, special performers included a "dance-drama" on the evolution of sports in Tamil Nadu. Dances included "jallikattu – kannamoochi" (hide and seek), "udal vithai vilaiyattu" (gymnastics), "kabaddi", and sathurangam (chess)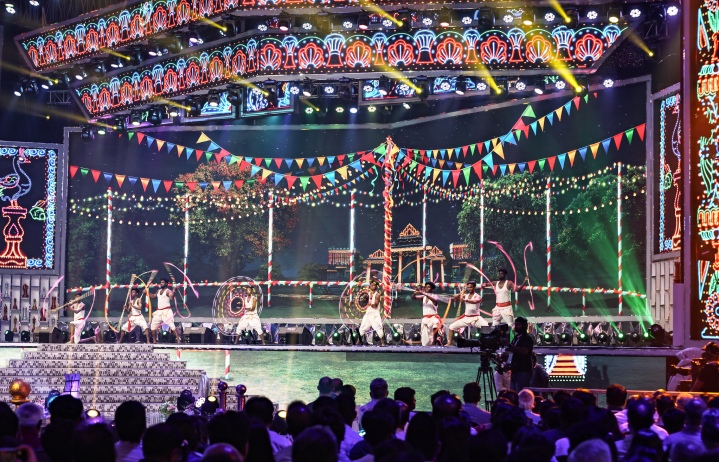 The audience was also delighted to see the V. Unbeatable dance group, famous for winning the 2020 "America's Got Talent" show. Many other great performances enlivened the evening.
At the end of the four-hour, full of entertainment, FIDE president Arkady Dvorkovich closed the 44th Olympiad, and the Olympic flag was handed over to Laszlo Szabo, president of the Hungarian Chess Federation – Budapest will host the 45th Chess Olympiad.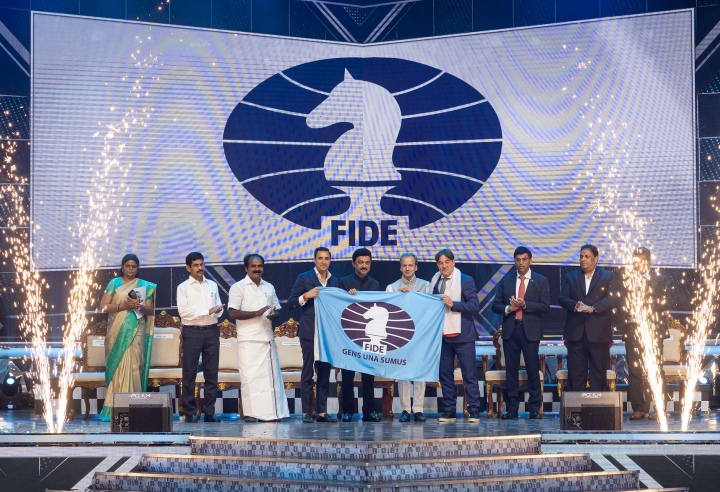 Individual board medals
Although the chess Olympiad is essentially a team event, board prizes were awarded for the best performances on each individual board. In order to qualify for a medal, players had to have completed at least eight of the eleven games. Nonetheless, many of the players went the full distance.
The immense majority of the players attended the ceremony and received their awards: however, the absence of the World Champion didn't go unnoticed. There was a huge round of applause when siblings Praggnanandhaa, R and Vaishali, R shared the podium for bronze on board three.
Standings: Gold – Silver – Bronze

Board 1 Open Section: GM Gukesh, D – GM Abdusattorov, N - GM Carlsen, M
Board 1 Women Section: GM Cramling, P - Roebers, E – GM Abdumalik, Z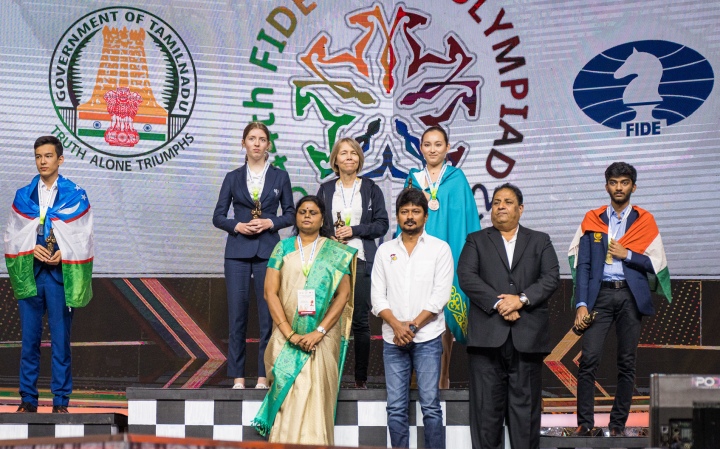 Board 2 Open Section: GM Sarin, N - GM Theodorou, N - GM Yakubboev, N
Board 2 Women Section: GM Batsiashvili, N - GM Muzychuk, A - WGM Balajayeva, K
Board 3 Open Section: GM Howell, D – GM Erigaisi, A – GM Praggnanandhaa, R
Board 3 Women Section: WIM Kiolbasa, O - GM Ushenina, A – IM Vaishali, R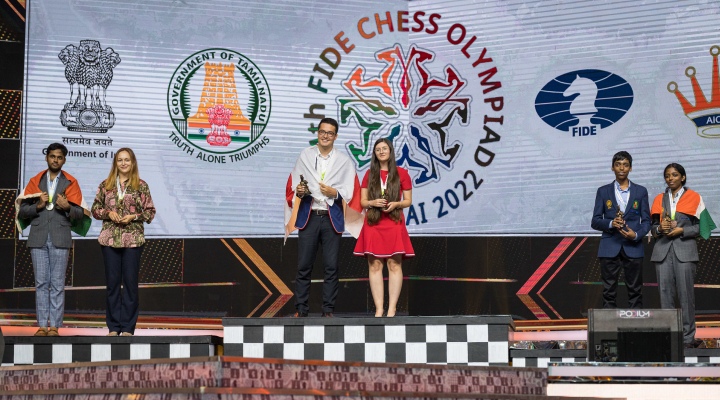 Board 4 Open Section: GM Vakhidov, J – GM Pultinevicius, P – GM Santos Latasa, J
Board 4 Women Section: WCM Mungunzul, B – FM Malicka, M – IM Tania, S
Board 5 Open Section: GM Bartel, M – GM Hovhannisyan, R – GM Onyshchuk, V
Board 5 Women Section: WGM Schneider, J – WGM Fataliyeva, U – WGM Divya, D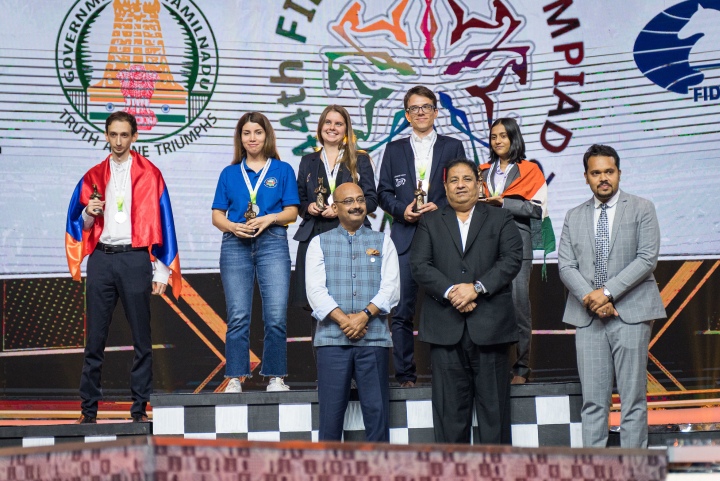 Category prizes
In the Olympiad, teams are distributed into five categories according to strength, and category or section medals are awarded for the best scores. For most countries, these medals are an opportunity to validate their chess improvement.
In the open section Uzbekistan (overall winner) won the gold medal for category A, Moldova won category B, Tunisia category C, Libya category D and Maldives category E.
In the women's section Ukraine (overall winner) won the gold medal for category A, Lithuania won category B, Albania category C, Kenya category D and Eswatini category E.
The Gaprindashvili Cup
During her career, fifth women's world chess champion Nona Gaprindashvili, who was also the first woman ever to be awarded the FIDE title Grandmaster in 1978, successfully competed in men's tournaments, winning, amongst others, the Hastings Challengers tournament in 1963/4.
The Cup named after her awards the combined supremacy of a team in both sections. Three teams tied in this endeavour – India, USA and India B – but the Cup went to India on a superior tiebreak.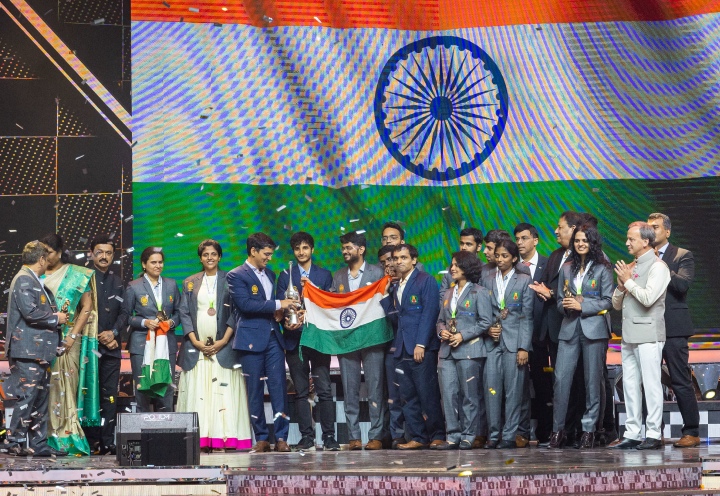 Grand Master title norms
Many players fight for Olympiad title norms because a nine-to-eleven-round norm can be extremely useful to complete a Grand Master (GM) title.
The requirements were – unofficially - achieved by the following players:
Dragos Ceres, Viktor Gazik, Conor Murphy, Raja Panjwani, Fy Antenaina Rakotomaharo, Ivan Schitco, Alisher Suleymenov, Jingyao Tin.
Additionally, Women Grand Master title norms (WGM) were unofficially completed by Bat-Erdene Mungunzul and Turmunkh Munkhzul, both from Mongolia.
Complete final standings, including team and individual performances, can be found at the official website for the Olympiad:
https://chessolympiad.fide.com/open-standings.
Complete results for round 11 can be found at the official website for the Olympiad, https://chessolympiad.fide.com/open-results.
For any other information, please visit the tournament website, http://chessolympiad.fide.com.
Text: IM Michael Rahal, FIDE Press Officer, Chennai
Photos: Lennart Ootes, Mark Livshitz and Stev Bonhage
---