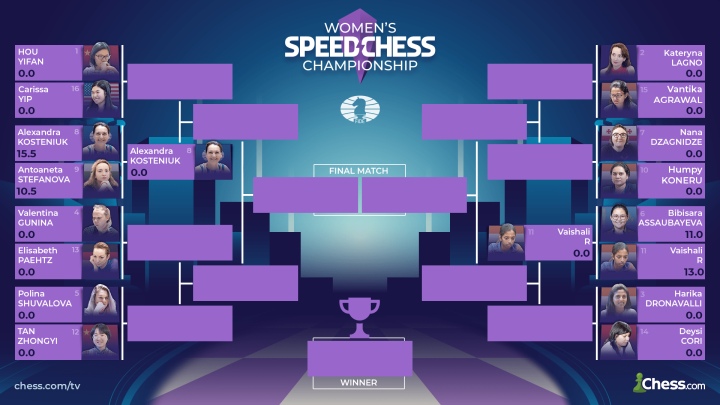 In the battle of former Women's World Champions, GM Alexandra Kosteniuk defeated GM Antoaneta Stefanova in the second round of 16 match of the FIDE Chess.com 2022 Women's Speed Chess Championship by a score of 15.5-10.5. Alexandra was quicker and more collected in most of the time-scrambles and deservedly punched her ticket to the quarterfinals.
Kosteniuk took a slow start in the first 5+1 segment of the match, falling behind, but then picked up momentum and scored three straight wins to secure a two-point lead heading into the next stage.
The 3+1 stage saw Kosteniuk stretch her lead to six points, getting the upper hand in the most chaotic, time-pressure situations.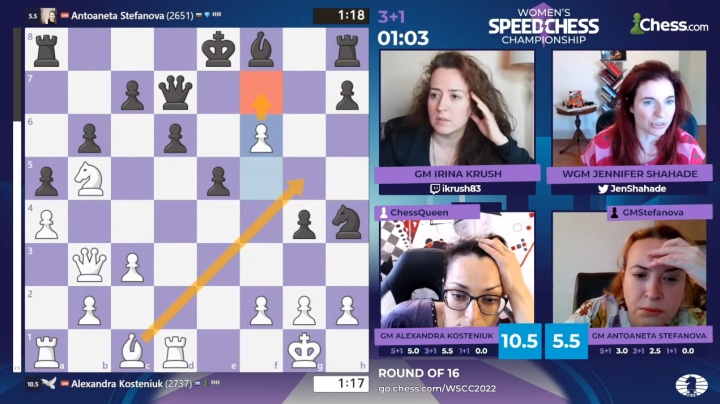 Somewhat surprisingly, Stefanova won the final, the fastest 1+1 segment of the match but did not manage to overcome a huge point deficit.
"It was a very long match, and I find it difficult to keep the same level of concentration throughout the match. I was already tired after the first stage, so it is quite difficult to analyze right now. I need some time to rest and then I can go over the games. Of course, I am happy to win," said Alexandra in a short interview with GM Irina Krush and Jennifer Shahade after the match.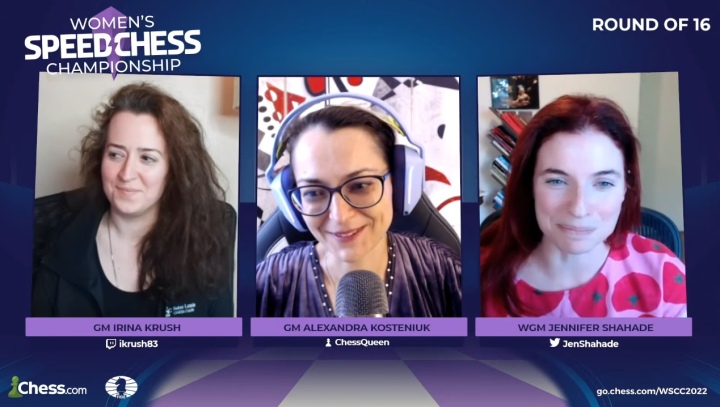 The third round of 16 match, GM Kateryna Lagno vs. WGM Vantika Agrawal, begins on Friday, June 24, at 5 a.m. Pacific / 14:00 Central European.
To follow the FIDE Chess.com Women's Speed Chess Championship, watch a live broadcast of the event with expert commentary on Chess.com/TV and Chess.com Twitch Channel.
More info and a full schedule of the FIDE Chess.com Women's Speed Chess Championship can be found here.