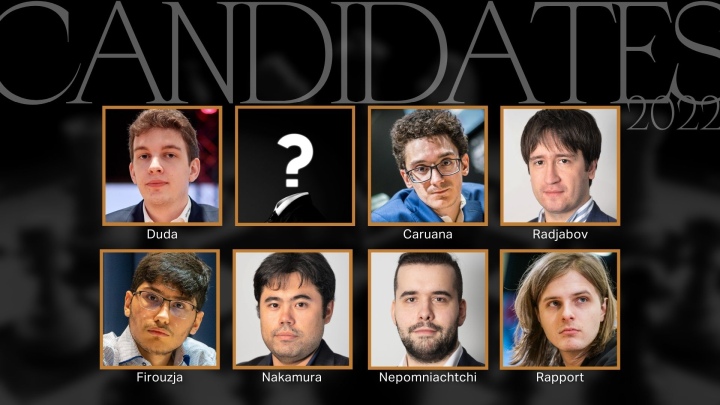 The drawing of lots for the FIDE Candidates Tournament was carried out today during the FIDE Council in Abu Dhabi, in a ceremony organized by the Chief Arbiter for the event, Anastasia Sorokina.
The seven players who have already qualified for the Candidates have signed the contracts and are getting ready for the tournament. The eight's place is still subject to the final decisions regarding Sergey Karjakin's appeal to the Ethics and Disciplinary Commission.
FIDE President Arkady Dvorkovich drew the lots for Ian Nepomniachtchi, who will play under the FIDE flag. FIDE Deputy president Bachar Kouatly drew the lots for Alireza Firouzja, Michael Khodarkovsky for Fabiano Caruana (a number was automatically assigned to Hikaru Nakamura), Mahir Mammedov for Teimour Radjabov, Zhu Chen for Richard Rapport, and Łukasz Turlej for Jan–Krzysztof Duda.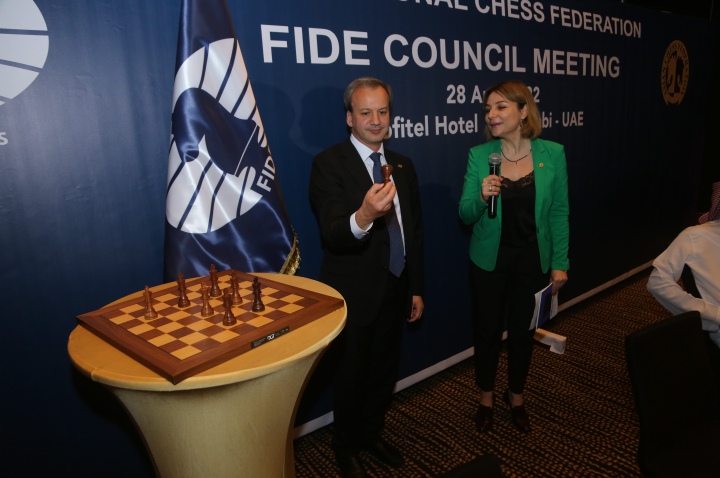 Photo by Ezz
These are the starting numbers:
1 GM Duda, Jan–Krzysztof
2 GM Ding Liren
3 GM Caruana, Fabiano
4 GM Radjabov, Teimour
5 GM Firouzja, Alireza
6 GM Nakamura, Hikaru
7 GM Nepomniachtchi, Ian
8 GM Rapport, Richard
Format & System:
The 8 players play a double round robin tournament (14 rounds). The winner qualifies for the 2023 FIDE World Championship Match.
Round–by–round pairings:
Round 1, June 17
Duda – Rapport
Ding Liren – Nepomniachtchi
Caruana – Nakamura
Radjabov – Firouzja
Round 2, June 18
Rapport – Firouzja
Nakamura – Radjabov
Nepomniachtchi – Caruana
Duda – Ding Liren
Round 3, June 19
Ding Liren – Rapport
Caruana – Duda
Radjabov – Nepomniachtchi
Firouzja – Nakamura
Round 4, June 21
Rapport – Nakamura
Nepomniachtchi – Firouzja
Duda – Radjabov
Ding Liren – Caruana
Round 5, June 22
Caruana – Rapport
Radjabov – Ding Liren
Firouzja – Duda
Nakamura – Nepomniachtchi
Round 6, June 23
Radjabov – Rapport
Firouzja – Caruana
Nakamura – Ding Liren
Nepomniachtchi – Duda
Round 7, June 25
Rapport – Nepomniachtchi
Duda – Nakamura
Ding Liren – Firouzja
Caruana – Radjabov
Round 8, June 26
Rapport – Duda
Nepomniachtchi – Ding Liren
Nakamura – Caruana
Firouzja – Radjabov
Round 9, June 27
Firouzja – Rapport
Radjabov – Nakamura
Caruana – Nepomniachtchi
Ding Liren – Duda
Round 10, June 29
Rapport, Richard – Ding Liren
Duda – Caruana
Nepomniachtchi – Radjabov
Nakamura – Firouzja
Round 11, June 30
Nakamura – Rapport
Firouzja – Nepomniachtchi
Radjabov – Duda
Caruana – Ding Liren
Round 12, July 1
Rapport – Caruana
Ding Liren – Radjabov
Duda – Firouzja
Nepomniachtchi – Nakamura
Round 13, July 3
Nepomniachtchi – Rapport
Nakamura – Duda
Firouzja – Ding Liren
Radjabov – Caruana
Round 14, July 4
Rapport – Radjabov
Caruana – Firouzja
Ding Liren – Nakamura
Duda – Nepomniachtchi