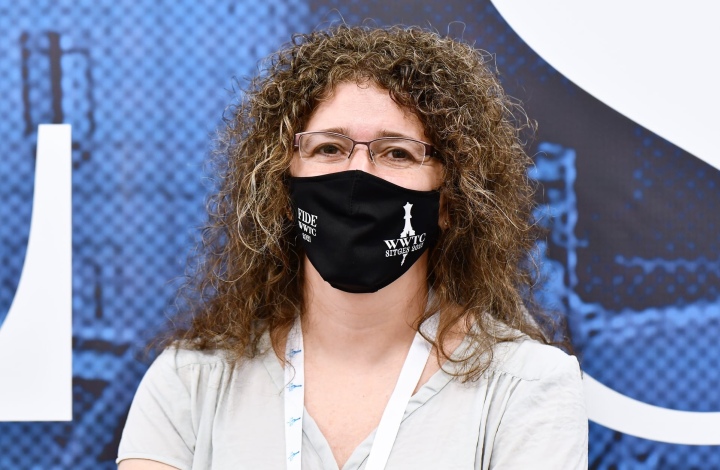 Nick Faulks, chair of the Qualification Commission (QC), and Alex Holowczak, its Secretary, have decided to step down from their current positions. They both will remain as Councillors and will also keep cooperating with FIDE in other areas, putting their invaluable experience to use. The intention of this change of leadership is to allow for a fresh approach to the work of the Commission.
Nick Faulks will pass the baton to Sabrina de San Vicente (pictured above), from Uruguay, who has been one of the most active members of the Qualification Commission. Sabrina is a very experienced IA, a member of the Green Panel of arbiters, and the current Chair of the Arbiters Commission at the Confederation of Chess for Americas.
"I would like to thank my colleagues Nick Faulks and Alex Holowczak for their trust and support. Nick has been a member of the Commission for more than ten years. Their contribution to the QC was and will be invaluable. I look forward to keeping working with them," said Sabrina.
Gunther van den Bergh, from South Africa, will take the position of Secretary. Like Sabrina, he has been a member of the qualification Commission during the past years, besides being the Chair of the arbiters Commission of the South African Chess Federation. A programmer by profession, he is one of the most experienced arbiters in the African continent.
Besides his work at the QC, Gunther's predecessor Alex Holowczak has been heavily involved in renewing and improving its most important documents, like its Handbook and tournament regulations. Leaving his post as Secretary of the QC will allow him to focus completely on this area of work.
"After more than ten years on QC, as Secretary and then Chairman, I believe this is a good moment to pass control to a new group," said Nick. "I hope that I have helped to maintain the long tradition of the Commission's work and am particularly pleased that we have recently finalised a fully revised set of Title and Rating Regulations. I look forward to working closely with Sabrina and Gunther in the coming months. I know they can rely, as I have, on full support from their Commission and also, most crucially, from the professional staff at the FIDE office."
Photo: Lourdes Porta