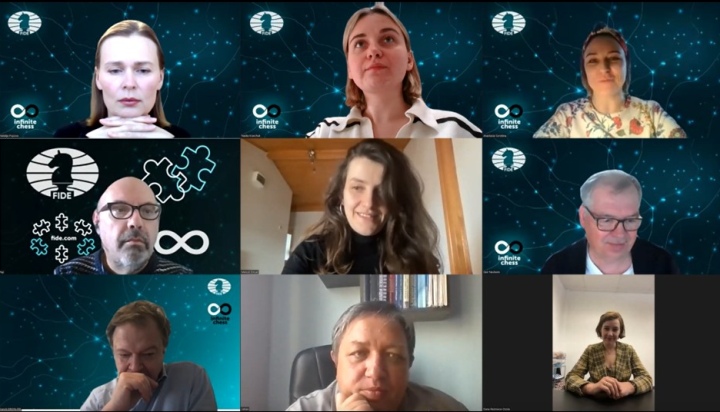 People across the globe observe April 2 as World Autism Awareness Day – designated by the United Nations to raise awareness about autism spectrum disorder (ASD). This year marks the 15th World Autism Awareness Day.
In celebration of World Autism Awareness Day, a supervision panel of the Infinite Chess FIDE Project was held online. The Infinite Chess is one of the key social initiatives of FIDE, and it aims to enhance knowledge and awareness about chess for children with ASD, give practical advice to teachers and parents, study the benefits of introducing chess and develop teaching methods. The event was joined by the organizers of the pilot projects for children with ASD that are currently running in Turkey, France, Spain, Gibraltar, Norway and South Africa.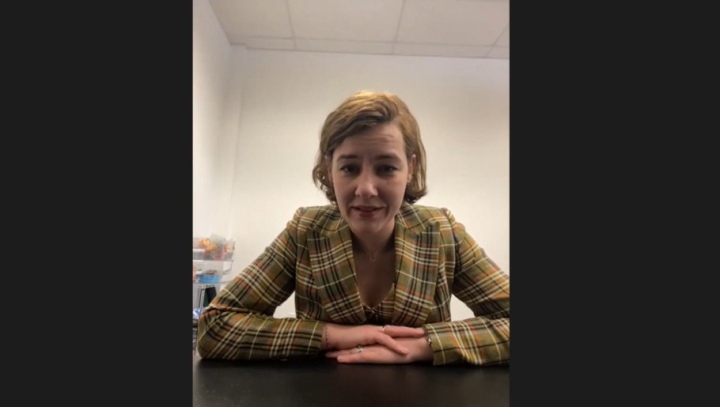 FIDE Managing Director Dana Reizniece-Ozola opened the discussion: "I already see that the first steps that we have made are very concrete, successful and give a very good basis for further enhancement of the project. I think it is very important to keep the regular communication, to see what progress has been made. Today you will exchange information on what activities have been carried out on the national level in our partner states. It gives ground for a better understanding of how we should proceed with the project. For this kind of initiatives, we work with the key stakeholders outside of the chess world, the international organizations that can come with their experience, with their platforms for the project results dissemination so that it doesn't remain in the pure chess world. It opens up new opportunities for additional fundraising. I think it is very important for such initiatives because however good our intentions are, we need resources for them."
During the discussion, the Erasmus application, an 18-months cooperation partnership program that launches at the end of 2022/beginning of 2023, was presented. The project made by Alcala University (Spain) and supported by educational institutions and chess organizations in Spain, France, Bulgaria, Norway, Germany and Turkey is devoted to chess training for children with autism spectrum disorder and research on its effectiveness.
Another key topic was raised by Franck Droin, President of the Health Social Disability Commission of the French Chess Federation, who presented national chess projects for people with different kinds of disabilities, including ASD. FIDE supported Chess for People with Autism program will be launched in France later this year. Sixteen autistic young people between 6 and 12 years old will participate in an adapted program carried out in four specialized centers in different regions of France. Forty hours of lessons per year will be carried out by the trained facilitators of the centers. By 2024, the number of centers where chess is used to support the development of children with autism spectrum disorders, the DYS (dyslexia, dyspraxia, dyscalculia) or attention and hyperactivity disorders will reach 80.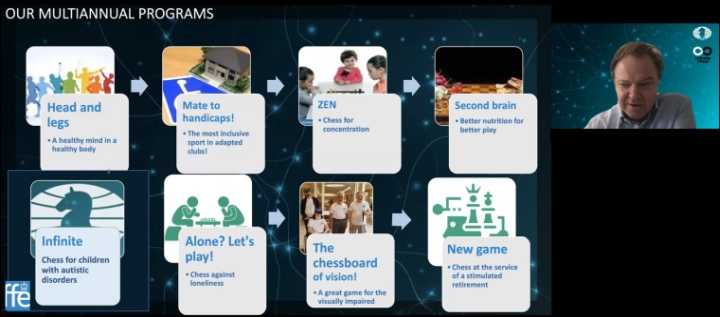 "In coordination with Anastasia Sorokina, FIDE Vice President and leader of the Infinite Chess, we are very confident about the project's success. We feel proud to be partners with FIDE, as well as Spain, Greece, South Africa and other countries. This is very important because we need to share results and ideas, especially for the evaluation program," Franck Droin said.
In South Africa, the pilot Chess for children with ASD project started in February 2022 for pupils aged 8-13-year old. Chess lessons were aimed at improving the children's social skills and creating an awareness of friendship. Positive changes were also noted in their logical thinking and reasoning. Very soon, similar pilot projects will be launched in Turkey and Norway.
FIDE Vice President and project leader Anastasia Sorokina emphasized the essential impact of all parties: "Although in the Erasmus application we were limited by the geography of countries, this does not negate the fact that all those present are part of the global Infinite Chess project. We are grateful to all partners and colleagues for their work and professionalism."