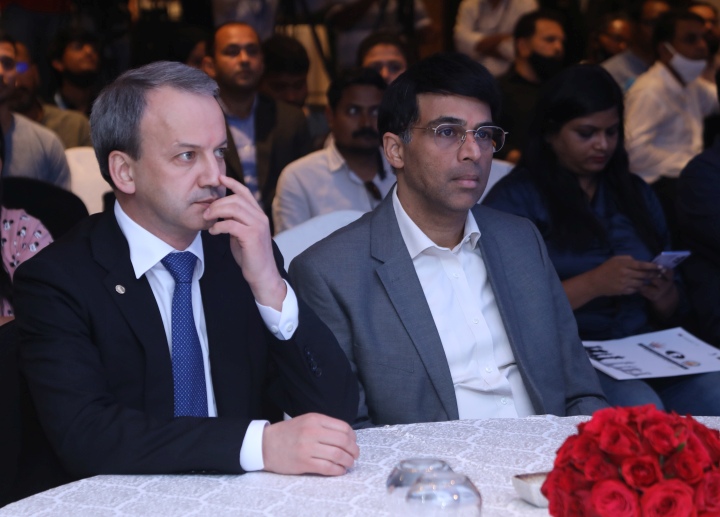 Today, on April 1, 2022, at a press conference held in Delhi, Arkady Dvorkovich announced his intentions to run for reelection as FIDE President for a second term. He also announced that five-time World Champion Viswanathan Anand would join his team. "I am willing and determined to work with this team. It is a wonderful group led by Dvorkovich, and they have done a lot for the sport," said the Indian legend.
This is the President's statement:
"The past four years have been challenging for all of us, but I am proud to acknowledge that I personally, and the entire FIDE leadership team, have worked with full dedication for the benefit of chess all over the world.
A lot has been done. The largest broadcasting contracts with the main platforms have been concluded, thus providing a stable basis for FIDE activities. With dedicated work, we have managed to create a stable financial basis, not being dependent on a sole narrow source of resources.
New formats of work during the pandemics have been found, including the FIDE Online Olympiad. The World Championship Cycle tournaments have been successfully carried out. A new major cycle tournament Grand Swiss was established, thus making the qualification process much more democratic.
I am happy that important steps have been taken to promote women's chess. The World Championship cycle has been fine-tuned, and the prize fund notably increased. A tournament of Women Candidates has been approved, the Women's Grand Prix series revived, and the Women's Grand Swiss tournament established. The principle of gender equality has been encoded in our policies and electoral rules, and I am dedicated to continuing to close the gender gap in our sport.
Extensive work is being done in the social sphere – major tournaments for people with disabilities are organized, and various chess programs for vulnerable groups like refugees, children with ASD, veterans and inmates are carried out. A motivational talent development program FIDE Chessable Academy has been launched, as well as training and Olympiad travelling support will be provided to the national teams of the less developed countries.
Chess in education remains our priority with new training programmes and a certification system being developed.
We continue consistent and transparent FIDE Development Fund's support to important initiatives of Federations, Continents and Associated organizations. Chess development programs are being actively implemented around the world.
However, there are even more important tasks ahead. In this situation, I consider it is my moral duty to confirm that I intend to run for the second Presidential term. I count on the support of the General Assembly and the chess society. Gens Una Sumus."
The President also confirmed that the campaign would start in May as per Electoral Regulations, but he highly appreciates that the team will be strengthened by the participation of the five-time World Champion Viswanathan Anand.
"We have discussed that Viswanathan will be a huge part of our team," stated Mr Dvorkovich, emphasizing that "whoever wins, we will support chess, we will be involved in chess, that doesn't depend on politics. It depends only on our will, our commitment and our love of chess."