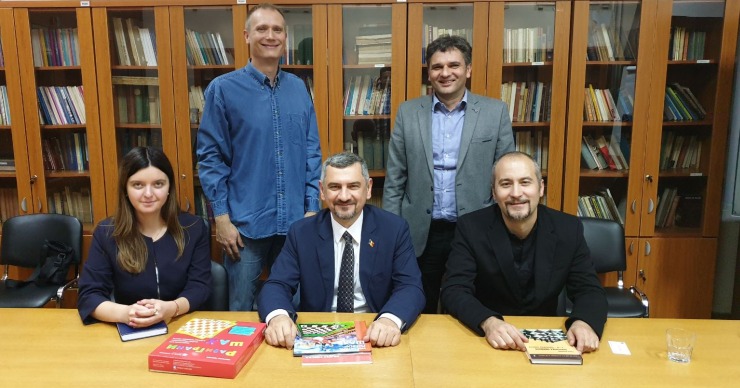 In early October FIDE Executive Director Victor Bologan paid a visit to Serbia to meet with Serbian sport and education officials.
The first meeting was held at the Serbian Ministry of Youth and Sports, where he met with Mr. Predrag Peruničić, the Deputy Minister and a former world-class handball player. Among the key agenda points discussed at the meeting were the current state of chess in Serbia, its ability to host major chess events, and the possibilities of attracting funding and support for the Serbian Chess Federation.
The next stop on Mr. Bologan's busy schedule was the Institute for Education and Upbringing, where he was greeted by the Institute's Director Zlatko Grušanović and his associates. Thirteen years ago the Institute played a pivotal role in introducing chess as an optional subject into the official primary school curriculum, spearheading the preparation and implementation of the entire project. The main topic of discussion was the current state of affairs in the education system of Serbia, its ongoing reforms and the status of chess therein. The Institute is currently in the process of forming a committee that will be in charge of creating the new chess curriculum, as well as the teacher training program.
A working dinner ensued with representatives of the Serbian Chess Federation, where SCF President Dušan Cogoljević briefly informed Mr. Bologan of the future plans, stating that the main objective was to bring Serbian chess back on the world map by improving the national teams' results and hosting major chess events.
Another meeting took place on the next day, this time at the Ministry of Education, Science and Technological Development. The Deputy Minister Milan Pašić expressed his satisfaction with the support Serbia enjoys both from FIDE and the national authorities. The Ministry promised to provide its share of resources - a meeting of their representatives and the Institute for Education and Upbringing's expert team is scheduled for the upcoming week, with the main goal to start working on the new chess curriculum.
Serbian TV made a short report about Mr. Bologan's visit and those meetings, which was shown in a morning show.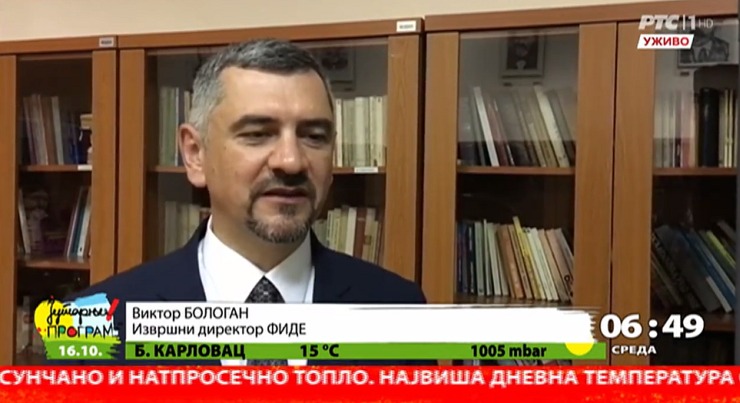 It is no secret that people truly love chess in Serbia, missing all the elite level chess events that took place in Serbia and Belgrade many years ago. The general sentiment is that if someone follows in the footsteps of Gligorić, Matanović, Ivkov, Ljubojević, Milunka Lazarević, Vera Nedeljković and Alisa Marić he or she will enjoy great deal support from Serbian fans as a new hope and a harbinger of the renaissance of national chess.