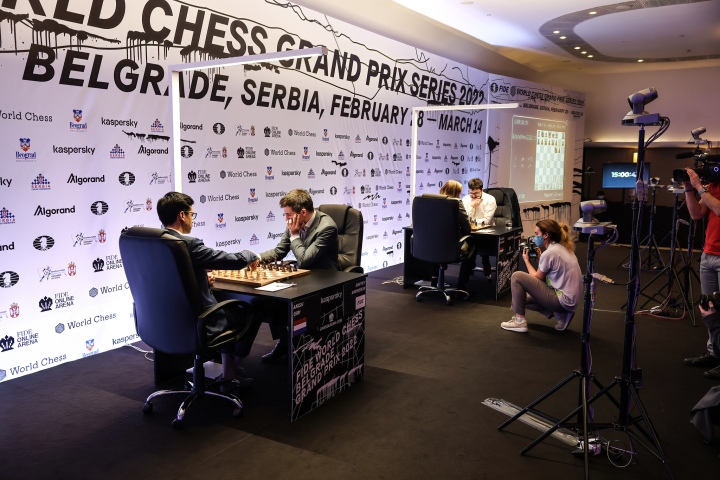 Richard Rapport defeats Maxime-Vachier-Lagrave as White, while Giri and Andreikin draw
The first round of the semi-finals of the second leg of the Grand Prix saw one decisive result and one draw.
Richard Rapport defeated Maxime Vachier-Lagrave. Before this game, the two had played eight classical games, five of which were drawn and three were won by the Frenchman. Despite the head-to-head record favouring Vachier-Lagrave, every game is a story of its own, and this one did not have a happy ending for MVL.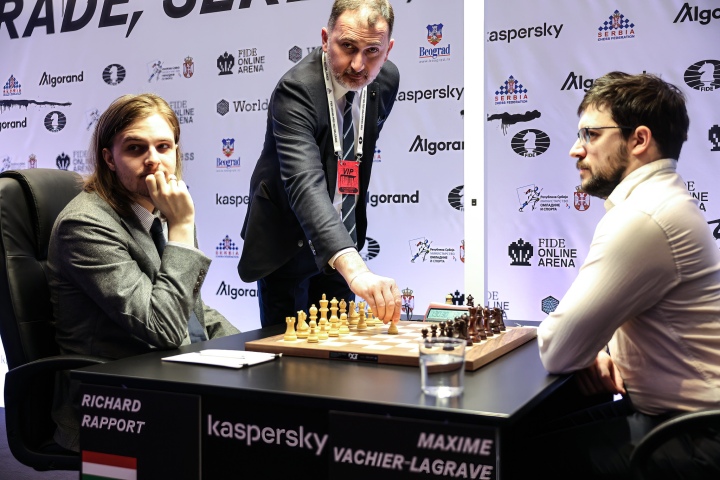 Rapport opened with 1.d4, and Vachier-Lagrave responded with his favourite, the Gruenfeld. The opponents tested a relatively rare variation in which the Hungarian introduced a logical novelty (the first line of Stockfish) 14.Bd2.
White got an edge that only increased after Black opted not to contest for the open c-file on move 19. MVL tried to put pressure on the white king in the centre, however, Black was doomed after that. Indeed, Rapport had a very dangerous d-pawn and a stronger bishops pair. Black was better developed, but it just did not work for him in concrete variations.
By move 23 White's d-pawn seamlessly advanced to d7. Soon afterwards, the e-pawn joined the race and – supported by a strong pair of bishops – Black was hopeless in preventing defeat. On move 37 the Frenchman capitulated.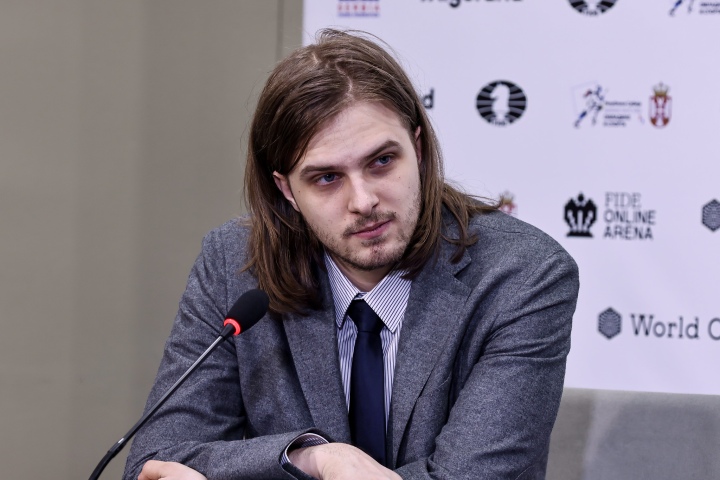 The outcome of the first knockout round suggests that Maxime will have to play for a win in the second game, as he will be leading white pieces, and the Frenchman will certainly enter the match swinging.
On the other board, the game between Anish Giri and Dmitry Andreikin ended in a draw, despite both sides (especially White) having a chance to win at certain points. The odds were even before the match as Giri and Andreikin played five classical games and drew all five of them. Their most recent clash was at the 2021 Tolstoy Memorial 2021, where they split a point.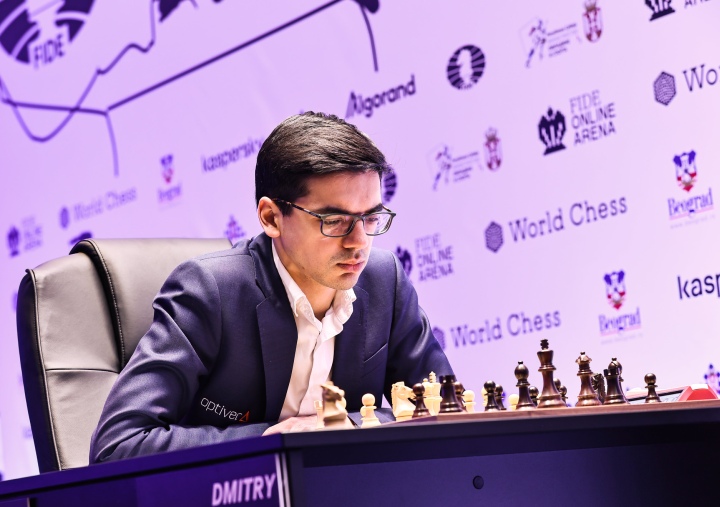 In the Sicilian with 3.b3, an offbeat line that has become trendy recently, the opening was similar to the one Nihal Sarin played against Andreikin in the 2021 World Cup. White (Giri) came out of the opening with a slightly better position, as he had more space, quickly castled long and put some pressure on the kingside. Andreikin rushed things with 17…c4? but this dubious move quickly backfired after a simple exchange followed by 19.b4.
White dominated the board, but after 19…h6, attacking his g5-knight, Anish sacrificed it on f7 (which is not in his style), letting a greater part of his advantage slip away and allowing Black to find breathing space. Instead, a simple and natural knight retreat 20.Nh3 would have posed insurmountable problems for Black.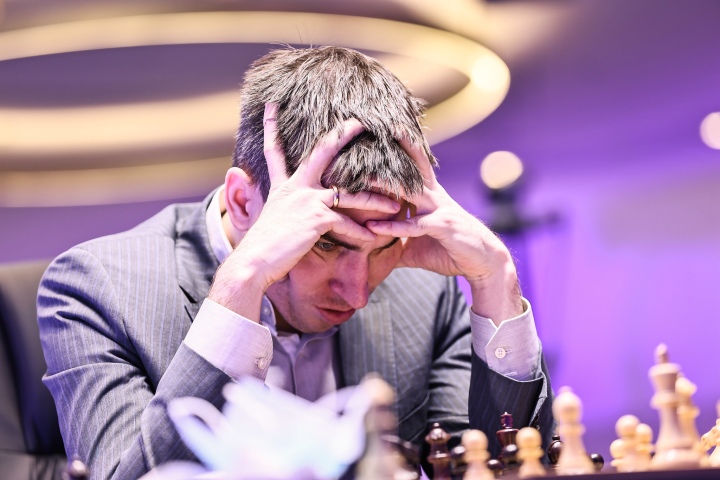 White continued to pressure but then overstretched himself with 23.Rd5, giving an exchange for an attack that didn't work. Following the exchange of queens on move 28, the tables have turned, and Black was now better; however, he had to be very precise as White had a very active bishops pair. Most likely, after avoiding the worst, Andreikin was happy with a draw, as a few more moves down the road the two split a point.
In the post-game analysis, Giri and Andreikin said that it was a complicated game where they both missed some crucial lines and concluded that the outcome was fair.
Pairings for day two of the knockout:
Dmitry Andreikin vs Anish Giri
Maxime Vachier-Lagrave vs Richard Rapport
The round starts on Thursday, 10th March, at 3 PM local (CET) time.
Leading partners supporting the FIDE Grand Prix Series 2022 include:
Kaspersky as the Official Cybersecurity Partner;
Algorand as the Official Blockchain Partner;
Prytek as the Technology Transfer Partner;
FIDE Online Arena as the official Partner.

Text: Milan Dinic
Photo: Mark Livshitz