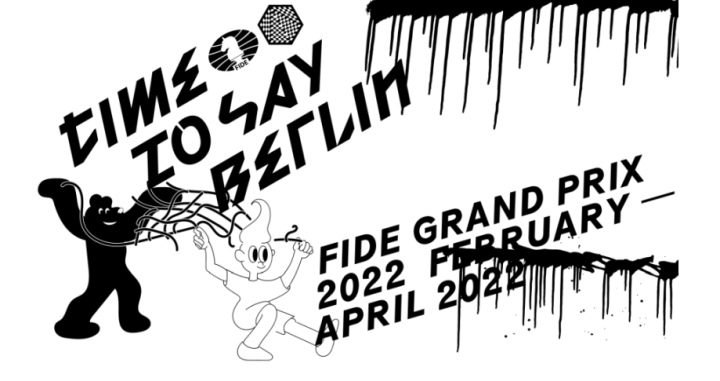 Berlin, March 9, 2022 — The pools for the last leg of the FIDE Grand Prix Seies, organized by World Chess have been determined. The tournament in Berlin will be held from 21 March to 4 April at the World Chess Club Berlin. The event features 16 elite chess players competing for a prize fund of €150,000 and the last two places in the Candidates Tournament scheduled to take place in Madrid in June.
The draw ceremony, held over Zoom, was chaired by the Chief Arbiter Klaus Deventer who divided the players into groups via randomized selection procedure. The players were allocated to four different pools:
Pool A:
Levon Aronian (USA), 2785
Hikaru Nakamura, (USA), 2750
Dmitry Andreikin (FIDE), 2719
Grigoriy Oparin (FIDE), 2674
Pool B:
Shakhriyar Mamedyarov (Azerbaijan), 2776
Leinier Dominguez (USA), 2756
Daniil Dubov (FIDE), 2711
Vincent Keymer (Germany), 2655
Pool C:
Wesley So (USA), 2778
Maxime Vachier-Lagrave (France), 2761
Sam Shankland (USA), 2704
Alexandr Predke (FIDE), 2682
Pool D:
Anish Giri (Netherlands), 2771
Nikita Vitiugov (FIDE), 2726
Yu Yangyi (China), 2713
Amin Tabatabaei (Iran), 2623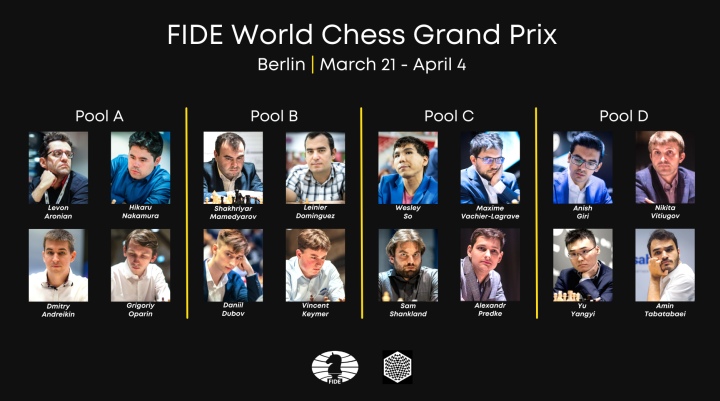 The third leg of the FIDE Grand Prix Series 2022 will take place in Berlin at Mittelstrasse 51-52 from March 21 to April 4. The rounds start at 3PM CET.
The FIDE Grand Prix Series is brought to you by World Chess.
The games will be broadcast live at worldchess.com:
https://chessarena.com/broadcasts/13606
For further questions, please contact: media@worldchess.com
Media Accreditation Form: https://forms.gle/nnfJ9b2LRDYebGg3A
---
About World Chess:
World Chess is a London-based chess gaming and entertainment group and FIDE' official broadcaster and commercial partner. World Chess organized the FIDE Championship Matches in Russia, the USA, and the UK, and revolutionized the sport by signing the biggest media partnerships in history. World Chess develops Armageddon, the chess league for prime-time television. World Chess also runs FIDE Online Arena, the exclusive official chess gaming platform. More at worldchess.com.