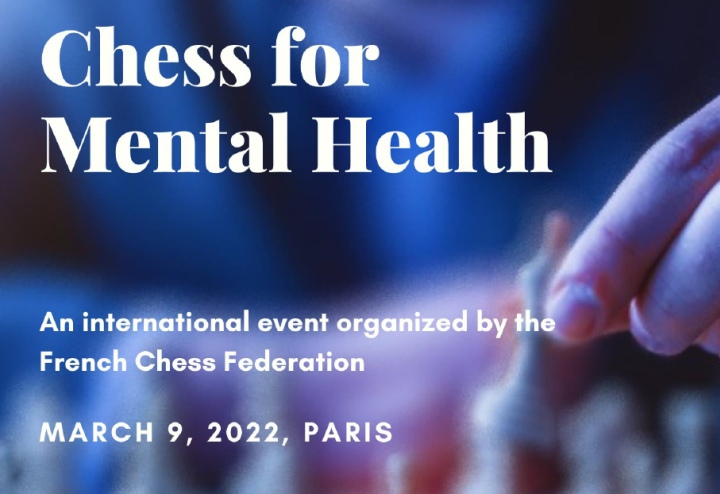 In the first decade of March, the French capital will host the "Chess for Mental Health" international event, a joint effort of FIDE and French Chess Federation (FFE), Imagine Institute, Teladoc Health and AESIO Mutuelle.
In 2021, FIDE organized two virtual conferences dedicated to introducing chess to children with Autistic Spectrum Disorder, and we're happy that more and more institutions are turning towards embracing the benefits of chess for mental health. The INFINITE CHESS Project is one of the key social initiatives of FIDE and it aims to enhance knowledge and awareness about chess for children with ASD, give practical advice for teachers and parents, study the benefits of introducing chess and develop teaching methods. A huge part of the upcoming conference will be dedicated to the topic of ASD, with trainers sharing their practical experience.
"Among its many assets, the game of chess brings many benefits in the service of mental health. Achievements and projects are multiplying at the international level. The French Chess Federation is proud to invite you to this international conference organized by our Health Social Disability Commission and our International Commission," said Eloi Relange, the President of FFE.
The conference will cover various topics related to mental health, including autism, DYS, concentration, hyperactivity. The event's keynote is how chess can improve multiple aspects of mental health.
The list of speakers includes:
Eloi Relange, FFE President
Franck Droin, FFE, President of "Health Social Handicap" Commission
Franck Belivier, Ministry of Health and Solidarity
Dana Reiniece-Ozola, FIDE Managing Director
Claire Compagnon, Prime Minister Services Interministerial Delegate Autism and neurodevelopmental disorders
Devora Kestel, World Health Organization Director, Mental Health and Substance Use, WHO
Maurice Bensoussan, President of the Psychiatric French Society and President of CNQSP FFE, "Health Social Handicap"
Towards the second hour of the conference, Anastasia Sorokina, FIDE Vice President and leader of INFINITE CHESS project, will open the discussion on chess for children with Autistic Spectrum Disorder, followed by presentations and practical advice from Natalia Popova, Trainer of the FIDE Chess Academy in Belarus, leader of the 2 years long project teaching chess to children with ASD, Ala Mishchanka, Special needs educational assistant with more than 15 years of experience, Luis Blasco De La Cruz of FIDE's Commission for Chess in Education, María Rodrigo Yanguas, WFM and a sports psychologist, Erick Takawira, Director of the KZN Chess Academy, and Kanthi Devi Sarjoo, speech/language pathologist/audiologist from the Browns' School. Chess Trainer Emmanuel Nieman, Eric Desailly of Foundation Ellen Poidatz, François Lescure, President of Teladoc Health France, and Sophie Krief, CEO of AESIO Mutuelle, will talk about the French experience.
Finally, Aurélie Renard-Vignelles, Edith Jebob Duvernet, Maxence Augier, and Dr Maurice Bensoussan will discuss troubles of DYS, concentration, and hyperactivity.
"Chess for Mental Health" Conference Program (pdf)
To participate in the Chess for Mental Health" international conference, please fill out the registration form.