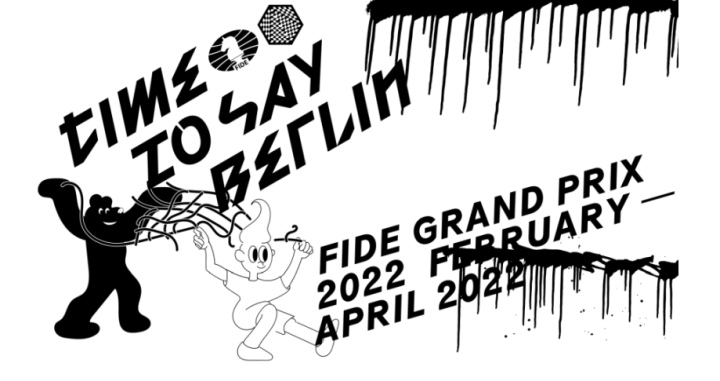 February 1, 2022 – FIDE has named two replacements for the first leg of the Grand Prix after receiving last-minute information that two players will not be able to compete in the tournament that starts in Berlin on February 3 due to visa and health issues.
GMs Ding Liren and and Dmitry Andreikin are replaced by GMs Andrey Esipenko and Radoslaw Wojtaszek. The FIDE President, upon consultation with the organizers and arbiters team, made a decision on the replacements as per the event's regulations.
Updated Pools:
Pool A:
1. Alexander Grischuk (Russia), 2764
2. Hikaru Nakamura, (USA), 2736
3. Andrey Esipenko* (Russia), 2714
4. Etienne Bacrot (France), 2642
Pool B:
1. Radoslaw Wojtaszek* (Poland), 2686
2. Richard Rapport (Hungary), 2763
3. Vladimir Fedoseev (Russia), 2704
4. Grigoriy Oparin (Russia), 2681
Pool C:
1. Levon Aronian (USA), 2772
2. Vidit Gujrathi (India), 2727
3. Daniil Dubov (Russia), 2720
4. Vincent Keymer (Germany), 2664
Pool D:
1. Wesley So (USA), 2772
2. Leinier Dominguez (USA), 2752
3. Pentala Harikrishna (India), 2717
4. Alexei Shirov (Spain), 2704
*Andrey Esipenko and Radoslaw Wojtaszek replaced Ding Liren and Dmitry Andreikin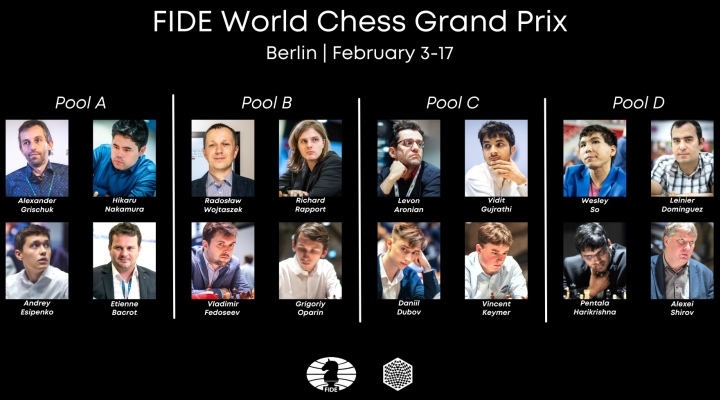 FIDE and the organizers wish all the participants the best of luck with the event.
FIDE Grand Prix, organized by World Chess, is a 3-event series that features 24 players, each of whom will compete in two out of three tournaments. Two winners of the Grand Prix Series will qualify for the Candidates Tournament. The series will take place in Berlin, Germany, and Belgrade, Serbia.
Leg 1 – Berlin

03.02 – 17.02

Leg 2 – Belgrade

28.02 – 14.03

Leg 3 – Berlin

21.03 – 04.04

1

R. Wojtaszek*

Ding Liren

2

Anish Giri

Anish Giri

3

Wesley So

Wesley So

4

Levon Aronian

Levon Aronian

5

S. Mamedyarov

S. Mamedyarov

6

A. Grischuk

A. Grischuk

7

Richard Rapport

Richard Rapport

8

M. Vachier-Lagrave

M.Vachier-Lagrave

9

L. Dominguez

L. Dominguez

10

Hikaru Nakamura

Hikaru Nakamura

11

Nikita Vitiugov

Nikita Vitiugov

12

P. Harikrishna

P. Harikrishna

13

Vidit Gujarathi

Vidit Gujarathi

14

A. Esipenko*

D. Andreikin

15

Daniil Dubov

Daniil Dubov

16

Yu Yangyi

Yu Yangyi

17

Sam Shankland

Sam Shankland

18

V. Fedoseev

V. Fedoseev

19

Alexei Shirov

Alexei Shirov

20

Alexandr Predke

Alexandr Predke

21

Grigoriy Oparin

Grigoriy Oparin

22

Vincent Keymer

Vincent Keymer

23

Amin Tabatabaei

Amin Tabatabaei

24

Etienne Bacrot

Etienne Bacrot

*Andrey Esipenko and Radoslaw Wojtaszek replaced Ding Liren and Dmitry Andreikin in the Leg 1
The prize fund for each event is EUR 150,000, which is a EUR 20,000 increase from 2019.
Regulations for the FIDE Grand Prix Series 2022 (pdf)
Each 16-player event will consist of a group stage followed by a knockout semi-final and final. At the group stage, the participants will compete in four double-round-robin tournaments, with only the winners of each pool advancing. Both semi-finals and the final will consist of 2 regular time limit games, plus tiebreaks if needed.
Players receive Grand Prix points according to their finishing position in each tournament:
| | |
| --- | --- |
| Round | Grand Prix points |
| Winner | 13 |
| Runner-Up | 10 |
| Semi-final loser | 7 |
| 2nd in pool | 4 |
| 3rd in pool | 2 |
| 4th in pool | 0 |

The FIDE Grand Prix Series 2022 is supported by Algorand as the Official Blockchain Partner, Kaspersky as the Official Cybersecurity Partner, FIDE Online Arena as the official gaming platform and Prytek as the Technology Transfer Partner of the Series. The official broadcast of the event will be streamed for free at worldchess.com.
For more information, visit https://worldchess.com/series/grandprix2022 and fide.com.
About World Chess:
World Chess is a London-based chess gaming and entertainment group and FIDE' official broadcaster and commercial partner. World Chess organized the FIDE Championship Matches in Russia, the USA, and the UK, and revolutionized the sport by signing the biggest media partnerships in history. World Chess develops Armageddon, the chess league for prime-time television. World Chess also runs FIDE Online Arena, the exclusive official chess gaming platform. More at worldchess.com.