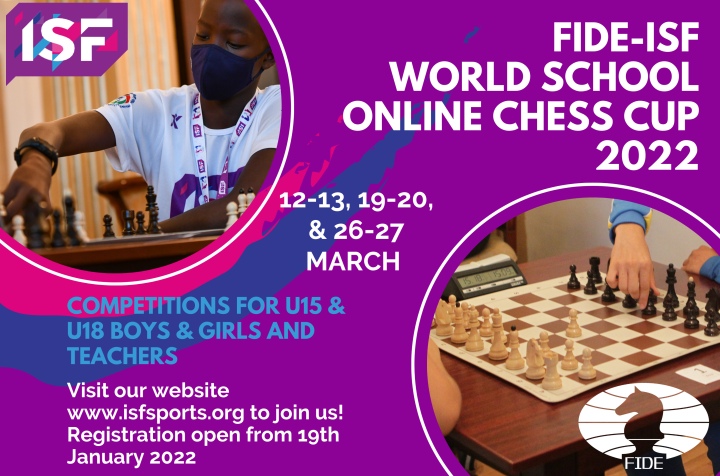 The FIDE - ISF World School Championship Online Chess Cup 2022, organised by FIDE and the International School Sport Federation (ISF), aims to motivate young students and teachers to be active and participate in the online chess competition.
Following the success of the first-ever ISF World Schools Championship Online Chess Cup held in October 2020 that brought together boys and girls from 37 countries and five continents, the event invites students and teachers from FIDE and ISF member countries as well as students from all over the world to take part.
The tournament will be held on Tornelo online platform in boys and girls U15 and U18 age categories and in men and women teachers in March of 2022.
The qualification tournaments for students are scheduled for March 12 and 13, while the finals will take place on March 19 and 20. The teachers' event will be held on March 26 (qualification tournaments) and March 27 (finals).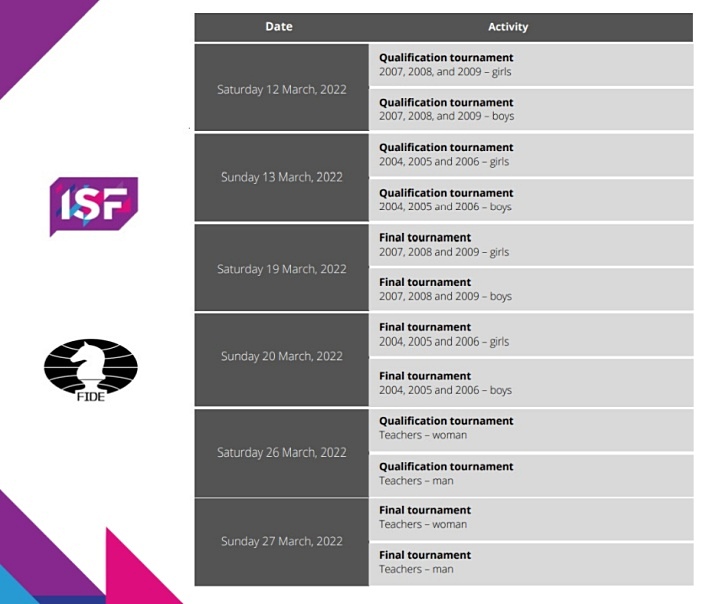 The tournament registration will begin on January 19 and be open until March 05, 2022 (for students) and March 12, 2022 (for teachers) on the ISF website.
The participation fee is 30€ per participant.
The winners in each category will get a ticket to the World Chess Olympiad 2022 in Moscow with free accommodation for two nights in the official hotel of the Olympiad. All the medalists will also be awarded free participation at the lessons with top grandmasters. The top-5 ranked players in each age and gender category will receive the ISF - FIDE ranking certificate, while all the remaining finalists will get participation certificates.
The Regulations for the FIDE - ISF World School Championship Online Chess Cup 2022 can be found here.
---
About International School Sport Federation (ISF)
Based in Belgium, International School Sport Federation (ISF) has been organising international competitions to encourage education through sport and student-athletes since its foundation in 1972. ISF was recognised by the IOC in 1995, and it currently has 113 members which compete in 45 different sport disciplines. Many of these sports have their own World Schools Championships every two years, while some others are part of the bi-annual Gymnasiade.
In September 2021, FIDE and ISF signed the memorandum of understanding on ensuring the development and promotion of chess through school sport. The document signed within the framework of the School Sport Forum held in Serbia encourages and supports the education of youth through chess sport and culture, contributes to the social and intellectual development of youngsters, and promotes chess sport and chess in education on a local and international level.