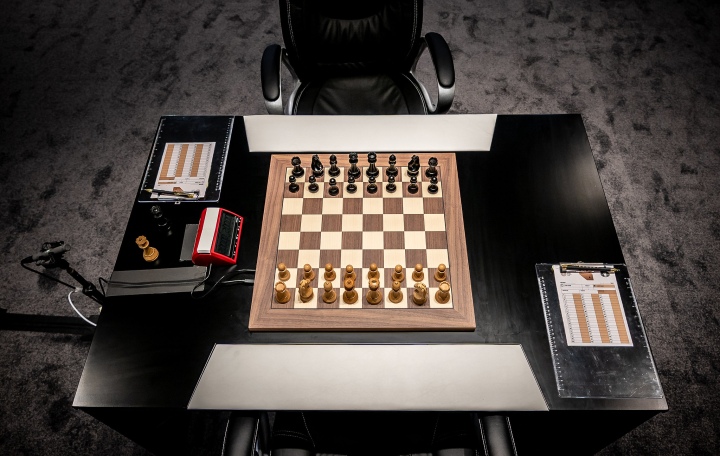 After the table to be used in the match between Carlsen and Nepomniachtchi was assembled and painted, FIDE shared on social media the first images of it. The table was placed inside a real-size mockup of the stage built in a warehouse outside the Expo, as part of an inspection and general rehearsal.
In the past, the tables used in title matches had a starring role: many of them are still kept in museums, and a few others have been sold for a fortune to private collectors. However, their importance has diminished in recent years, probably due to the use of electronic boards. Now the board simply rests on top of the table instead of being an integral part of it.
FIDE wanted to honour this tradition and restore the table to its former importance. The first idea was to build an exact replica of the legendary table used by Bobby Fischer and Boris Spassky in their 1972 match, which will soon celebrate its 50th anniversary.
That iconic piece was created by Icelandic furniture designer Gunnar Magnússon, to whom FIDE wanted to pay tribute. However, due to contractual obligations established half a century ago, building a replica was not possible.
In view of this, the idea of creating a unique design for Dubai 2021 took form. FIDE's media department did some research and discussed the matter with furniture designers.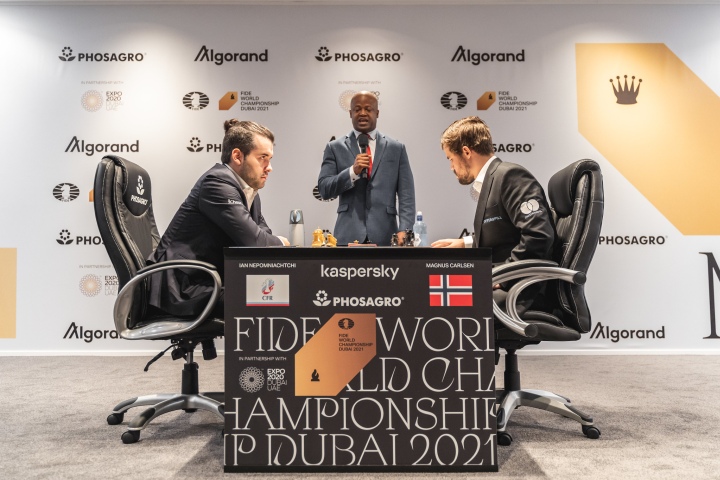 Some tables used in legendary matches, like the one from the 1985 world championship between Karpov and Kasparov housed at the chess museum in Moscow, were also examined. But the one taken as a main reference for the 2021 match was the table used at the 17th Chess Olympiad in Havana.
Once the final piece was designed, the table went to production by PICO, the global brand activation agency providing its services at EXPO 2021. Two identical copies were produced, in a sleek black finish, with an armrest in white leather.
The table also features a small space underneath where players can keep small items, like the snacks or energy bars that many of them consume during the game, without leaving them in plain sight.