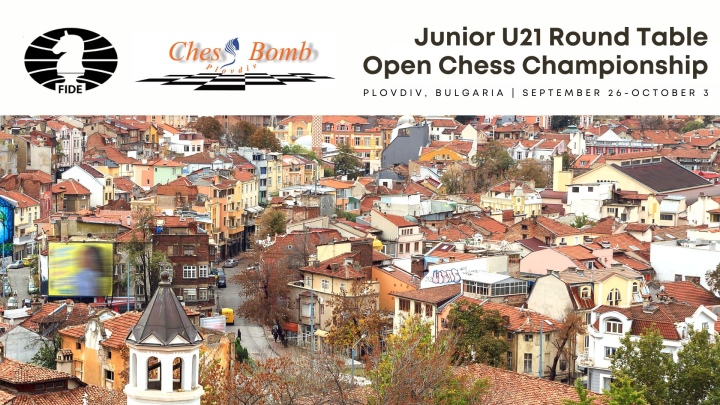 Alexey Sarana (Russia) came out the winner of the Junior U21 Round Table Open Championship, a nine-round Swiss tournament that took place in Park Hotel Imperial, Plovdiv, Bulgaria, from September 26 to October 3.
Despite severe travel restrictions, the tournament attracted an impressive lineup. The event brought together 58 junior players, including 9 GMs, 8 IMs, 1 WGM and 4 WIM.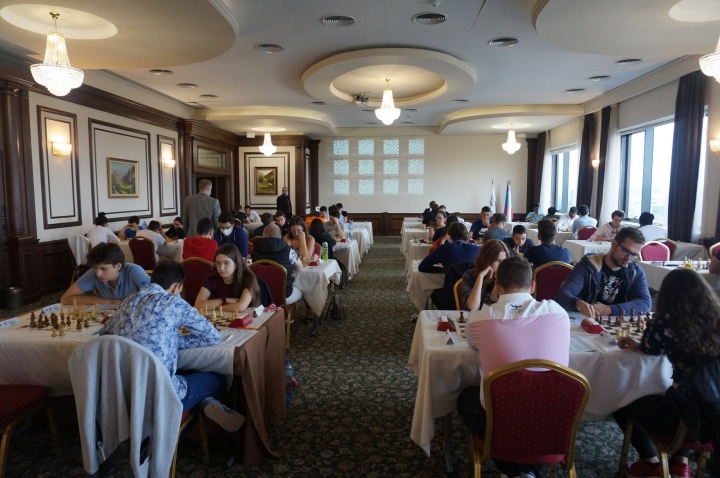 The first edition of the tournament was organized by Chess club ChessBomb – Plovdiv under the auspices of FIDE and in cooperation with Bulgarian Chess Federation 1928, Plovdiv Municipality, boasted of the total prize fund of €20,000 with €10,000 going to the winner. The prizes were guaranteed by the main sponsor of the event Club Round Table Bulgaria. The organizers hope that this competition will become a traditional Junior Cup.
After taking bronze at the 2021 European Individual in Reykjavik, Alexey Sarana continues his hot streak. The native of Moscow started right out of the gate, winning five straight games but slowed down a bit and finished with four draws allowing Arjun Erigaisi (India) to catch up with him at the finish line.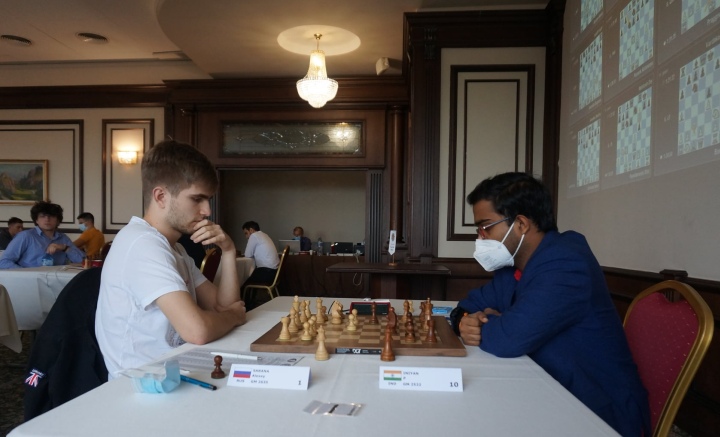 The young Indian won a critical last-round game against Vugar Asadli with black pieces and also scored 7 out of 9. Nevertheless, Sarana emerged as the winner thanks to slightly better tiebreaks.
Three players tied for third place, but Buchholz favoured Abhimanyu Puranik, who took the third prize.
Final standings:
| | | | |
| --- | --- | --- | --- |
| 1 | Sarana, Alexey | RUS | 7 |
| 2 | Erigaisi, Arjun | IND | 7 |
| 3 | Puranik, Abhimanyu | IND | 6½ |
| 4 | Bharath, Subramaniyam H | IND | 6½ |
| 5 | Gukesh D | IND | 6½ |
| 6 | Niemann, Hans Moke | USA | 6 |
| 7 | Muradli, Mahammad | AZE | 6 |
| 8 | Stoyanov, Tsvetan | BUL | 6 |
| 9 | Petrov, Martin | BUL | 6 |
| 10 | Van Foreest, Lucas | NED | 6 |