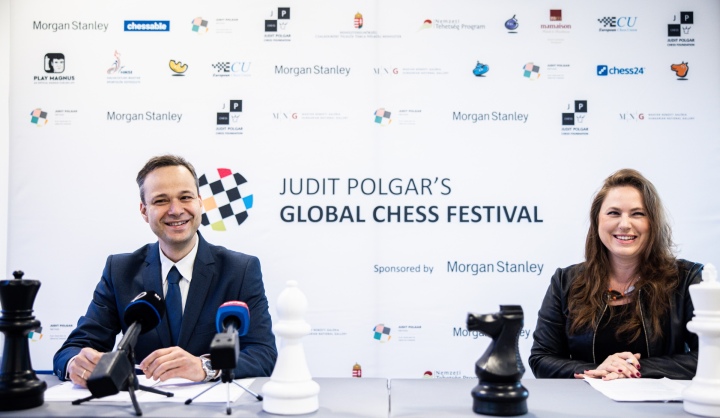 How can chess revolutionize education? How can self-esteem issues be tackled by this ancient game? What does our pulse say about our chess game? Thinkers from all around the globe will get together to answer these questions on the 9th of October, at Judit Polgar's Global Chess Festival, which - for the first time - will be available in a hybrid form. At the press conference held on Thursday, new, world-famous presenters were announced, like Ernő Rubik, inventor of Rubik's Cube and Dana Rezniece-Ozola, managing director of FIDE, Ms. Mariya Gabriel, patron of the Global Chess Festival and European Commissioner for Innovation, Research, Culture, Education and Youth also sent a video message to show her support towards chess education. Norbert Fogarasi, head of the Budapest office and Managing Director at Morgan Stanley, the event's primary sponsor for the past three years, spoke about the connection between chess and STEM fields. He also discussed the importance of STEM skills within Morgan Stanley and financial services broadly.
In a few days, the Global Chess Festival will conquer the walls of the Hungarian National Gallery, where the main topics will be creativity and innovation. Visitors will be presented with revolutionary ideas and initiatives inspired by chess in the fields of science, education, art and business. Is creativity a divine spark or a teachable method? How do pulse and blood pressure influence the performance of chess players? Visitors of Judit Polgar's Global Chess Festival will find out with the help of this year's presenters both on and offline.
This year the Global Chess Festival hosts the Educational Chess Summit conference, where presenters prove: chess does deserve a place in classrooms as a profound way of skill development. Lorena Garcia, an educational researcher, will prove to the audience that chess can improve self-esteem and deters anxiety. Rita Atkins, British International Master, will show practical examples of incorporating chess in mathematics classes; Jesper Berger, international chess coach, will debunk a widespread theory: chess only develops children with exceptional capabilities; chess can be surprisingly beneficial for children suffering from learning disabilities. Fernando Moreno, a Spanish psychologist, is a recurring presenter at the Global Chess Festival - this time, he will discuss the "life lessons" chess can teach us. Furthermore, a screening of Judit Polgar's and Ernő Rubik's - inventor of Rubik's Cube - discussion will be presented, where a whole new idea of education systems based on creative energies will emerge. The conference also welcomes Leontxo García, Spanish chess journalist, as co-host of the Chess Festival alongside Judit Polgar, but Dana Reizniece-Ozola managing director of FIDE, Bachar Kouatly, president of FIDE and Mariya Gabriel, European Commissioner for Innovation, Research, Culture, Education and Youth will also speak.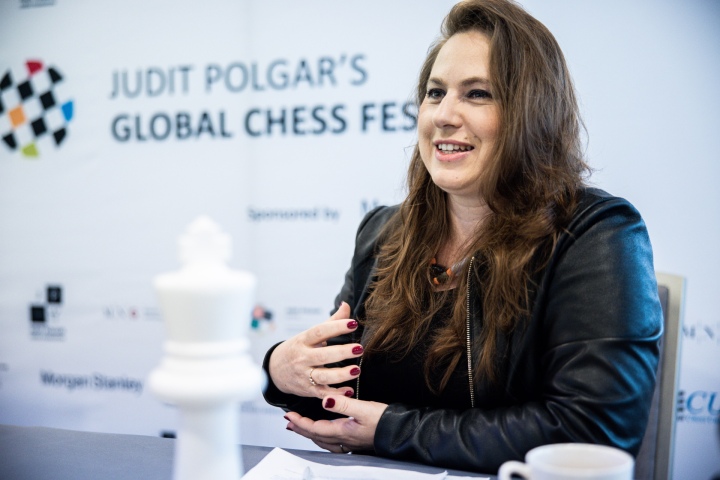 "It has been a dream of mine to create a forum that makes a home for international discussions surrounding chess and education, a forum which showcases how the game can be incorporated into school subjects and brings kids' strengths to the surface. The Educational Chess Summit is also a cultural trip: it shows how colourful the way we think about this around the world" - said Judit Polgar during her speech at the press conference. She also claims that "this year's Chess Festival will be of historical significance, as Budapest never hosted a conference like the Educational Chess Summit before" - Judit Polgar told.
Introducing young people to chess is also an important goal for Morgan Stanley Budapest, which has been sponsoring the Global Chess Festival for three years. With its close connection to STEM, chess provides an excellent foundation in many valuable soft skills, including strategic planning, problem-solving, decision-making and rational thinking - very similar to the skills necessary for many of the roles and functions carried out by the firm's employees in Budapest.
'In Budapest, we operate an important technology and analytics center within one of the world's leading investment banks. The majority of our 2,500+ colleagues have a background in STEM fields, as they are closely related to what we do, from mathematical modelling to developing trading algorithms. We are committed to supporting STEM education, an area where chess can play an important role. Morgan Stanley has numerous chess players among its employees, including five international masters and this year, we were pleased to organize the finals of our inter-office chess tournament to coincide with the Global Chess Festival, attracting 400 players from our offices around the world. We are proud to partner with Judit Polgár and the Global Chess Festival again this year", said Norbert Fogarasi, Head of Morgan Stanley's Budapest office.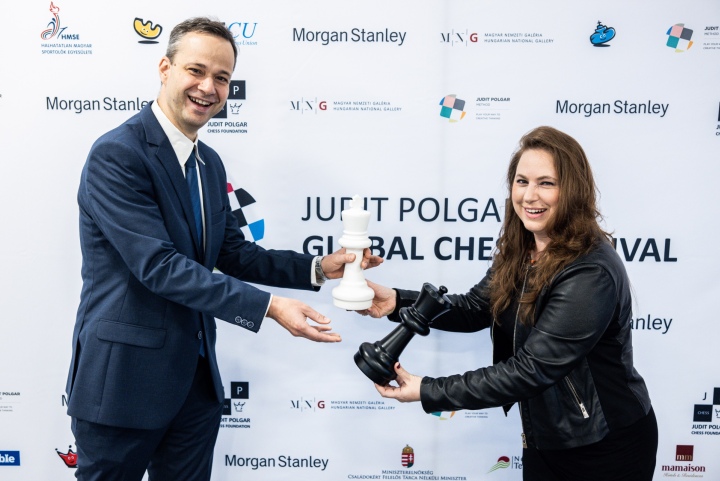 Gender equality is also of paramount importance for Morgan Stanley, not only in the workplace but in STEM education as well. In 2018, the Budapest office, in partnership with the Association of Women in Science, launched a mathematics and coding course called Smartiz to help encourage female high school students to consider a career in STEM. Now in its 4th year, the goal of Smartiz is to ensure every talented child who enjoys science, technology, engineering and mathematics can go out and pursue careers in these fields, regardless of their gender.
Big Chess Survey: the majority thinks that chess has a positive impact on studies and career
A survey has been conducted in order to unravel the connections between chess and STEM-education under the aegis of the Global Chess Festival, with over 650 participants. Those who took part in the survey - mostly students - gave an in-depth insight to chess and its relevance to STEM. Almost half of the participants (45%) claimed that they play chess in order to develop their logic skills, but many opted into chess for the challenge and the competition. Over ⅔ of the participants think that chess develops their strategic thinking capabilities and many think that it has a rather positive impact on their decision-making skills and their abilities to recognize and analyze patterns. It is not surprising that the majority thinks that chess can have a positive impact on their studies and their career. The survey also concluded that for the majority of the participants (72%) there is no difference between the competences of men and women when it comes to chess.
Mission of the Global Chess Festival

Facebook Website Pictures Twitter
The Global Chess Festival promotes the 1000 faces of chess all around the world. We aim to share the beauty of chess with 5 million people by 2025. Chess Connects Us!
More Information:
Csató Krisztina // krisztina.csato@skyrocketgroup.hu

About Morgan Stanley

Morgan Stanley is dedicated to providing first-class service to our clients, in a way that reflects our commitment to creating a more sustainable future and fostering stronger communities around the world. In each line of business, we strive to demonstrate our belief in the power of transformative thinking, innovative strategies and leading-edge solutions—and in the ability of capital to work for the benefit of all society.
More Information:
Laky Zoltán // zoltan.laky@wshungary.hu