In a couple of weeks from now, the website for the FIDE World Championship Match in Dubai will be launched, and tickets for spectators will go on sale shortly after.
In the meantime, we would like to share with you the schedule for the games, a list of hotels where visitors and journalists can enjoy preferential rates, and the current health and safety measures that one should take into consideration before visiting Dubai and Expo 2020.
SCHEDULE: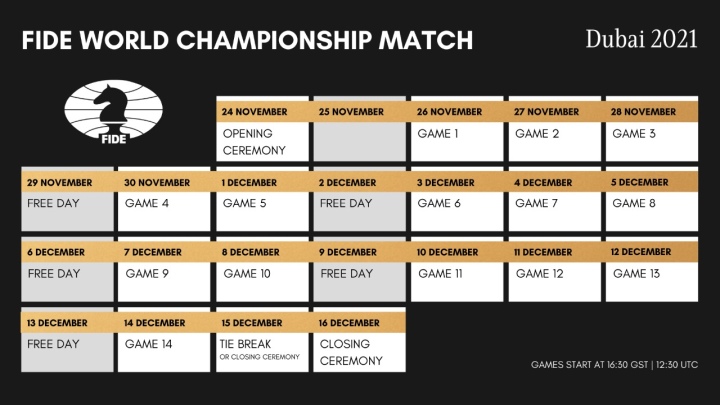 ---
HOTELS:
In the document linked below, you can find a table with the official hotels where you can book a room at preferential rates. In order to get these discounted rates, please book directly with the hotel and mention to them that you are a visitor for "EXPO - FIDE Chess Championship".
Preferential rates at official hotels:

---
HEALTH AND SAFETY:
We would also like to share with you the most up-to-date information regarding health and safety measures for all those visiting the FIDE World Championship match, Expo 2020, and Dubai. As of September 15, 2021, all visitors aged 18 years old and above must present a valid vaccination certificate issued by the competent National Authority or present a negative PRC taken within the previous 72 hours in order to enter the Expo site. Proof of vaccination or PCR results must be shown by the visitor at the entry gate. Non-vaccinated ticket-holders who have not been tested within the 72-hour period can benefit from the PCR testing facilities available at and or near the Expo2020 site.
EXPO 2020 Covid-19 Guide (pdf)
You can find more information on this topic at the Expo 2020 website.
---
MEDIA ACCREDITATION:
The accreditation process is a four-step procedure.

1) Please read FIDE's media accreditation policy.
2) Send an email to press@fide.com, indicating the exact dates you are planning to visit the match and the type of accreditation you will require (A, B, or C).
3) Register to access Tawassul, the media information system at https://media.expo2020dubai.com/. All media, even if they are not yet accredited for Expo, can register for access to Tawassul. Tawassul is an essential operational tool connecting media to important information and updates on facilities and services such as media accreditation and permits for Expo.
4) Once registered for Tawassul, the media will be able to submit an Expo 2020 Media Accreditation expression of interest. Only one Media Accreditation expression of interest is to be submitted per organisation within Tawassul to commence the accreditation process. Typically, you will receive confirmation after 4-5 days.
There are no important space limitations at the Expo press center, which is located 350 from the playing hall. However, due to COVID regulations, the place allocated for journalists at the venue itself will be limited. Preference will be given to accredited camera crews and news agencies.