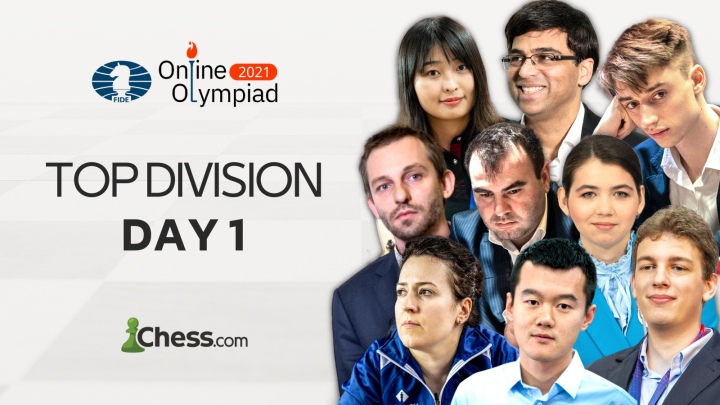 Wednesday, September 8th, 2021 – The Online Olympiad Top Division began today. For three days, forty of the best teams in the world will battle it out on the Chess.com servers, to decide who will succeed last year's co-winners India and Russia as the 2021 Online Olympiad winner.
The teams are split into four pools which will play an all-play-all format for three days. The two top teams will advance to the KO quarter-finals.
Most of the players connect from their own homes spread around their countries. However, some of the best teams such as India, China and Russia have enjoyed a specific training stage and play from a club or federation premises, with strong Internet connectivity and added team spirit.
Top Division - Pool A
China is definitely the big favourite in this group. Averaging 2592, the team captained by Ni Hua is headed by GM Ding Liren and GM Wei Yi as main top boards, with the current Women's World Champion GM Ju Wenjun on board three. Reserve boards include GM Yu Yangyi and GM Bu Xiangzhi. An unbelievably strong squad on all boards.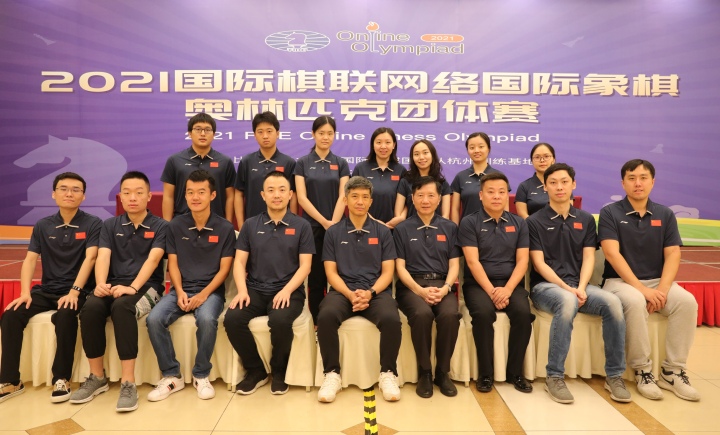 Team China in Hangzhou. Photo: Liang Ziming
With such a line-up, it seems highly unlikely that they will fall short of the two qualifying spots, but anything can happen here as we have seen each weak. Nonetheless, they have started the event very strongly and lead the group with undisputed wins over Indonesia, Mongolia and Australia.
Tied with China for first place are Kazakhstan, also on 6/6. Three wins over Romania, Indonesia and Georgia has propelled the team headed by GM Rinat Jumabaev into an excellent position going into day two.
Their rating average is 2446, lower than some of the other teams but very well spread over the boards. GM Zhansaya Abdumalik and IM Dinara Saduakassova play on main female boards three and four, and their junior female is Bibisara Assaubayeva: all three are very strong players.
In third place, with 5/6 stands Iran, who dropped one match point against Romania. First board GM Parham Maghsoodloo didn't have his day, losing both of his games, but second board GM Pouya Idani made up for him by winning all three.
A fun stat is the "low" 2381 rapid rating of junior board five, GM M. Amin Tabatabaei, a very strong +2600 GM! He also won his three games!
The other main contender in this group is Armenia, currently fifth in the standings. They didn't get off to a good start, but their team has a huge potential and could easily make a comeback in future rounds.
Tomorrow's round four will be very exciting, as China and Kazakstan face-off in the first match of the day.
Top Division - Pool B
Hungary (6/6), one of the group favourites, took the early lead in group B thanks to wins over Shenzhen China, Slovenia and Azerbaijan,. They have a very solid team, combining strength and youth, headed by seasoned GM's Viktor Erdos and Tamas Banusz, with top GM Benjamin Gledura as the first reserve.
Nevertheless, the main favourite of the group is team India (5/6), who have also started off very strong although they did drop one match point against third-placed France. India is one of the teams that are playing all together from the luxury Taj Coromandel hotel in Chennai. The team is sponsored by Microsense, which among other things, guarantees great Internet connectivity.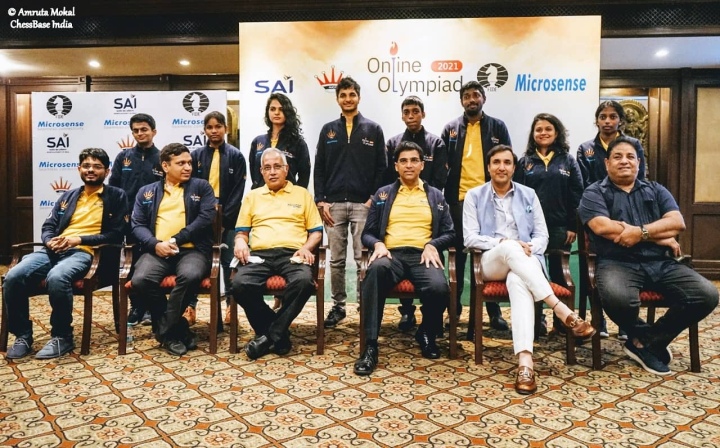 Team India in Chennai. Photo: Amruta Mokal Chessbase India
Their top board is former World Champion and chess legend GM Anand Viswanathan, but GM Vidit Santosh Gujrathi on board two is by no means any weaker! The female players, GM Koneru Humpy and GM Harika Dronavalli, are boards three and four, while GM Nihal Sarin defends the main junior board. All the reserve boards are also world-class players: India has come to win!
In his game against Egypt's board one Ahmed Adly, Anand is a rook up, but his king is under serious pressure. Did he calculate correctly? Of course!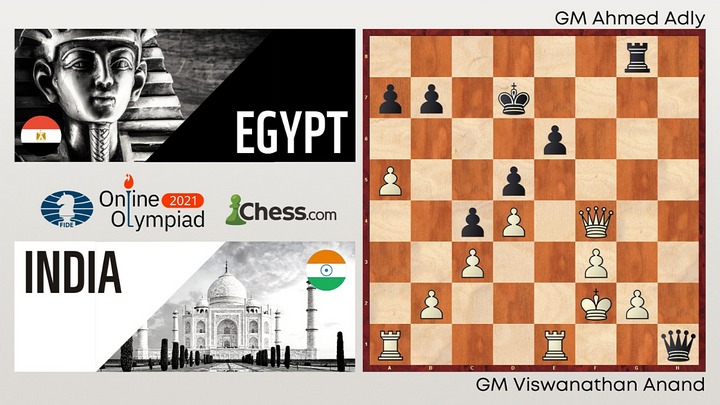 Black played 42…Rxg2+ 43.Ke3 Qh7! (threatening Qd3 mate) 44.Rad1 Qc2! (threatening with checkmate on f2) 45.Qf7+ Kd8 46.Kf4! and White escaped with his king and won the game.
Tied for third and fourth are France and Moldova, one of the teams qualified from the previous stage. For now, France has only played with six of their twelve players, including GM's Etienne Bacrot and Marie Sebag, and it remains to be seen if they will field the rest of the players tomorrow.
Their junior player is IM Marc Andria Maurizzi: his 2186 rapid rating shouldn't mislead: He is a GM-elect, with a standard 2488 rating!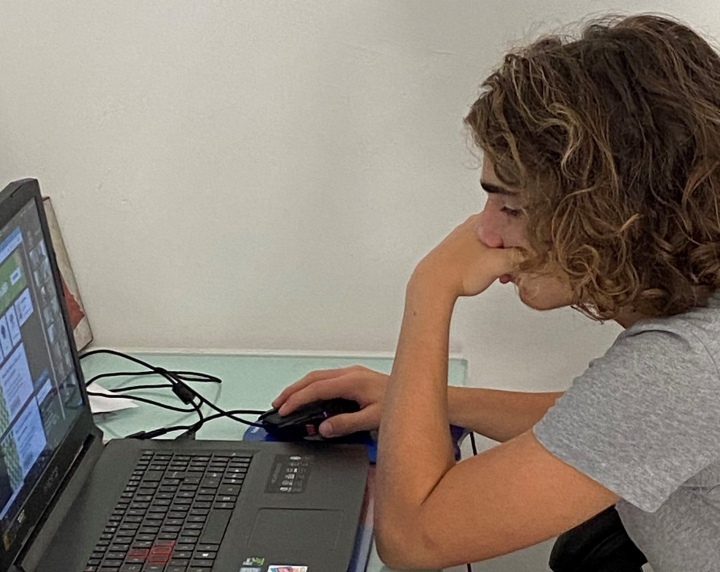 14-years-old GM-elect Marc Andria Maurizzi
This is a tough group with many players yet to get into action: teams such as Azerbaijan, Slovenia and quite a few others can easily win a couple of rounds and get back into the mix.
Top Division - Pool C
Group C has a clear favourite right off the bat: Russia (6/6). Co-winner (with India) of last year's edition of the Online Olympiad, the Russian team is also playing in full from the Central Chess Club in Moscow. In the first three rounds, they have already defeated Czech Republic, Ukraine, and Germany (by a 6-0! score) and undisputedly lead the group.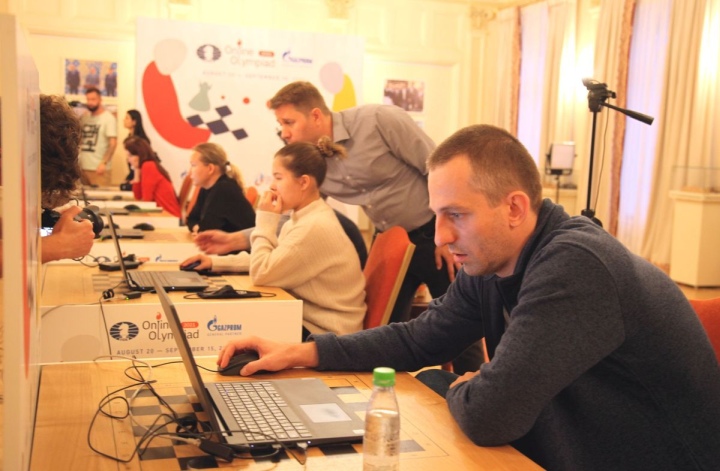 The Russian team in action from the Moscow Central Club
Their main team includes world-class GM's Alexander Grischuk, Danil Dubov as top two boards, Aleksandra Goryachkina and Alexandra Kosteniuk on boards three and four and Andrey Esipenko (3/3 this afternoon) and Polina Shuvalova as junior boards. Already a team that inspires fear and awe!
However, their "reserve" boards are Artemiev, Fedoseev, Lagno, Gunina…. And on it goes. A very tough squad captained by GM Alexander Motylev.
The following diagram is from the game between German FM Frederik Svane and Russian GM Andrey Episenko. White is in dire straits but tried his last chance 40.Nd7 with a double attack on the rook and the c-pawn. Low on time, Episenko was still outstanding in his calculations.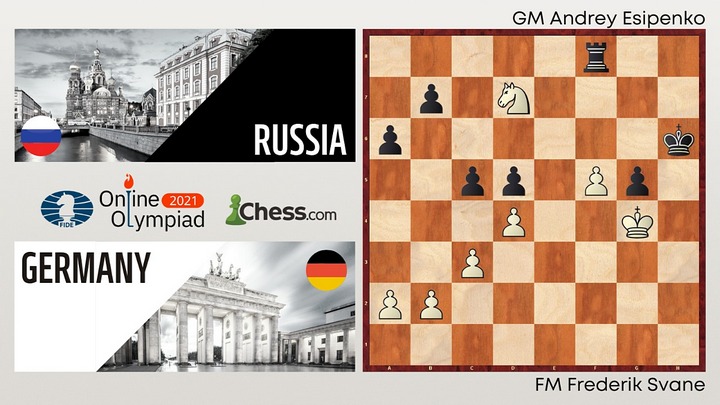 Andrey played 40…cxd4! 41.Nxf8 d3 42.Kf3 and now 42…g4+! After 43.Ke3 g3! the king and the knight can't stop the two passers.
Nonetheless, the second qualifying spot is up for grabs. Both Argentina (5/6) and Spain (4/6) are currently second and third in the standings: both are strong teams but powerhouses Italy, Ukraine and especially Israel are just behind them, also on 4/6.
All these team's cross swords on day 2: group standings will be better defined by round six.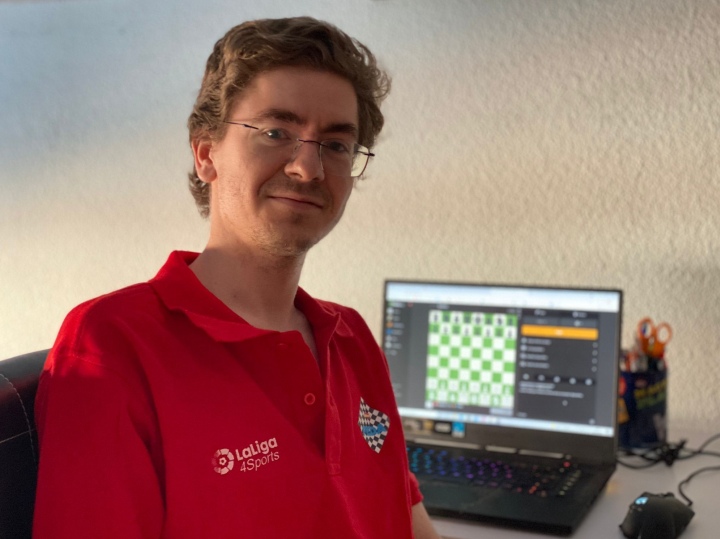 Spain's board one GM David Anton Guijarro
Finally, Germany didn't start well today. They depended heavily on their reserve boards in the first three matches, but that didn't go as well as they were probably expecting. With only 2/6, they are not totally out of it yet but will need to make a strong comeback tomorrow to have a chance of qualification.
Top Division - Pool D
The teams of the United States of America and Peru lead group four with 6/6 after the first three rounds. They will play against each other tomorrow in Round 6. Right behind them, Poland stands in third position on 5/6, having dropped one match point against the Netherlands. USA defeated neighbours Canada, Netherlands and Brazil quite comfortably, while Peru took down Colombia, England and Turkey by closer scores.
This is probably the most level group. Team rating mediums are quite close, and on a good day any of these teams could bring down one of the favourites. All of the matches are very hard-fought, many of them finishing with a 3½-2½ score.
USA have only fielded nine of their twelve players. However, none of the first five rated players will make an appearance in this event (Caruana, So, Dominguez, Nakamura or Shankland).
Nonetheless, the first board for this event is 2730 rated GM Jeffrey Xiong, with GM Ray Robson defending board two. Irina Krush and Anna Zatonskih play on the female boards while the junior board is GM Awonder Liang. A very strong team with good reserves to back them up.
The Peruvian players have always been considered specialists in rapid play. Their top two boards still have to make their debut, but the reserve players have performed on the mark for now.
Further down in the standings, England is very well represented on the top boards with Howell, Jones, Adams and McShane, but they lack depth on the female and junior boards.
Top Division standings after 3 rounds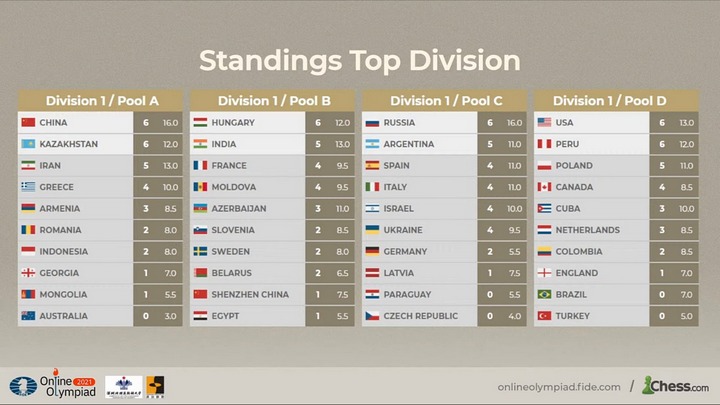 Pairings of the rounds, live games, PGN files and other useful information can be found on the FIDE Online Olympiad website. Please note that all results and standings remain provisional until the fair play panel submit its daily report.
The games can be followed online on www.chess.com (Events) and also on FIDE's own Youtube channel. Commentators for this stage are GM Daniel Naroditsky, WGM Jen Shahade, WGM Dina Belenkaya, WGM Keti Tsatsalashvili, IM David Pruess and James Canty III.
Text: IM Michael Rahal, FIDE Press Officer
Email: press@fide.com
---
About the tournament:
Scheduled to take place from August 20th to September 15th, the 2021 FIDE Online Olympiad is a national teams event in which all federations affiliated to FIDE have the right to participate. Team's consist of six players with a minimum of three female players and two junior players.
Played online on Chess.com, the event features two main stages: the "Divisions stage", and the Play-offs stage. All games are played with a 15 minutes + 5 seconds increment per move time control. The full schedule can be consulted here.

Organisers:
International Chess Federation (FIDE)
Chess.com as the hosting platform

Partners supporting the 2021 FIDE Online Olympiad:
Shenzhen Longgang District Culture, Radio, Television, Tourism and Sports Bureau
Shenzhen Chess Academy
Shenzhen Pengcheng Chess Club
Shenzhen Longgang District People's Government
Shenzhen Municipal Bureau of Culture, Radio, Television, Tourism and Sports