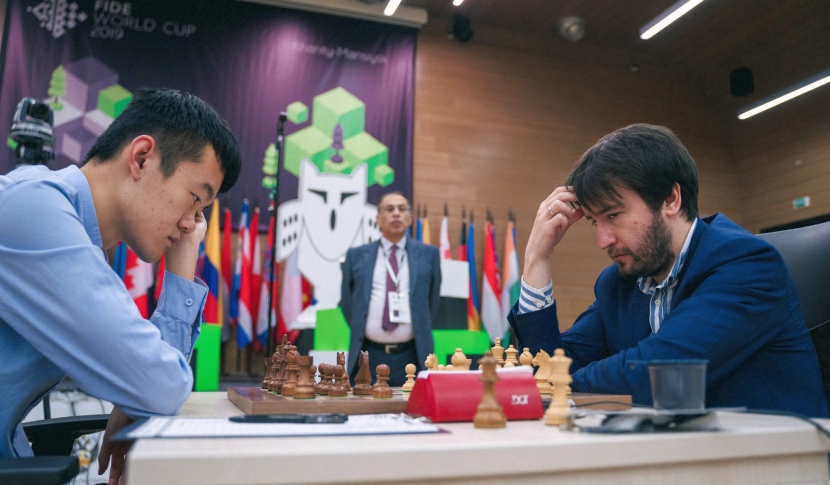 The FIDE World Cup final and the match for the 3rd place started in Khanty-Mansiysk on September 30.
The first game of the final between Teimour Radjabov and Ding Liren lasted less than an hour and ended in an uneventful draw. The players opted for the Marshall Attack in the Ruy Lopez, following their recent game in Shamkir. Only on the 27th move, Radjabov deviated from the already played line, but Ding Liren reacted accurately. Almost all the pieces were exchanged, and a draw was agreed in an equal rook ending on the 33rd move.
"I prepared some line but right before the game I did not like it and decided to call it a day. Just a normal day for me," confessed Teimour in the post-game interview.
The match for the third place between Yu Yangyi and Maxime Vachier-Lagrave started with an opening discussion in a sharp line of the Gruenfeld Defense. Neither player was spending much time on his moves, however, Maxime Vachier-Lagrave confessed after the game that he had needed the time he'd spared to find the most precise defense in the endgame with two minor pieces against a rook. After the Frenchman demonstrated all the right replies, the players sealed a draw on the 36th move.
Both matches will continue on Tuesday, October 1 with the opponents switching colors.
Video

The competition is organized by the Government of Khanty-Mansiysk Autonomous Okrug – Ugra, International Chess Federation (FIDE), Ugra Chess Federation, and Ministry of Sports of the Russian Federation.
Official website: https://khantymansiysk2019.fide.com/en/

General partner – Gazpromneft-Khantos LCC.
Official airline – Utair.
Official partners of the competition: OJSC Rostelecom, Ugra Chess Academy, Russian Chess Federation, AB InBev Efes, and PJSC Rosneft.
FIDE official partner – JSCo "RZD".
General media partner – News Agency TASS.
Media partners – Match TV, World of Chess social network, OTRC "Ugra", Ugra-news.ru News of Ugra regional newspaper, AIF-Ugra newspaper.