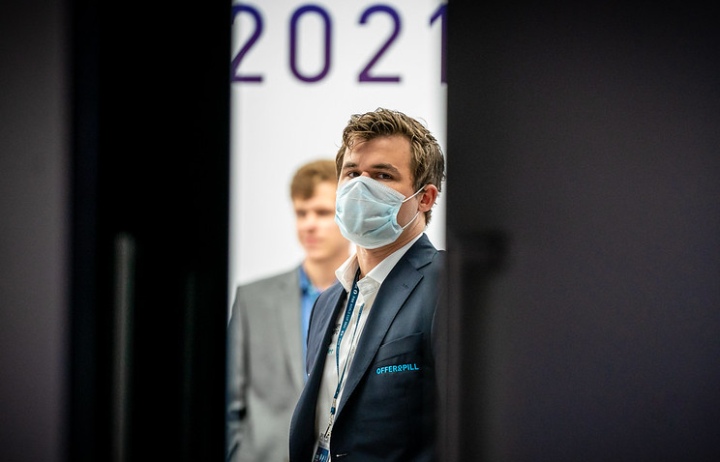 Goryachkina will face Saduakassova in the women's quarterfinals
Saturday, July 24th, 2021 – After round four's two classical games, twelve of the twenty-four matches (50%!) didn't yield a clear winner and were decided today in the tiebreaks – two rapid games 25/10, followed by two more rapid 10/10 games. Unexpectedly, no blitz nor Armageddon games were needed, so the shortest round is now in the books.
Although Radoslaw Wojtaszek really put World Champion Magnus Carlsen to the test in the classical games, the experience and strength in rapid play of the latter would help him pull through in the rapid games and that was exactly what happened this afternoon.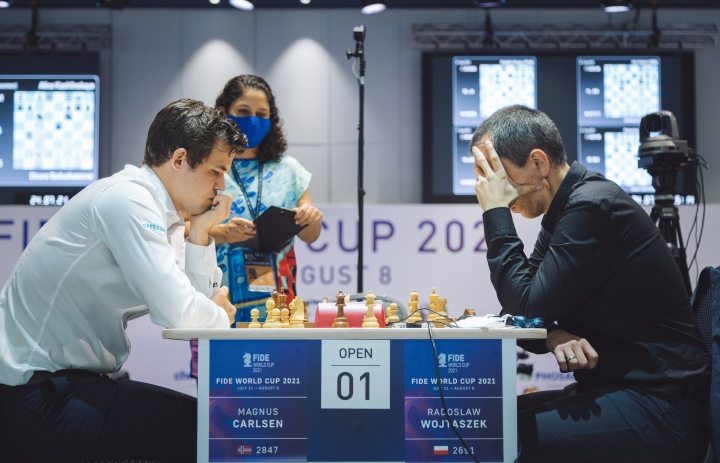 After a solid draw with Black in the first game, Carlsen started pressing on the white side of a Nimzo-Indian defence. On move eighteen, 18…Nc6 would have probably kept the balance but 18…Na6 gave Magnus an edge: "knights on the rim are dim" is the rhyme that always comes to mind in these cases.
Even though White's bishop is theoretically "bad", it does a great job cramping Black's own knight and as long as the queens are on the board White is generally doing very well. Carlsen's well-known endgame technique did the rest, achieving qualification for the next round, in which he will face Andrey Esipenko, who defeated him recently at Tata Steel.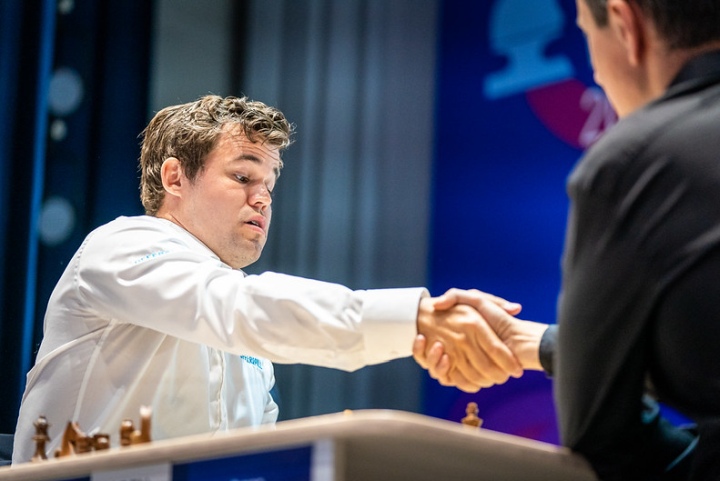 It's always a pleasure to hear from the World Champion himself so don't forget to check out a brief interview he gave to us after the tiebreak.
Nikita Vitiugov is a really tough player and the two classical games with Peter Svidler are a testament to his flawless play. But Svidler is a tough nut to crack and the first rapid was a joy to watch.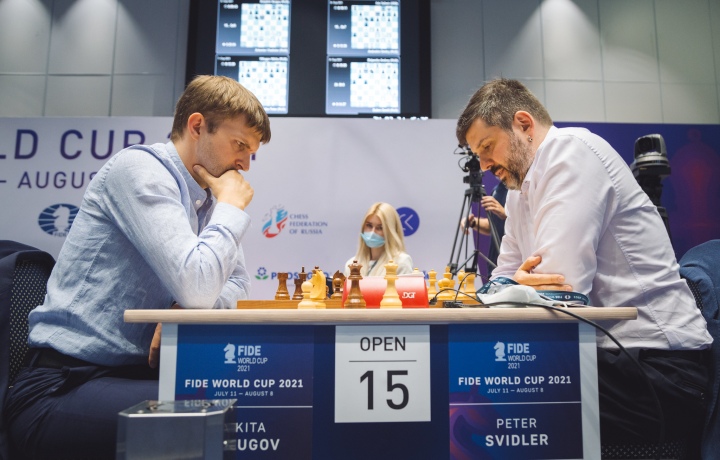 He decided to repeat the line that Carlsen used in his classical game against Wojtaszek. However, Vitiugov deviated with a piece sacrifice for a pawn and the initiative. It was quite complex most of the time but eventually, the compensation fizzled out and Svidler took the point home with an attack of his own.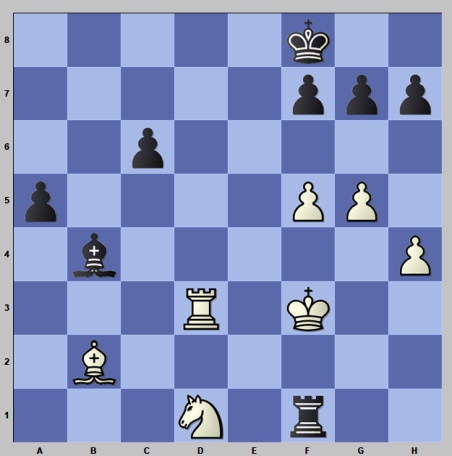 The idea 37.Kg4, 38.Kh5 and the bishop sac on g7 (37.Kg4 Rg1+ 38.Kh5 Kg8 39.Rd8+ Bf8 40.Bxg7 Kxg7 41.f6+ Kg8 42.Ne3 h6 43.Nf5 hxg5 44.Ne7+ Kh7 45.Rxf8 1-0), played nearly instantly by Svidler, was one of the most exciting moments of the round.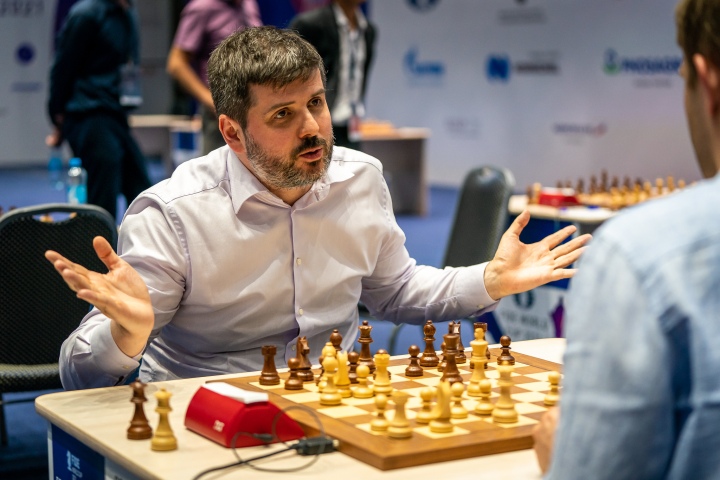 Having qualified for the next round, Svidler popped into the press center for a brief chat.
But the "surprise" of the round – and clearly of the tournament – is the outstanding performance of Serbian prodigy Velimir Ivic.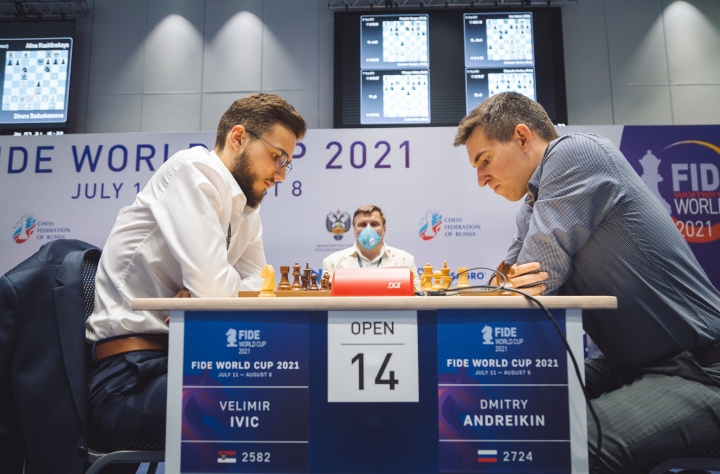 Still only 18 and clearly underrated with 2581, he has taken down Robert Hungaski (2514), Francisco Vallejo Pons (2710) and Matthias Bluebaum (2669) all by 1,5-0,5 score, and this afternoon he qualified to the fifth round by defeating the really tough Russian player Dmitry Andreikin (2724) by 2-0 in the tiebreaks for a total score of 3-1.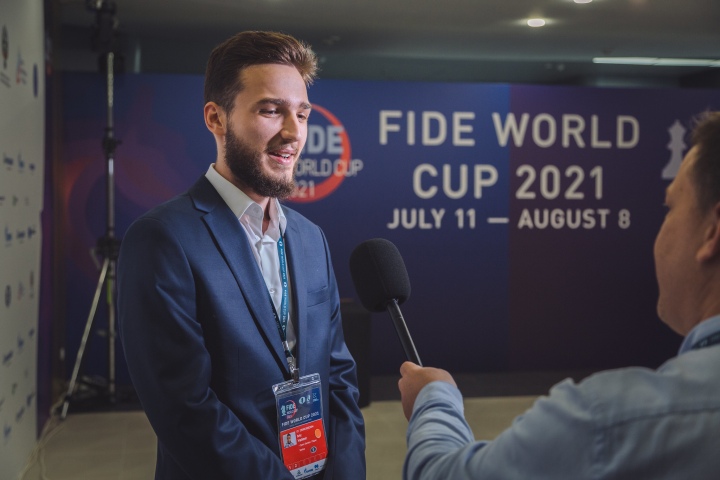 After such a run an interview was clearly in order and he was kind enough to give us his thoughts on his performance so far.
Both Alexander Grischuk and Etienne Bacrot were able to advance to the next round with clear 1,5-0,5 wins over Anton Korobov and Pavel Ponkratov respectively. However, Vasif Durarbayli, Sergey Karjakin and Andrey Esipenko all had to qualify in the 10/10 games, after their opponents held their own in the first series of 25/25 rapids.
Esipenko was especially happy with the result of his match against Daniil Dubov, as the latter has generally been a very difficult opponent for him. We got a chance to talk to him after the round and confirm that his English is improving rapidly!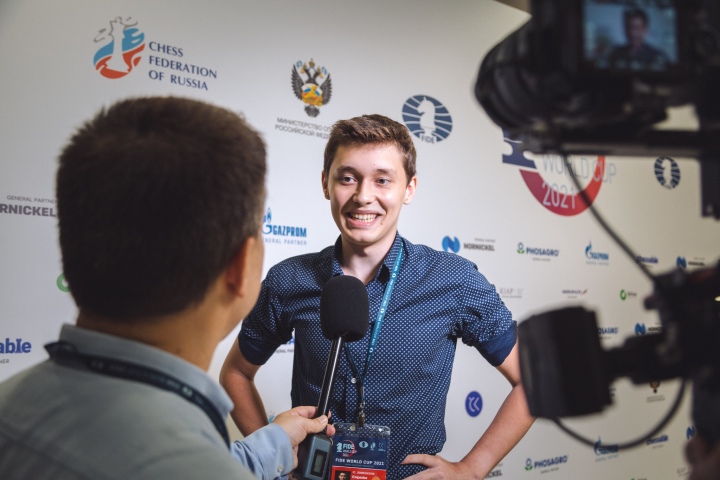 We can expect some fantastic games from the 1/8 finals pairings, scheduled for tomorrow afternoon.
Carlsen, Magnus (2847) - Esipenko, Andrey (2716)
Bacrot, Etienne (2678) - Piorun, Kacper (2608)
Grischuk, Alexander (2778) - Duda, Jan-Krzysztof (2738)
Vidit, Santosh Gujrathi (2726) - Durarbayli, Vasif (2625)
Ivic, Velimir (2582) - Fedoseev, Vladimir (2696)
Martirosyan, Haik M. (2632) - Tabatabaei, M. Amin (2613)
Vachier-Lagrave, Maxime (2749) - Karjakin, Sergey (2757)
Svidler, Peter (2714) - Shankland, Sam (2709)
One of the most interesting tiebreaks in the women's group was the match between Kateryna Lagno and Bibisara Assaubayeva. Would the young Kazakhstan prodigy be able to continue her excellent run of play in the rapid games against the two-times European Women's Champion?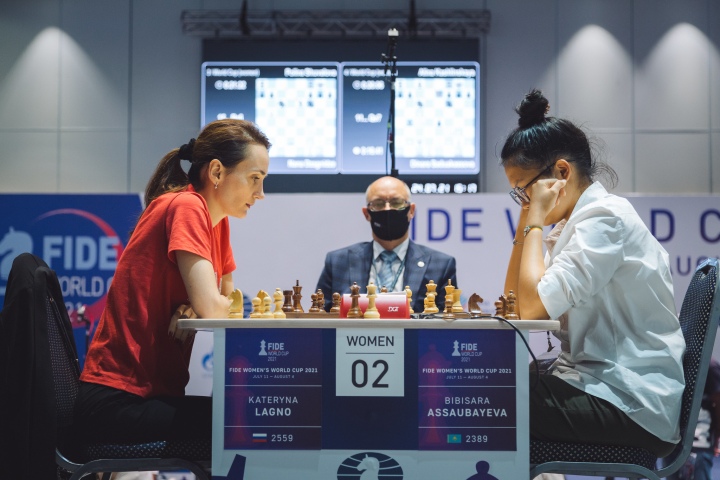 The key game of the match was the first one. With Black, Lagno was pressing all the way but Assaubayeva defended with a stalemate fortress which, for some time, seemed to be enough for a draw. However, eventually, Lagno was able to break down the fortress and force mate. With White in the second game, she kept it simple and secured the pass to the next round.
She gave us her thoughts on her performance and also on her upcoming match against Tan Zhongyi.
The other three tiebreaks were hard-fought. On board one, Aleksandra Goryachkina defeated Antoaneta Stefanova quite convincedly with a clear 2-0 score in the first two rapid games while Nana Dzahnidze and Dinara Saduakassova (pictured below) sealed the deal in the second series of 10/10 games against their opponents Polina Shuvalova and Alina Kashlinskaya respectively.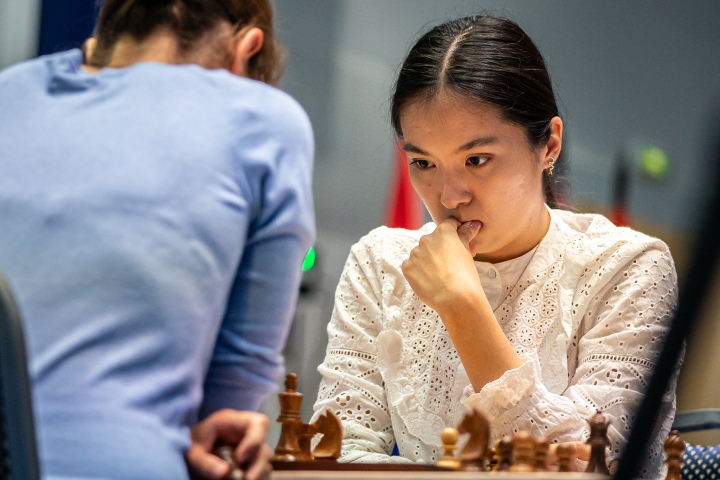 The quarterfinals in the Women's World Cup are served and they will be very exciting.
Goryachkina, Aleksandra (2596) - Saduakassova, Dinara (2483)
Dzagnidze, Nana (2523) - Muzychuk, Anna (2527)
Kosteniuk, Alexandra (2472) - Gunina, Valentina (2437)
Tan, Zhongyi (2511) - Lagno, Kateryna (2559)
Off the board, we interviewed Henrik Carlsen, the World Champion's father, who kindly gave us his thoughts on his son's performance here – "up and down, although that's to be expected" - and his views on his opponent Ian Nepomniachtchi – "many years a friend, now an opponent" - in the upcoming World Championship final in Dubai, scheduled for November.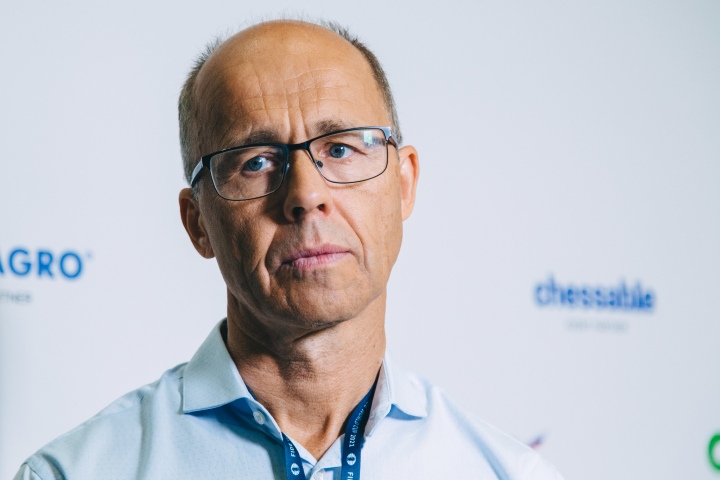 We also had the chance to catch up with FIDE's Fair Play Officer for the World Cup, Bojana Bejatovic, from North Macedonia. In a brief interview, Bojana explained her duties here and gave us a clear idea of the safe playing environment in which the players are performing.
Round 5 - 1/8 finals for the open group and quarterfinals for the women's group – are scheduled for tomorrow Sunday July 25th at 3 pm. Pairings of the round, live games and PGN files can be found on the World Cup website alongside a great amount of other interesting information such as daily videos, a complete photo collection and other useful data.
Text: Michael Rahal, FIDE Press Officer press@fide.com
Photo: Eric Rosen and Anastasiia Korolkova
About the tournament:
Scheduled to take place from July 12th (Round 1) to August 6th (finals), the 2021 FIDE World Cup will gather together in Sochi (Russia) 309 of the world's best chess players, with 206 of them playing in the Open World Cup (and 103 participants in the first-ever Women's World Cup.
The top two finishers in the tournament, aside from World Champion Magnus Carlsen who is also participating, will qualify for the 2022 Candidates Tournament, in addition to winning the 110.000 USD first prize (80.000 USD for the runner-up).
Organisers: International Chess Federation (FIDE), Chess Federation of Russia, Russian Ministry of Sports, and Government of Krasnodar Krai.
Partners:
Gazprom – general partner
Nornickel – general partner
PhosAgro – general partner
Chessable – event's partner
Aeroflot – CFR's partner