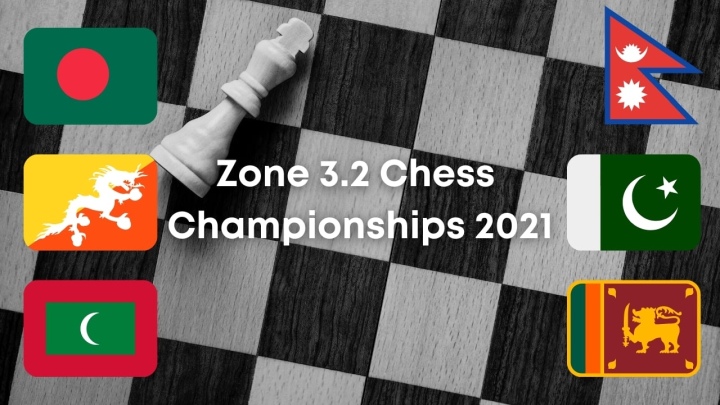 GM Ziaur Rahman of Bangladesh (pictured below) won the Asian Zonal Hybrid Chess Championship 2021(Zone 3.2) and earned a ticket to the FIDE World Cup 2021 that will take place in Sochi, Russia in July-August.
The Asian Zonal Chess Championship 2021, the qualifying event for the FIDE World Chess Cup 2021 for South Asia was held from June 01-09, 2021 on the Tornelo platform. A total of 39 players from the South Asian countries of Bangladesh, Nepal, Pakistan, Maldives and Sri Lanka participated in the 9-round Swiss tournament. With the strength, India is considered as a single zone by FIDE giving a direct entry to the FIDE World cup.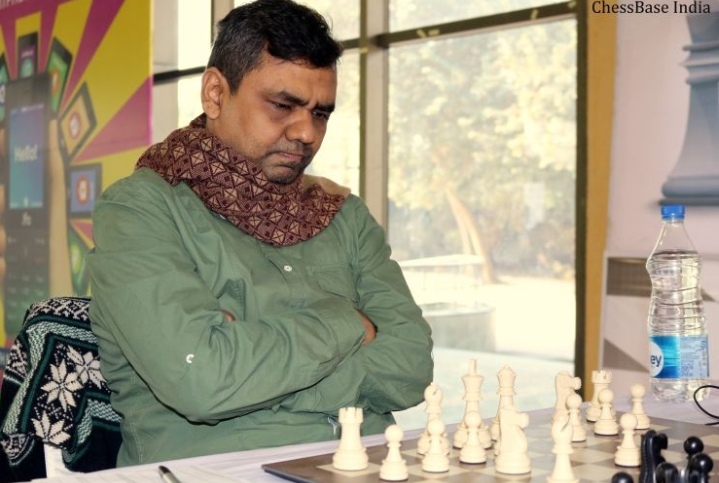 Photo: ChessBase India
The Bangladesh Chess Federation conducted the event from Dhaka and the Sri Lankan Players played from the Chess Federation of Sri Lanka headquarters, Gangodawila, Nugegoda.
GM Ziaur Rahman was heading to the final round a half-point ahead of his main rival and countryman GM Enamul Hossain who had better tiebreaks. Rahman drew a hard-fought game against his compatriot 11-year old Manon Reja Neer and scored 8 points total. Needing a full point to tie with him Hossain had to win his encounter with SL National Chess Champion Ranindu Dilshan Liyanage of Ananda College.
Hossain sacrificed a pawn in the Sicilian Defence with Black and got positional compensation in form of a strong night against a bad bishop but hardly more. With careful play, Ranindu secured the third spot in the final standings, whereas his opponent had to settle for silver.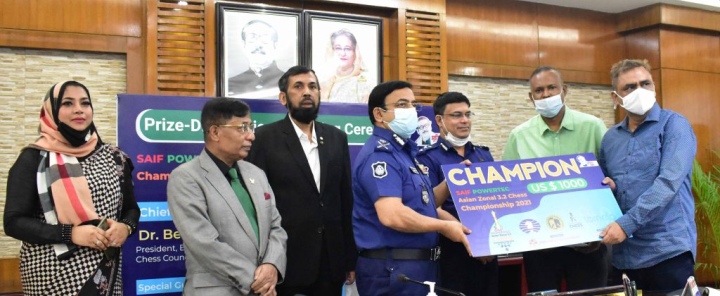 Photo: asianchess.com
The prize distribution and closing ceremony of the Zone 3.2 Zonal Hybrid Chess Championship sponsored by SAIF POWERTEC Limited were held at the Shapla Hall Room of Bangladesh Police Headquarter in Dhaka and also virtually on Zoom together with Awards for Zones 3.1 and 3.3 Hybrid Zonals. Dr. Benazir Ahmed, Inspector General of Bangladesh Police, and President of Bangladesh Chess Federation & South Asian Chess Council awarded the prizes as chief guests. Mr. Tarafder Md. Ruhul Amin, Managing Director of SAIF POWERTEC Limited and Vice President of Bangladesh Chess Federation was also present as a special guest.
Final standings:
| | | | | | |
| --- | --- | --- | --- | --- | --- |
| 1 | GM | Rahman Ziaur | BAN | 2434 | 8 |
| 2 | GM | Hossain Enamul | BAN | 2402 | 7½ |
| 3 | CM | Liyanage Ranindu Dilshan | SRI | 2203 | 6 |
| 4 | CM | Manon Reja Neer | BAN | 2130 | 6 |
| 5 | IM | Mohammad Fahad Rahman | BAN | 2314 | 6 |
| 6 | FM | Islam Khandaker Aminul | BAN | 2182 | 6 |
| 7 | IM | Mohammad Minhaz Uddin | BAN | 2278 | 6 |
| 8 | CM | Amarasinghe A A C B | SRI | 1873 | 6 |
| 9 | FM | Mehdi Hasan Parag | BAN | 2187 | 5½ |
| 10 | CM | Zia Tahsin Tajwar | BAN | 2178 | 5½ |

Text: Luxman Wijesuriya, Luxman Wijesuriya, President of CFSL and Vice-President of Asian Chess Federation