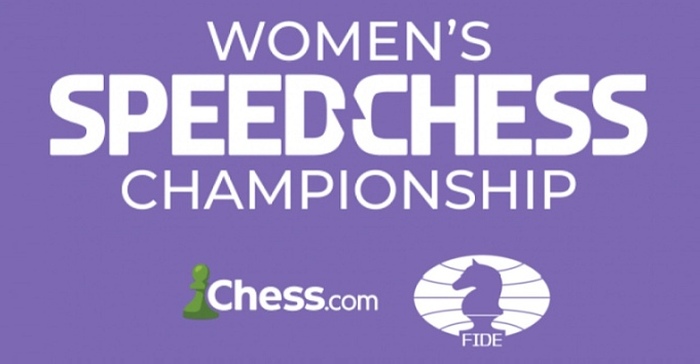 GM Nana Dzagnidze, fresh from FIDE Women's Grand Prix Gibraltar, became the fifth player to qualify for the main event of the 2021 Women's Speed Chess Championship after defeating IM Lilit Mkrtchian in the playoffs final.
The Qualifier V was a 9-round Swiss tournament (5+1 time control), with the top eight finishers advancing to the knockout playoff stage.
In the semifinals, Nana Dzagnidze took on Alicija Sliwicka whereas Lilit Mkrtchian squared off with another participant of the event in Gibraltar Elisabeth Paehtz.
Nana played her match with great confidence and advanced to the final after beating Alicija in both games. In the second extremely tense semifinal Lilit won on-demand with black pieces after losing the first game and then prevailed in the Armageddon when Elisabeth mouse-slipped in a drawn position.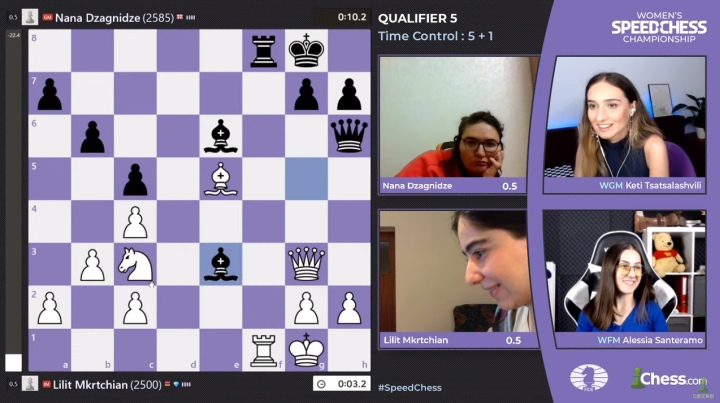 The final was a close affair. The opponents the first game after exhausting all the resources. Mkrtchian obtained a promising position in the second encounter end even won a pawn but then the unthinkable happened – she made a terrible blinder and capitulated immediately.
The next qualifier will be on Saturday, June 5 starting at 10 a.m. Pacific Time/18:00 Central European Time.
The FIDE Chess.com 2021 Women's Speed Chess Championship is an online competition for titled female players. The qualifiers for the event will happen from May 28-June 6, while the main event runs from June 10 to July 3. Players will battle for their share of a total prize fund of $66,000.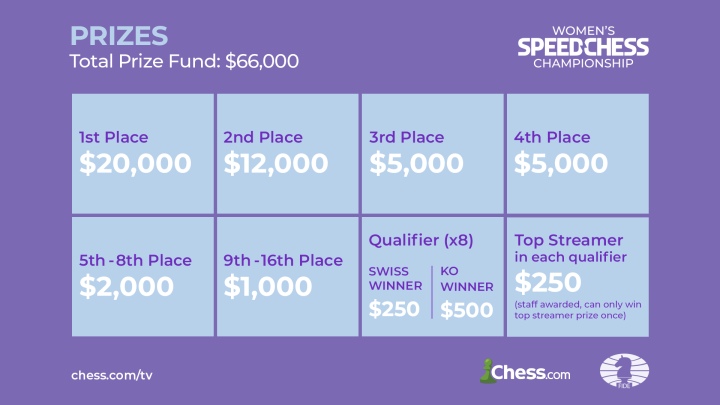 One player from each playoff qualifier will move on to the main event. There they will be joined by eight invited players: GM Humpy Koneru (IND), GM Alexandra Kosteniuk (RUS), GM Antoaneta Stefanova (BUL), GM Anna Muzychuk (UKR), GM Irina Krush (USA), GM Kateryna Lagno (RUS), GM Lei Tingjie (CHN).
Fans can follow the FIDE Chess.com Women's Speed Chess Championship by watching the live broadcast with expert commentary on Chess.com/TV and Chess.com's Twitch channel. They will also be able to enjoy the event through Chess.com's Events page (https://www.chess.com/events).
More info and a full schedule of the FIDE Chess.com Women's Speed Chess Championship can be found here.