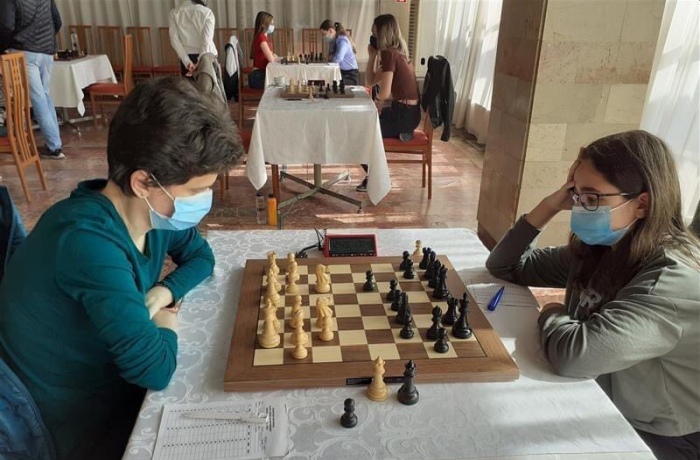 The Romanian Chess Championship saw the triumph of teenagers: Bogdan-Daniel Deac (aged 19) and Alessia-Mihaela Ciolacu (aged 17) won the national titles for the first time in their careers.
Both Open and Women's championships were 9-round Swiss tournaments held in Iasi, Romania from April 19-25. In the Open tournament it came down to the wire as Bogdan-Daniel Deac and Costica-Ciprian Nanu were heading into the final round with an equal amount of points – 6½ out of 8. Costica-Ciprian who had black pieces and slightly better Buchholz over his rival played it safe and made a quick draw with George Stoleriu.
It was up to Bogdan-Daniel Deac (pictured below) to make his move and the rating favourite did not disappoint. He gradually outplayed David Gavrilescu and came out on top a half-point ahead of Nanu. Three players shared third place but the Buchholz tie-breaks favoured George Stoleriu, who clinched bronze.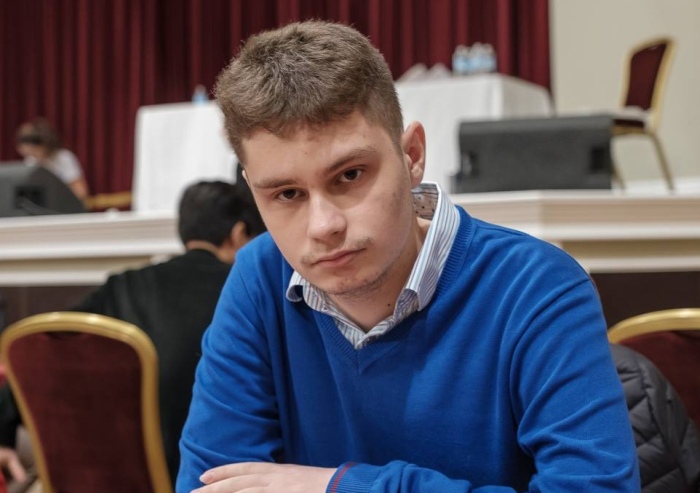 Photo: John Saunders
Final standings:
1. Bogdan-Daniel Deac (2625) – 7½
2. Costica-Ciprian Nanu (2503) – 7
3. George Stoleriu (2349) – 6½
4. Samuel-Timote Ghimpui (2315) – 6½
5. George Albu (2050) – 6½
6. Vlad-Cristian Jianu (2532) – 6
7. David Gavrilescu (2476) – 6
8. Nicodim-Cosmin Stepanencu (2104) – 6
9. Lucian-Ioan Filip (2442) – 6
10. Matei-Marius Ignat (1978) – 6
The women's event produced a minor sensation. The fifth-rated Alessia-Mihaela Ciolacu (pictured below) turned in an excellent performance scoring 7½ out of 9 points and took her first national title at the tender age of 17.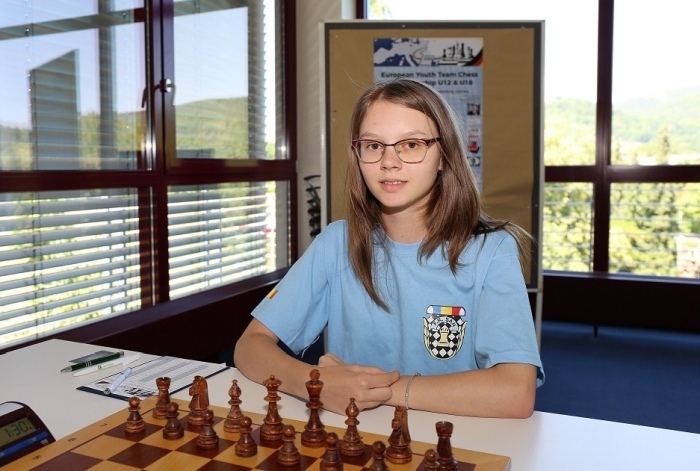 Photo: Alessia-Mihaela Ciolacu Facebook page
The rating favourites Mihaela Sandu and multiple Romanian champion Corina-Isabela Peptan finished a half-point behind and tied for second place. Mihaela took silver thanks to better tiebreaks whereas Corina-Isabela had to settle for bronze.
Final standings:
1. Alessia-Mihaela Ciolacu (2052) – 7½
2. Mihaela Sandu (2268) – 7
3. Corina-Isabela Peptan (2392) – 7
4. Ema Obada (1940) – 6
5. Miruna-Daria Lehaci (2188) – 5½
6. Andreea-Marioara Cosman (2164) – 5
7. Maria Anghel (1918) – 4
8. Lia-Alexandra Maria (1713) – 4
9. Aureliana-Eugenia Pancu (1878) – 3½
10. Daria-Ana Marcu (1533) – 2
11. Alexia Andries (1553) – 1½
12. Maria Pirvan (1529) – 1